John Duffy Composers Institute Presents First Recital
&nbsp&nbsp&nbsp&nbsp&nbsp The stage at Chandler Hall sizzled with solos, duets, trios and some fine ensemble singing on Sunday, May 28, 2006. An Afternoon of Arias was a new offering by Virginia Arts Festival through its John Duffy Composers Institute. Two selections from John Duffy's opera Blackwater and the vocal excitement created by soprano Rita Addico-Cohen and bass-baritone Ashraf Sewailam were highlights for this listener.
&nbsp&nbsp&nbsp&nbsp&nbsp Though begun in 2004, this was the first public performance offering listeners a taste of what the Institute is about. Duffy hopes to foster new American works through mentoring young composers. In an intensive environment the emerging and established composers have a chance to work collaboratively with a range of creative people who bring musical theater and opera to the stage.
&nbsp&nbsp&nbsp&nbsp&nbsp Held May 15 -28 in the Reading and Seminar Rooms of the Diehn Composers Room in the Diehn Fine and Performing Arts Building at Old Dominion University and co-presented by the university and the Diehn Composers Room, the Institute brought together composers William Bolcom and John Duffy, lyricist/songwriter Sheldon Harnick, director and choreographer Rhoda Levine and vocal instructor Patrick Mason. ODU's music department is not currently involved in the Institute, though the talented pianist Amanda Halstead who teaches at ODU had her second season with the group, sharing the task of accompanying the singers with the humorous and versatile Bert Kuebler who is a Piano and Keyboard instructor at the Armed Forces School of Music in Norfolk.
&nbsp&nbsp&nbsp&nbsp&nbsp Things got off to a slow start. In the first selection, Fugue for Tinhorns from Guys and Dolls by Frank Loesser (1910 -1969) for three male singers, the musical lines were not crisply woven together and diction was not clear. It came across as noisy and messy.
&nbsp&nbsp&nbsp&nbsp&nbsp Then came Soave sia il vento from Mozart's Cosi fan tutti. With Ms. Addico-Cohen and Mr. Sewailam joined by soprano Jessica Gould, it was thrilling to hear the deep voice soar about the soprano duet.
&nbsp&nbsp&nbsp&nbsp&nbsp Blackwater, an opera by John Duffy, with text by Joyce Carol Oates (b.1938), premiered a decade ago and tells the story of Senator Ted Kennedy's scandal at Chappaquiddick Island where Mary Jo Kopechne, a young woman, drowned in Kennedy's car in 1969 when he ran off a small bridge. The piece of music has a message that we must not let powerful people run roughshod over others. The first selection, What is this that holds me? relates the experience of the young woman in the car under water struggling for her life. She screams with ever increasing tension as she sings the closing lines, "Where is the moon?" Jessica Gould's strident, edgy delivery was very powerful. Amanda Halstead provided the intense piano backing.
&nbsp&nbsp&nbsp&nbsp&nbsp Through his music, John Duffy has been an activist seeing music as an expression of the human spirit. He sees music as a social art and believes that what it says can spark thinking and discussion about deep social concerns. Though the composer sees Ted Kennedy as having an enlightened attitude toward governance, the character in his opera has lost that idealism, is weary and his words have lost meaning. Baritone Patrick Mason with Bart Kuebler at the piano presented My Friends as a polished poltician pleading for understanding: "Words taste like wetted ashes in my mouth" with an over the top vocal ending.
&nbsp&nbsp&nbsp&nbsp&nbsp John Duffy says he writes letters to politicians, including President Bush. "I find his policies, some of them to be abhorrent, and I tell him so." (From a published conversation with Frank J. Oteri). His activism spans his lifetime; he wrote music for MacBIrd in the late 1960s, a play based on Macbeth and excoriating Lyndon Johnson's presidency.
&nbsp&nbsp&nbsp&nbsp&nbsp Duffy is also an advocate for American music and his fellow composers. With help from arts councils in New York he founded the Meet the Composers organization which has grown to be a national powerhouse for funding composers and sponsoring performance of new works.
&nbsp&nbsp&nbsp&nbsp&nbsp Tenor David Kozisek shared a duet from Puccini's Bohème with baritone Larry J. Giddens, Jr. Mr. Kozisek's showpiece was The New York Lights from William Bolcom's (b.1938) opera A View from the Bridge. Contrasting the character's joy in the lights of New York with his love of his Sicilian homeland, it was sung with falsetto high notes and unclear enunciation. Mr. Giddens sang Di provenza il mar from Verdi's La Traviata with rock solid low notes and an exciting top with a sweetness that bloomed.
&nbsp&nbsp&nbsp&nbsp&nbsp From the Broadway musical She Loves Me by Jerry Bock (b.1928) and one of the Institute's mentors, Sheldon Harnick (b.1942) we heard Dear Friend sung by Ms. Addico-Cohen ". . . don't break my heart." Here, as throughout the program, her crystal clear diction and musicality communicated the meaning of the words. Having the leading role in both ensemble pieces America (West Side Story) and Some Other Time (On the Town) made this concert her show.
&nbsp&nbsp&nbsp&nbsp&nbsp Mezzo-soprano Meg Marino sang Give Him this Orchid from the opera The Rape of Lucretia by Benjamin Britten. I was pleased to hear Britten live but I do wish the text had been the singer's focus. She has a smoky, rich voice and this unfamiliar Britten needs to be clearly articulated. A spoken introduction would have aided the audiences understanding.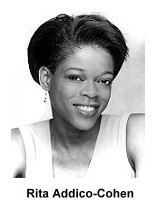 &nbsp&nbsp&nbsp&nbsp&nbsp There was a fine reception in the Diehn Composers Room and we got to meet the staff and discuss our shared ongoing concern that their collection include all of Adolphus Hailstork's works. The food was exceptional and just as it seemed things were winding down the singers and pianists began an impromptu cabaret. Everyone had a turn. It was impressive to hear theatre pieces in which some of the singers were obviously more comfortable. Meg Marino's smoky, sensual mezzo was great in Someone Like You from Jekyll and Hyde. Tenor David Kozisek sang a winning All of Me. Larry Giddens sang Some Enchanted Evening with soft passages that could melt your heart. With Patrick Mason at the piano, Ashraf Sewailam (from Cairo, Egypt - the Nile!) sang Old Man River. From the opening line smiles spread around the room from the beauty of his singing. Rita Addico-Cohen's jazzy Summertime was perfect cabaret. Jessica Gould's reprise of Summertime seemed unnecessary in this setting.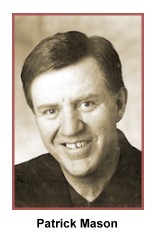 &nbsp&nbsp&nbsp&nbsp&nbsp Patrick Mason, who is on the voice faculty at the University of Colorado - Boulder and vocal coach for the institute, sang Zipper Fly by Marc Blitzstein and gave an introduction to this humorous but meaningful tune of a poverty-stricken young man's greatest aspiration: to have a suit with a new-fangled zipper fly. In conversation with Dr. Mason I asked about hearing music by the young composers at the Institute. Though it was not possible to do that this year they hope to include them next year.


Composer Libby Larsen is Featured at the Composers Institute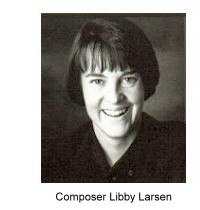 Virginia Arts Festival and Old Dominion University's Diehn Composers Room together hosted the fifth annual John Duffy Composers Institute. The opening reception on Tuesday, May 19, 2009 was held in the Diehn Composers Room with a display of film music media on view. After brief remarks, Virginia Arts Festival director Rob Cross introduced John Duffy who introduced Libby Larsen. With eighteen operas, many art songs, choral chamber and orchestra pieces in her resume, Ms. Larsen is a leading U.S. composer. In brief remarks but with deep insight, she spoke of opera as boundless in the imagination of the composer. She stressed her desire to communicate the exuberance of being a composer and the uniqueness of the institute which brings together young composers and those with successful careers to share their skill and enthusiasm for their craft in a non-competitive setting.
She told us "the challenge is to create operas of who we are as a people, not repeat the operas of the past who spoke to who we thought we were." From geniuses of the past - Willa Cather, Mary Cassatt, Georgia O'Keefe, Chuck Berry (her favorite) and many others, we are inspired to reach ever deeper to find our truly American voice. There are many parts of the American story that have not been told, for example the women who were recruited from the East by men of the West seeking their civilizing effect on rough frontier life.
She spoke of her new opera Picnic from a play by William Inge (1913 - 1973). "I was inspired to go out on a musical limb after my experience here last year. The musical idiom that belongs to this play is jazz. The trio working together has to learn to improvise the music. The themes of loneliness and improvisation are expressed by the full orchestra and jazz combo who must learn to trust each other - trust that each performance will work. All part of avoiding clichéd solutions of how to set text. Where else can you find a group where we finish each other's sentences?"
The food was great, a finger food supper that was both delicious and plentiful set a convivial mood for the networking between composers, performers, librarians, this listener and others.

Libby Larsen Master Class
On May 20, 2009 interested listeners gathered at Chandler Recital Hall to experience a bold, enlightening evening of art songs by composer Libby Larsen with three most talented singers: Shelly Milan, Kerry Jennings and Charles Stanton with superb pianist Oksana Lutsyshyn.
Karen Hoy, devoted voice teacher and performer was host for the evening. She had asked Ms. Larsen to do the class, arranged to use the hall and hired the pianist. Ms. Hoy described Ms. Larsen as having a profound mind tuned into our culture.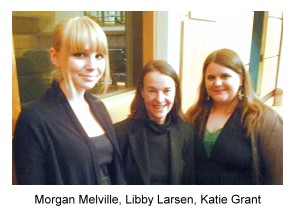 Ms. Larsen began with "This is my favorite thing to do." She volunteered her time in what she described as a laboratory for art song. She introduced the song Shall I Compare Thee to a Summer's Day (Shakespeare) used in her most recent opera, Picnic. Allen, who has just graduated from college, comes home and is expected to marry the most beautiful girl in town and sings to her. Tenor Kerry Jennings' beautiful voice, great diction and uncanny sense of style and phrasing brought the song alive. Ms. Larsen commented on how computer generated scores limit the composer's communication. Non -standard slants of notes and thicknesses of stems cannot be used to communicate the composer's intention. She suggested that Kerry was free to loosen up the meter of the lines - to dismiss the bar lines. The text can be even more emotionally provocative by building intensity as one image piles on top of the next. "Push the feeling a little more until we need our handkerchiefs. Make it more lyrical, dazzle us with your singing. After all, we are engaged in building American art song repertory."
After enthusiastic applause for singer and composer, Karen Hoy introduced Charles Stanton who sang The Apple's Song, written as a birthday gift to be sung for tenor Paul Sperry by a baritone. The song is about sensuality and lust. The apple sings "hold me, sniff me, peel me, crunch me with your mouth." Charles' rich baritone became the voice of the apple's desire to be eaten by the housewife. Ms. Larsen decided to experiment with the tempo - "faster, like a dance, or slower like Steal Me, Sweet Thief. Pet every single word; slow gives you much more time to make music. It is permission to be lustful." No wonder Adam took a bite of Eve's apple, if her voice were as seductive as our baritone's! The ending is mournful - the apple still sits in the bowl, unconsummated - as our friend, singer Rita Addict-Cohen pointed out.
Charles Stanton then sang Aria for Baritone from Larsen's opera Everyman's Jack accompanied by Oksana Lutsyshyn who was seeing the music for the first time as she played it. The story is of a five year old Jack London who tastes his daddy's beer because he is thirsty and gulps it down as he holds his nose. Formal singing of text versus spoken-sung and how each functions in communicating meaning was thoroughly explored. "Make us feel the hot day using more talk, less pitch. Create the stagger with face and voice." Charles transformed before our eyes into a benign, drunk five year old and received the accolade from Ms. Larsen - "It's a privilege to be in a situation of such passion, such openness." Work between composer and pianist made it all the richer.
The last singer, though listed first on the program (yes, there was a program - a rare treat for master class listeners) was the beautiful, blond soprano Shelly Milan from Ms. Hoy's studio. She gave us three selections from Songs from Letters: Calamity Jane to her Daughter Janey. A male friend was raising Calamity Jane's daughter Janey back East. She saw her mother, who visited from time to time but was kept from knowing her true identity. Janey was left a diary, written as letters and discovered in 1941. Calamity Jane was a free spirit who used rough/tough words to describe her life to her daughter. She was a working woman - midwife, gambler, raised orphans and was a living legend for her skill at riding and shooting, especially in the Black Hills of South Dakota where she teamed up with U.S. Marshall Wild Bill Hickock. She said that he was Janey's father. The song cycle is an opera of Calamity Jane's life. So Like Your Father is her response to seeing her daughter's picture. He Never Misses is a heroic tale of her warning Wild Bill of an outlaw ambush; he kills them all. There is sadness at how her exciting life has faded but joy and pride at seeing her daughter's picture and remembering her lover years after he was killed.
Ms.Larsen suggested that Ms. Milan slow the tempo and sing without body movement as she sang of crawling to warn Hickock. She asked Ms. Milan who she was singing to and if she was writing the letter and reading it to us or just telling us the story. She prompted her to clarify where Calamity Jane was in the arc of her life in each song. The third selection from the five song cycle, A Man Can Love Two Women warns her daughter to avoid jealousy - it can kill love.
Presented as works in progress, this master class was a delight for art song lovers. The performances were excellent to begin with and grew in depth as Ms. Larsen helped the singers to develop even greater understanding of the text and music. Ms.Larsen's probing intelligence and high enthusiasm made this one of the most satisfying master classes we have attended.
Alan Fischer raised an interesting question prompted by his graduating Governor's School senior Katie Grant, a great admirer of Larsen's music. He asked if the Calamity Jane cycle is sung from the mother's perspective or from the daughter's, reading it as an adult. Some years ago we heard two performances of the cycle within a short time. Karen Scott (now Hoy) was the reflective, aging mother looking back over her life while Lisa Edwards-Burrs was the daughter focusing on the fun, joy and adventure. As Libby Larsen said, music once written no longer belongs to the composer; music has a life of its own.
Back to Top
More John Duffy Composers Institute
Printer Friendly Format
Review Index
Home &nbspCalendar &nbspAnnouncements &nbspIssues &nbspReviews &nbspArticles Contact Us