Reviews
Virginia Arts Festival's John Duffy Composers Institute
Presents a Libby Larsen Song Recital
As the spring musical season draws to a close the John Duffy Composers Institute is held at Old Dominion University. As part of the events, Karen Hoy organized a recital of songs composed by Libby Larsen who has been a featured composer at the Institute for several seasons.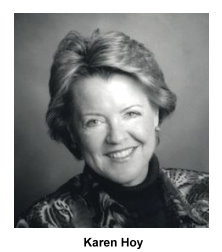 Ms. Hoy, who has an adult voice studio in Norfolk, has been a major advocate for art song in Hampton Roads for many years as performer, teacher and concert organizer. In the spring of 2009 she spoke of putting together a recital of accomplished art song vocalists singing songs by Ms. Larsen and unlike many good ideas that fade, she brought this one to the recital hall.
Libby Larsen (b.1950) is a petite lady who has created a catalog of over 400 works and is a distinctive voice in contemporary music. "She is possessed of extraordinary melodic facility and harmonic flair, and combines apparently disparate elements with consummate ease." (Contemporary Composers p. 538, 1992.)
The recital, held at Chandler Hall on May 26, 2010, featured collaborative artist Oksana Lutsyshyn at the piano with top local sopranos Ann Scott Davis, Rita Addico-Cohen, Shelly Milam and tenor Scott Williamson and two outstanding visiting vocalists, sopranos Alyson Shirk and Polly Butler-Cornelius.
With seven song cycles and six very talented singers it will be a challenge to keep my review to a reasonable length, especially given my enthusiasm for the composer. Here goes:
Cowboy Songs (1997) are lyrical and colored by atonal digression. Ann Scott Davis has a large, creamy voice and was persuasive. With text by Madam Belle Star of western fame, Bucking Bronco takes a hard look at love for a cowboy who will ride off on his bronco come spring. Lift Me Into Heaven Slowly "cause my back's sore, my mind is thoughtful and I'm not even sure I want to go." Each repeat shows a greater reluctance by the singer. In Billy the Kid the perky music tells the story of a bad man full of liquor and rage who "met a man who was badder – now he's dead and we aint' no sadder."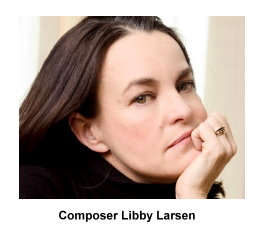 Margaret Songs: Three Songs from Willa Cather begin with Bright Rails where the lilting piano draws the listener along on a train trip west beyond the Missouri. High soprano Rita Addico-Cohen, who has recently developed the richer, lower notes of her voice, sang So Little There, a song that reminisces about her childhood and her small New York life of tea parties, dances, gloves and gossip. "When everything else is so small, why should I expect love to be great!" Pauses in the music gave maximum effectiveness to the story. Beneath the Hawthorn Tree is the third song for chamber opera character Margaret. The opera is based on a Willa Cather short story "Eric Hermannson's Soul." It is a bittersweet recollection since they had met under the hawthorn tree to make love.
Tenor Scott Williamson sang Ms. Larsen's cycle My Ántonia, with text based on Willa Cather's book by the same title. I was fascinated to learn that Ms. Cather was born in Winchester, Virginia but her formative years were spent in Nebraska where she became familiar with the immigrants who settled the west. In Landscape I: From the Train the singer, like a magician, recreates a life before our eyes, speaking of his childhood in a small, prairie town, wishing he could be a little boy again. Only Ántonia, about his age, speaks English. Landscape II: Winter speaks of the season that comes harsh and is overly long. The storyteller's father longs for the old country and is so sad that he stops making music. When his Dad takes his own life Ántonia comforts him. The Hired Girls brings us a waltz tune. As Mr. Williamson sings "If there were no girls there would be no poetry." A opening torrent of notes in Landscape III: Prairie Spring settles into a simple, quiet tune. In a restrained way our singer becomes rhapsodic in Ántonia in the Field when he sees her as a much older, strong, tall woman - she is beautiful. Landscape IV: Sunset is a return to conversational singing from the beginning of the piece. A very loud, shouted line is accompanied by a romantic but edgy music.
Madge's Aria from Ms. Larsen's 2009 opera Picnic was sung by soprano Polly Butler-Cornelius. The story is of a pretty, young woman who is exceptionally tired of people treating her so very superficially. A stranger from D.C. offers her a job in espionage. She takes it, asserting there is something greater out there! Ms. Butler-Cornelius has created a niche for herself by premiering contemporary songs by living composers. She has performed in Italy, Austria and with many opera companies in the American South. Currently she is a candidate for a doctorate in musical arts at the University of North Carolina, Greensboro.
After intermission lyric soprano Alyson Shirk, who received her DMA from Shenandoah Conservatory in May, 2010, sang Try Me, Good King: the last words of the wives of Henry VIII set in 2001 for *Meagan Miller. Commissioned for Ms. Miller by the Marilyn Horne Foundation, it was premiered in New York City in January, 2001. We first heard the cycle when Ms. Miller performed it here as part of the Virginia Arts Festival on May 8th of that year.
Ms. Hoy's letter to the Virginian-Pilot praising Ms. Miller's performance after an inadequate Pilot review was not published. Artsong Update had recently begun sending out a calendar to 37 art song enthusiasts on our mailing list. My response was "Well, we can send your letter!" This became the first Artsong Update Newsletter. We are on our 83rd issue now with some 750 subscribers.
Try Me, Good King is a group of five songs drawn from the final letters and gallows speeches of the five first wives. Henry's sixth wife, Katherine Parr, outlived him and was a peaceful catalyst in his immediate family. "In these songs I chose to focus on the intimate crises of the heart that effected Henry's first five wives. . . a monodrama of anguish and power." It demands of the singer a wide-spaced series of emotional expressions from the devotional pleading of Katherine of Aragon to the firebrand fight of her innocence of Anne Boleyn. Jane Seymour speaks to the people who came to see her die. She is lyrical, soft and feminine. Ms. Shirk leans her head to emphasize her delicate neck. Anne of Cleves tries to negotiate a better end. Katherine Howard speaks to the people, asking for prayers. "Before the King took me I loved Thomas Culpepper. . . I die a queen but I would rather die the wife of Culpepper." It was a fine way to cut a king down to size but his ego ruled the day.
Ms. Butler-Cornelius sang Sonnets from the Portuguese to a text by Robert Browning set in 1989. The four songs demand a a high soprano voice of power and clarity and our singer was up to the task.
Shelly Milam sang Songs form Letters: Calamity Jane to Her Daughter Janey. She did a lovely job of capturing the pathos of a mother who is sad and blind and has made a mess of her life pursuing her dream of fame and fortune. She asks for forgiveness in the fifth song after she explains her life to a daughter who was raised by other relatives. This cycle and several others can be found on a CD titled Grand Larsen-y: Vocal Music of Libby Larsen on Albany Records: Troy 634. Terry Rhodes, soprano, Ellen Williams, mezzo-soprano and pianist Benton Hess and others.
*Click her for Karen Hoy and John Campbell's review of
Megan Miller's 2001 Virginia Arts Festival recital
More Composers Institute
Back to Top
Printer Friendly Format
Review Index
Home &nbspCalendar &nbspAnnouncements &nbspIssues &nbspReviews &nbspArticles Contact Us