Issue #117, Part 1
Carmen
Virginia Opera
Harrison Opera House, Norfolk
March 21, 2014
Review by M.D. Ridge
Ginger Costa-Jackson, a 2012 graduate of the Met's Lindemann program, strode into the first-act scene of Virginia Opera's new production of Carmen with the irresistible confidence of a woman who knows she can turn any man's head—and enjoys that knowledge. Those flashing eyes, that carmined slash of a mouth—Costa-Jackson's Carmen was, like Lord Byron, "mad, bad, and dangerous to know." She didn't have a huge voice—but she didn't need it: she could have whispered her way through the role and still been stunning.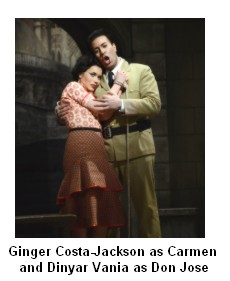 Tenor Dinyar Vania looked the part of Don José, the soldier who falls in love with Carmen; he had a nice Andy Garcia sort of look—a country boy, in way over his head. However, his passionate voice unfortunately went sharp on just about every high note. Worse, he had absolutely no chemistry with his village sweetheart, Micaela; without that, and without establishing Don José from the very beginning as an upright and virtuous man who is a challenge to Carmen's sexual rapacity, the tension falls apart. Poor Don José, instead of being a tragic figure destroyed by a heedless woman, came across as just another poor schlub under the gypsy's spell, though there are intimations throughout of the desperation that will bring him to violence. Hollow-eyed and disheveled in the last act, Vania finally pulled it all together.
As Micaela, Corinne Winters was shy with the jeering soldiers, but plucky enough to persist and convey to Don José his mother's wish that they marry. Winters' voice was perhaps too powerful for the role—less sweet village maiden and more likely to go one-on-one with her rival, which threw off the balance of characters.
Winters was more moving in the third act scene in the mountains, where she has followed her love to the smugglers' hideout; in a touching aria, she protested, "I am not afraid." But she was.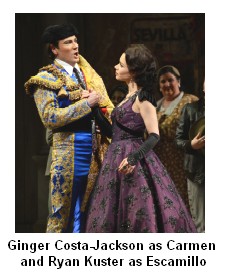 The arrogant toreador Escamillo was sung by bass-baritone Ryan Kuster, whose voice had a curiously muffled effect in the second act but was better in succeeding scenes. He had the physique for the part, which included a well-choreographed knife fight with Don José in Act III.
The biggest surprise was the performance of the two smugglers—Le Dancaïre, sung by baritone Andre Chiang, and Le Remendado, sung by tenor David Blalock. Chiang had awesome clarity of voice, superb diction, and that indefinable thing called "presence"—when he was onstage, you had to look at him! Blalock's lighter, higher voice blended beautifully with Chiang's in duet and dialogue. They were terrific.
As the gypsies Frasquita and Mercedes, the voices of soprano Jeni Hauser and Mezzo Courtney Miller blended beautifully, and their acting was crisply effective. Bass-baritone Matthew Scollin sang the role of the tall, lantern-jawed Zuniga, Don Jose's superior officer, with gusto and a hint of menace.
The production values were excellent. Updating to the 1950's, Merrily Murray-Walsh's costumes hit the mark, with the women's full skirts and narrow waists, the men's fedoras, the officers' uniforms and the smugglers' leather garb. Even the shoes, which are the hardest to get right in period costuming, were very good indeed, for the most part. The sad-sack group of recruits in the first act was hilariously perfect! And in the final act, Carmen's embroidered lace gown was a true work of art.
The large chorus was very well trained by Adam Turner. Bizet wrote some brutally fast passages for chorus and small groups, which they handled with clear, precise diction.
Stage director Tazewell Thompson had much more to work with than last season's relatively static The Pearl Fishers. In Carmen, he was still into scrims, for whatever reason; but there were knife fights, dances, and a rolling-on-the-ground, hair-pulling catfight in the first act, all well-choreographed by Anthony Salatino, and seamlessly integrated into the overall story by Thompson. David Gordon's sets had a great sense of real places, yet allowed the singers and dancers to move freely.
Players from the Richmond Symphony were under the competent baton of Grammy and Tony Award-winning conductor John DeMain. But Bizet's stirring rhythms and distinctive melodies were, as always, the star.
This review was originally broadcast on WHRO 90.3 FM's "From the other side of the Footlights."
Contralto Kelly Montgomery in Recital
A Viol Evening
Chandler Hall, February 24, 2014
Review by John Campbell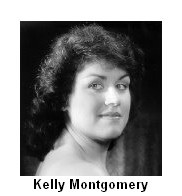 It was an evening of Baroque entertainment reminiscent of a tavern c. 1700 run by a buxom lass in a red velvet gown with a lace-up bodice and a deep, fabulous voice who delivered song texts with precision and with some 21st century visitors dropping by. Remember, J.S. Bach himself often entertained at his local tavern.
In keeping with that time frame, the instruments were a harpsichord and a viola da gamba (Italian for "leg fiddle") consort. Strictly speaking, every viol (pronounced "vile" in English) is a viola da gamba because of the way it is held, small ones on the lap, larger ones between the knees like modern cellos. The ODU Viola da Gamba Consort, in existence for only four months, included four viol players: Rebecca Raydo, treble; Stephen Coxe and Kelly Montgomery, tenor; Martina Fortin, bass.
The openers were Somni Dei (Supreme Gods) by George F. Handel (1685-1750) from his opera Radamisto (c. 1710-12, London) and Tremulo spirit by Pietro F. Cavalli (1602-1676) from his opera La Didone, the ferocious vocal telling with a happy ending replacing the usual suicide for Dido after her abandonment by Aeneas. It is the voice of one who has been through a great ordeal, only to find herself with a kingdom, country, a new husband and her children. Ms. Montgomery's voice probed the depths of feeling. It was stunning! Harpsichord and bass viol accompanied.
Absalom, set by French-Flemish composer Josquin des Prez (c.1440-1521) was written for a quartet of vocalist but was performed here by quartet of viols. It depicts the world-weariness of the Biblical King David at the death of his son, Absalom.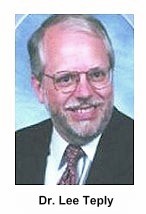 Lee Teply was at the harpsichord for two selections from The Fairy Queen by Henry Purcell (1659-1695), a semi-opera based on Shakespeare's A Midsummer Night's Dream. The joyful song Hark, how all things in one sound rejoice displayed Ms. Montgomery's thrilling trill. From Act II, Titania, the Fairy Queen is sung to sleep, with Hush, no more, be silent that offered beguiling vocal beauty that soothed the heart.
For What power art thou? from Purcell's King Arthur the viols, harpsichord (Teply) and singer moved to stage left, clearing the space for an interpretative dance by the lithe, beautiful Madeline Samarzea (Dr. Montgomery's daughter). The reluctant spirit of winter, Cold Genius, has been awakened by Cupid. The words of the song are broken into separate syllables, the vocal equivalent of chattering teeth. Winter has been awakened and desires only to freeze again. The chill of winter personified was effectively sung, all with a sense of fun.
Post intermission Ms. Montgomery returned to the stage with tenor viol in hand as part of the viol consort for Dances by Pierre Phalèse (1510-1576?). My research leaves me doubtful that Phalèse was the composer, rather he published these works as he did so much music of his day. He and his offspring were culturally important because of their international approach to music publishing for more than 100 years until 1674. The set of lively dances, all similar in form, were three Russian/French bransle ("branle" or "bron" in French), a French gaillarde and an Italian saltarello. The players offered a convincing performance though the challenge of playing a six string treble viol with its many bow positions provided some edgy moments.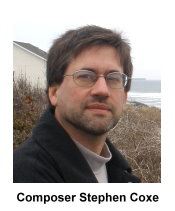 Three vocal pieces completed the evening. The first, I take no pleasure . . . in the sun's bright beams Z. 388 by Purcell was followed by John Blow's (1649-1708) Loving above himself. By falling in love above his birth and fortune, a young man is suffering the pangs of unrequited love and the deep, smooth delivery made this clear. At this point Dr. Teply took his bow and Dr. Coxe moved to the harpsichord as Dr. Montgomery introduced the last song, Coxe's The moon is down (text by Sappho c. 615-570 B.C.E.). The very quiet opening by harpsichord, viols and vocal humming created a far off sound of a fog horn in the night. Words emerged as Sappho speaks to herself, reflective words but not sad ones: "The moon is down, the Pleiades. Midnight. The hours flow on, I lie alone," thus creating an emotionally believable, exquisite moment in time. The sound from the viols sounded almost as if it had been electronically processed.
I. Sherman Greene Chorale in A Salute to Black Composers
Blessed Sacrament Catholic Church, Norfolk
February 16, 2014
Review by John Campbell
The stained glass windows were flooded with brilliant sunlight at Blessed Sacrament Catholic Church at the 4 P.M. opening, a most welcome relief after all the gray days of this cold and snowy winter. The church was well-filled by a large, attentive audience.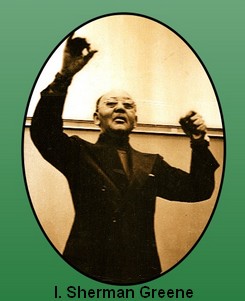 The I. Sherman Green Chorale was organized by Mr. Greene in 1972. Originally, all the singers were alumni of Booker T. Washington High School, led by Mr. Greene who was director of the Booker T. Washington High School Choir. Over its forty-two year history it was later led by Dr. Carl W. Haywood, Mr. Terry Butler, Dr. Sheila M. Harleston and currently by Elizabeth Eccles. During his tenure Mr. Butler added performance venues, broadened and diversified repertoire and added current and former Norfolk State University singers to the Chorale.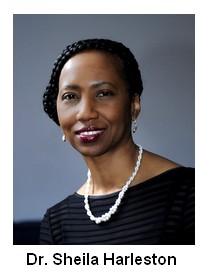 For this program the Chorale was joined by the University of Maryland Eastern Shore Concert Choir led by Dr. Sheila Harleston and from Alexandria, Virginia, the Alfred Street Baptist Church Sanctified Symphony Orchestra, conducted by Mr. Jamal Lee. Some twenty of the thirty-eight member orchestra were in attendance and played the prelude, Awesome God (Rich Mullins, arr. Billy Payne) and My Tribute (Andrae Crouch, arr. David Winkler). The opening piece had a dreamy, Broadway sound. Crouch is a "visionary and trailblazer" of contemporary Gospel music and his compositions are a staple of churches of many denominations.
After a greeting by Mrs. Olivia Cauthen, Secretary of the ISG Chorale, the orchestra played The Faithfulness of God Medley with a fanfare opening and a march with snare drum: My Faith Looks Up to Thee. Clarinet and flute led into It is Well with My Soul and Tis So Sweet to Trust in Jesus. The joint choirs led the audience in Great is Thy Faithfulness which concluded with dramatic tympani strikes.
In an arrangement that shows a spectacular use of vocal groupings, the UMES Concert Choir sang a cappella The Star Spangled Banner followed by He Ain't Coming Here to Die No More (Noah Francis Ryder, 1914-1964) with a soprano solo and the choir humming the first verse and a beautifully sung second verse. City on the Hill by Marvin Curtis (b. 1951), accompanied by the orchestra, is a song of praise ending with a choral alleluia and an instrumental fanfare. An a cappella Precious Lord, with familiar words set to a new tune by Arnold Sevier (b. 1949), music director at Pilgrim Baptist Church in Chicago was followed by Walk Together Children in a Gospel setting by Moses Hogan (1957-2003) of this great camp meeting hymn.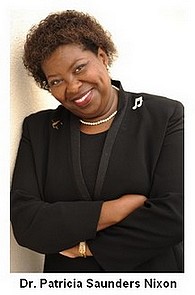 At the center of the program was a set of our art songs written by Harry T. Burleigh and sung by soprano Patricia Saunders Nixon with pianist Geraldine T. Boone. First Ms. Nixon gave a brief biographical description of Burleigh's life and his pivotal role in American art song. Burleigh composed some 300 works, including 130 art songs. He published fifty settings of spirituals—including his most well-known, Deep River—for solo voice and piano and several works for solo piano. He was a noted baritone concert soloist and church singer as well as musical editor for music publisher G. Ricordi and Company.
Dr. Nixon then sang four songs by Burleigh. The love song Just a Wearin' for You is sentimental and displayed the lovely sound of her voice and in Savior Divine her sound was succor for the heart. On the word "lamb" she folded her hands as in prayer and the very high note on "ransomed soul" to end was full and dramatic. A song from 1916, The Gray Wolf, with a text by Arthur Symons, speaks of the challenge and pain of drug addiction in metaphorical terms with a low-voiced brooding intensity. The drama in the piano was Schubertian and Ms. Boone gave us the nuance and the drama. A novelty song that originated from Burleigh's settings of collected plantation songs, De Ha'nt (The Haint) gave Dr. Nixon the opportunity to become an actress in voice and gesture. A more acoustically friendly space would have made hearing the details of the text clearer. The singer did her part. Dr. Nixon's complete dissertation can be accessed on our website.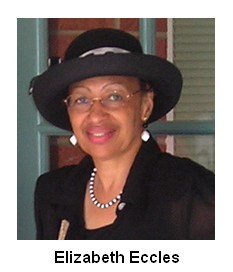 Finally we heard the I. Sherman Greene Chorale sings alone. Way Down 'n the Valley to Pray opens with a deep bass solo while the Chorale is humming with coloristic touches arranged by Andre Thomas (b. 1951). Thomas is a celebrated choral director and professor at Florida State University. The beautifully articulated text of I've Been Buked by Hall Johnson (1888-1970) was followed by a spiritual, Walk Together Children arranged by Raymond Wise (b. 1947) that celebrates the great camp meeting in the promised land where the saints are encouraged to walk, talk, sing and shout all in a marvelous rhythm. Mrs. Eccles is such a lively director that it appears that she is physically pulling the sound from the willing choir. Randy Walston, in his second full season with the chorale, accompanied on piano.
The choirs combined to sing Moses Hogan's arrangement of Lift Every Voice for Freedom. It opened with a deep bass voice reading the freedom text which was followed by We Shall Overcome arranged by Uzee Brown (b. 1950) and accompanied by strings. The sound was glorious and brought to a close a fine afternoon of music making.
Printable Version
More Issue #117, Part 1
Back to Top
Home &nbspCalendar &nbspAnnouncements &nbspIssues &nbspReviews &nbspArticles Contact Us