Issue #115, Part 1
Tenor Brian Nedvin and Pianist Stephen Coxe in Recital
Chandler Recital Hall
September 30, 2013
Review by John Campbell
As the program opened, Mike Hall with a sackbut in hand and Jeffrey Phelps carrying his cello came out with Brian Nedvin and Steve Coxe for the first set of late Baroque/early classical songs. The sackbut, an early trombone, begins Et incarnates, soon to be joined by cello and piano and voice. Set by Michael Haydn (1737-1806), brother of Franz Joseph, the text is a brief and leisurely paced summary of Christ's life and mission on earth. Then we heard Aria Solemnus by Johann Zechner (1716-1778) with the hardy, gruff toned sackbut between the melodious sung lines of a prayer.
The closing song was by Joseph I, the Hapsburg Holy Roman Emperor (1678-1711) who was an amateur harpsichordist, singer and composer of airs: his Alme Ingrate (Ungrateful Souls) encourages learning to love which will give one strength to face death.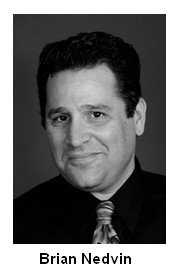 After rousing approval from the audience we settled back into a standard recital format with three songs by Hugo Wolf who described his own songs as "poems for voice and piano," a complete fusion of music and text. The lyrical text of Gebet (Prayer), Die Spröde (The Coy Shepherdess) and Verborgenheit (Seclusion) gave tenor Nedvin an opportunity for refined emotional expression. With pianist Coxe's sensitive playing they extracted the essence of the poetry.
The aria Avete torto…Firenze è come un albero fiorito from Gianni Schicchi by Giacomo Puccini (1858-1924) is a song of praise for the trickster Gianni Schicchi whose skill is needed to save the family fortune from the priestly class. Here Nedvin sang with an exciting tenoral "ping" creating great drama bringing the listener into the high emotion the situation presented.
After a short intermission we heard a cycle of recently completed Blake Songs (2013) by composer and pianist Stephen Coxe (b. 1966). The music illuminated the texts. I've always found William Blake (1757-1827) a puzzle and these poems add to the mystery. Blake was a poet, painter, engraver and mystic who worked tirelessly at his several arts. The first song in the set, A Cradle Song, is unsentimental about childhood. This text is not the familiar one from Songs of Innocence but from the Rossetti and Pickering manscripts. The next four poems come from Songs of Experience: The Angel, Nurse's Song, The Little Vagabond, and The Fly. Only the final song, The Echoing Green, is from Songs of Innocence. Dr. Coxe says there are more Blake settings coming for a recital in the spring of 2014.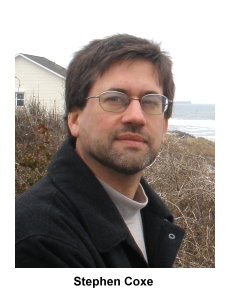 The conclusion of the recital was two settings of songs in Hebrew. Both pieces evoke the ever present melancholy that underlies Jewish music. Sh'ma Koleinu (a prayer for mercy) was set by Max Helfman (1901-1963) who used traditional elements of late nineteenth/early twentieth century music created by the Russian school of Jewish composers. The piano was dramatic and the voice large and present in the Sh'ma Koleinu. Maurice Ravel (1857-1937), though not Jewish, drew on a sizable library of folk material: Spanish, Basque, Corsican, Greek, Hebrew, Javanese and Japanese. Kaddish is a Hebrew daily prayer sung in synagogue services and by mourners after the death of close relatives and is a profoundly moving text praising God and the world he created. Ravel's Kaddish begins a cappella with spare piano punctuation. As the text unfolds flowing piano chords are used for dramatic effect until we reach the conclusion with heavy piano chords and intense vocal power and a curt "Amen."
With an audience with many students not familiar with recital etiquette, Dr. Nedvin explained in his opening remarks where applause was appropriate, at the end of each set of songs and to turn off cell phones. Bravo! After all, college exists to educate students.
Vocal Treats, No Tricks for Halloween from Norfolk Chamber Consort
Kelly Montgomery with Andrey Kasparov, Sondra Gelb with Oksana Lutsyshyn
Christ & St. Luke's, October 21, 2013
Review by John Campbell
Eerie rumbles from an organ and deep contralto solo singing set the tone for the Norfolk Chamber Consort program titled Let's Get in a Mood for Halloween. As an art song aficionado I will speak only of the vocal music in an outstanding evening of varied chamber music.
Originally Ms. Montgomery was scheduled to sing Schubert's Death and the Maiden and Amy Beach's Der Totenkranz but when it became apparent that it was an overload for one voice on one evening Sondra Gelb was asked by Kasparov to come out of vocal retirement for a special appearance. Ms. Gelb, a renowned voice teacher, reluctantly agreed and gave a breathtaking performance that included a low D an octave below middle C.
Modest Mussorgsky's Songs and Dances of Death have been arranged by several other composers including Shostakovich, but here we heard the 1877 original of Mussorgsky's settings of four poems by Arseny Golenishchev-Kutuzov. In Lullaby, death suggests to the mother of a dying child that she doze a bit as he soothes her fading child. A young girl, gravely ill, is alert, feeling driven to enjoy life in its fullest. Death seductively sings Serenade, captivating her romantic soul: "Hush now…you are mine!" The dramatic ending is emotionally heart rending.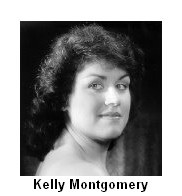 In the silence following Ms. Montgomery turned her back to the audience, visually connecting with pianist Kasparov, girding up for the next foray into these word-dense Russian texts that demand such emotional intensity. In these songs, as with all repertory, Ms. Montgomery was completely emotionally present and transparent.
The rapid duple time of Trepak is a dance rhythm. A peasant got drunk and stumbled along the road, tormented by grief, anguish and need. Death's caress brings him a snowy shroud as soft as down that bring him into sunshine and music.
A look passed between the performers, unleashing a torrent of voice and piano as Field Marshall began. The dying men lie on the field in moonlight. Death on her white steed comes to answer their wails and prayers. "I have vanquished you all!" she says as the corpses march in a solemn column before her. There is an edge in the voice, of ferocious beauty, as she sings "I will stamp down the dirt in a ponderous dance." And we jumped to our feet in an ovation knowing we had just experienced a transcendent moment in live art song.
Let's Get in a Mood for Halloween
Norfolk Chamber Consort
Christ & St. Luke's, October 21, 2013
Review by M.D. Ridge
Christ and St. Luke's Gothic Revival architecture was a fitting setting for the Norfolk Chamber Consort's "Let's Get in a Mood for Halloween" concert October 21st.
The famous Bach Toccata and Fugue in D Minor set the tone for the evening. Organist Bradley Norris, wearing a sport coat and a grey "I'll be Bach!" T-shirt, began with his arms in the air, making claws of his hands, before settling into serious music-making on the church's magnificent Casavant organ. We're so used to hearing it done all blast and boom that Norris's more varied dynamics were a treat—though still loud enough to make my ears buzz!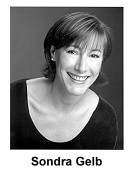 In Schubert's dialogic Death and the Maiden, contralto Sondra Gelb made dramatic the nearly one-note response of the persona of Death. Her deep range extended easily into its startling low D, nearly an octave below middle C—not easy to do without growling, and there was none of that here. Der Totenkranz, by American composer Amy Beach on a text by Louis Zacharias, summoned images of a wreath of flowers called "children's thanks" laid gently and sadly on a beloved mother's grave. In both works, Oksana Lutsyshyn's elegant accompaniment was sensitively intent.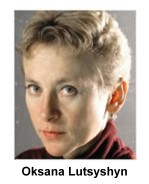 Lutsyshyn returned with Virginia Symphony violinist Pavel Ilyashov for an arrangement by Lutsyshyn of the famous Dance Macabre by Saint-Saëns. It began with handbells tolling like a knock at the door, followed by violin and organ trading off the melody— eerie sounds in the organ's upper range contrasted with the violin's scordatura tuning; staccato violin vied with fast organ legato, all with brilliance and fire, to a lightly surprising ending.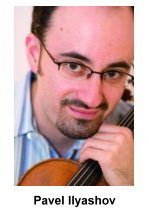 Franz Liszt wrote a series of four Mephisto Waltzes based on the Faust legend. The first was played by pianist Andrey Kasparov, co-director of the Norfolk Chamber Consort. The frenzied gaiety and bruising dynamics of its village dance gave way to liquid notes splashing gently, returning to frenzy and a brilliant, abrupt ending. Kasparov came out for his bow wearing a frightful Halloween devil mask. (Afterward, someone said of his performance, "There should be a law against his playing so many notes in such a short time!").
As satisfying as the first half was, the second half surpassed it. Contralto Kelly Montgomery, a member of the ODU voice faculty, was stunning in Modest Musorgsky's Songs and Dances of Death, in which death is personified first, as compassionately singing a lullaby to a dying child; as an ardent suitor of a young girl; as a being who brings a snowy blanket to warm a drunken peasant with dreams of summer; and finally, as a field marshal commanding her troops of vanquished soldiers. Montgomery, who had not sung in Russian before, combined the clarity and bold consonants of superb diction with dramatic warmth. She soared effortlessly into high phrases, while Kasparov's piano danced around the voice. They were superb!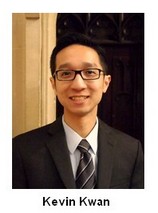 Last—but definitely not least— came the Suite Gothique by the Alsatian/French composer Léon Boëllmann, played by organist Kevin Kwan. He brought out the work's contrasting colors and grand dynamics. The delicate, ballad-like melody of the quiet, thoughtful third movement, "Prière à Notre Dame (Prayer to Our Lady)" was utterly lovely, and the portentous final Toccata was impressive. Kwan's masterful performance made it perfectly clear why he's only the fifth organist and music director for Christ and St. Luke's in 124 years.
This review was originally broadcast on WHRO 90.3 FM's "From the other side of the Footlights."
The Alborada Trio's Homage to Ravel
Hofheimer Theater, Virginia Wesleyan College
September 23, 2013
Review by John Campbell
Pianist Lee Jordan-Anders, violinist Jorge Aguirre and cellist Jeffrey Phelps, performing as the Alborada Trio, left the world of pretty Romantic music far behind in a stimulating and enticing program of three works.
They opened with Lalo Schifrin's (b. 1932) Hommage à Ravel (1994) music inspired by early Stravinsky, four movements that explore a palette of sound that is unsettlingly modern. In the Tango movement, at times thorny combinations grab our attention and tweak emotional responses. There is a sadness and longing of painfully measured elongated time in Elégie. The Finale is more lively, a broad spectrum of colors bursting with intensity. It took the great coordinated skill of the players to bring off such overwhelming music. Near the end the solo cello rambles about, picking up threads of violin and piano lines. They unite by the end.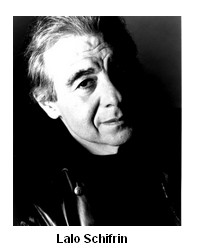 Composer Lalo Schifrin grew up in Buenos Aires , Argentina, listening to his father play violin as the concertmaster of the city's main opera house. His music education began under Enrique Barenboim (Daniel's father) at a time when Europe's greatest conductors and performers visited regularly. As a young man in Paris from 1952 he led a double life attending courses taught by Messiaen and Charles Koechlin by day and frequenting jazz clubs at night.
In the late 1950s he could be found in the United States as arranger for Dizzy Gillespie, touring the great concert halls of Europe with his ensemble. Within five years he had established himself as a composer of film and television scores: The Fox, Mission Impossible, Mannix, Cool Hand Luke, some seventy titles altogether. He also continued to compose for the concert hall and symphony orchestra. He wrote Hommage à Ravel in 1994 for the Eaken Piano Trio.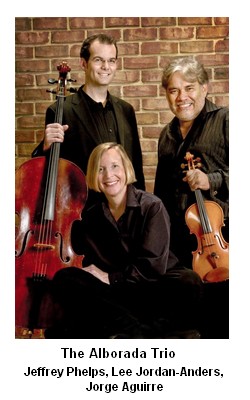 In a series of piano works in the first decade of the twentieth-century Maurice Ravel (1875-1937) carried out a kind of velvet revolution, renewing the language of music without disturbing the peace, according to critic and author Alex Ross. In Lee Jordan Anders' illuminating trio arrangement of five pieces from Mother Goose (Ma mere l'oye) originally written for piano duo, the revolutionary aspects were very clear: smooth, somber music of Pavane of the Sleeping Beauty interrupted by squawks of the cello, and the pizzicato strings and twinkling clarion piano in Tom Thumb which gave way to a rather stately dance in Laideronette, Empress of the Pagodas. The lovely string playing in Conversation of the Beauty and the Beast was the voice of Beauty. Intensity builds with piano glissandi at the end. The Fairy Garden gives a feeling of an insatiable lust for life. In this garden men and women taste and feel everything life can offer. Ms. Jordan-Anders' projected program notes told us that "unmarried and childless, Ravel adored children and their world of fantasy." Mother Goose draws on the fairy tales of Perrault, as well known then as today.
Their performance of the final work, Ravel's Piano Trio in A Minor (1913), continued the emphasis on his innovative instrumental writing, restoring the edges to his composition. The new effects of color and expression apparent in the first movement, titled Modéré, demonstrated brilliant string techniques: double-octave spacing, harmonics, tremolandi, extended pizzicato and trills. Ravel drew on his mother's Basque homeland for the first movement folk dance and rhythms. This melodic motive was featured prominently in the later movements, and was inverted in the last. The structure of the second movement, Pantoum: Assez vif (rather brisk), is based on a poetry form. To demonstrate, a translation of Evening Harmony by Charles Beaudelaire was printed on the back of the program. Every second and fourth line is repeated in the next four line stanza. Ravel uses four different thematic groups to replicate the poetic form in music. Passacaille begins with an eight bar melody in the piano's lowest register, taken up by cello and then violin, each with variations. It builds to a dramatic climax, only to fade away precisely as it began. The animated music of Final: Animé begins without pause. To excite the listener Ravel uses a fantastic metric design that uses asymmetrical patterns of 5/4 and 7/4 complemented by intricate layers of contrapuntal sound.
By the end of the performance you knew that you had been in the presence of a modern master and of a trio who made you aware of this fact.
Printable Version
More Issue #115
Back to Top
Home &nbspCalendar &nbspAnnouncements &nbspIssues &nbspReviews &nbspArticles Contact Us