Saying Goodbye to Lee Teply
His Last Concert: ODU Department of Music Spring Concert
Chandler Recital Hall, April 8, 2014
Review by John Campbell
When Lee Teply (1953-2014) died suddenly of a heart attack on Sunday morning, July 13th, it was a shock to the music community in Tidewater. In our own way, this review is an attempt to honor his many contributions to the area's musical life.
Lee Teply came to Norfolk in 1986 to teach music history and theory at ODU. He started the school's early music instrumental ensemble, Collegium Musicum, in 1988 and took over direction of the ODU Madrigal Singers and began producing the annual December holiday season Madrigal Banquet. For several years at the Governor's School for the Arts he directed a small choral ensemble that emphasized early music. He was music critic for the Virginian-Pilot as well a writer of program notes for the Feldman Chamber Music Society.
Dr. Teply was educated at Oberlin Conservatory and the Eastman School of Music, taking degrees in organ performance, music theory and literature and studied conducting. He was often heard as a harpsichordist for various groups over the years. At ODU he taught music history and theory, music appreciation and analysis, ear training and organ performance. We knew him best as a presenter of a number of excellent concerts, many featuring early music. He was associated with several Norfolk church music programs over the years, most recently First Lutheran on Colley Ave.
Lee Teply was our musical friend. He and his friend Cynthia Wright Swain, who died in late spring of melanoma, often attended the same programs we did, sometimes recommending the best seats in the hall for excellent sound and invited us to sit with them. We first became aware of Lee when he conducted Schola Cantorum (he lead the ensemble from 2000-2006). It was a thrill when he quoted my review of an Ives piece sung by Schola Cantorum in their 2002 autumn concert on the cover of their subsequent mailing.
Now for a review the ODU Music Department Spring Concert on April 8, 2014. This, his last concert, can be seen as a summary of his impact on the local music scene. It was quite usual for Lee to put together a musical program that spanned several centuries of choral music. For this program the time span was 1550-1950—some 400 years. He brought together faculty and students to present a rich, varied musical evening.
Two Dances (anonymous), published in 1555, included a slow Pavana Passamezzo and a very quick Gagliarda played by the 10-member ODU Collegium Musicum (5 recorders, guitar, violins, etc.). They were followed by In Nomine by Christopher Tye (c.1505-1573). Around a long held note the counterpoint is built and has a certain vitality, a raw edge often found in ancient music.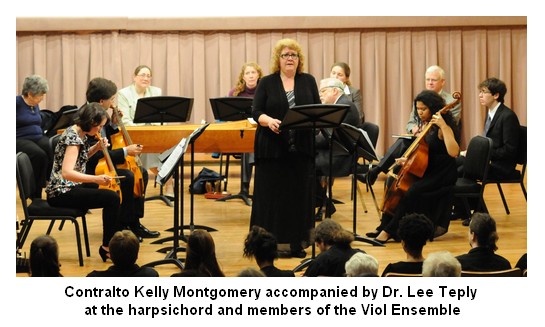 Dr. Teply was at the harpsichord as contralto Kelly Montgomery sang Loving above himself by John Blow (1649-1708), also accompanied by viola. Ms. Montgomery beautifully delivered the low notes in a song that sets out the plight of a shepherd who loves a woman of wealth and class.
The ODU Viola da Gamba Consort played Four Dances published by the Phalèse family publishing house. Pierre Phalèse (1510-1575) is listed as composer. The work demonstrated the musical strides made by this new group formed in late 2013. (Reviewed in Artsong Update Issue #117 or see the AU website Review Index, ODU, Kelly Montgomery). The group has improved greatly since that premiere concert.
The next segment featured ODU Collegium Musicum in the complex counterpoint of J.S. Bach (1685-1750) Contrapunctus Xa (The Art of Fugue) and Concerto di Flauti, lighter fare—a trip to the musical aviary by Allesandro Marcello (1669-1747). Continuing the theme of a musical aviary, we heard Sonata "Cucu" by Johann Heinrich Schmelzer (c.1620-23 – to 1680) played by Natalia Kuznetsova on solo baroque violin. The fourth section was fast and precise and a fine conclusion to the set.
The 11 voices of the ODU Madrigal Singers offered a lively setting of Laudate in a setting by Knut Nystedt (b. 1915) followed by The Linden Tree in a melodious setting by Ludwig Norman (1821-1885) accompanied by the Collegium Musicum. Bass Monty Gammon gave us those amazing low notes. The Scottish folk tune Ye Banks and Ye Braes (arr. Brent Pierce) gave the singers a chance to display their vocal artistry at its finest.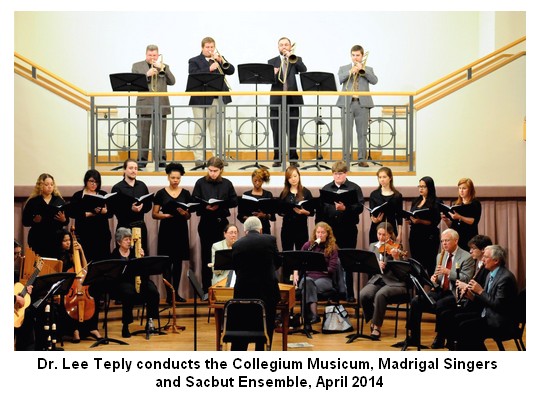 In La Battaglia à 8 by Francesco Usper (c.1560/61 – 1641) the 4-member ODU Sackbut Ensemble, begun last fall and led by Dr. Mike Hall, played the opening. They were soon joined by the Madrigal Singers and Collegium Musicum in Psalm 150. The rollicking setting was a total immersion in glorious sound.
The loss of this soft spoken, quiet man of intelligence and musical knowledge has created a void, both at ODU and in the larger musical community.

CD Review: Come Down Angels and Trouble the Water
(2014, Albany Troy 1489)
Bass-baritone Oral Moses & Pianist Rosalyn Floyd
Review by John Campbell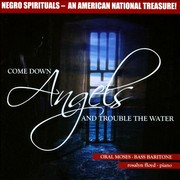 The rock-solid bass-baritone voice of Oral Moses can be heard on this 2014 release of a collection of 19 spirituals arranged by major African-American composers of the 20th century. Oral Moses' smooth, classical delivery, supported by the decisive piano of Rosalyn Floyd, gives this music a new life.
Shut out of mainstream American orchestral performance, these talented composers can be heard here in their arrangements of traditional spirituals in an art song format. It began with Harry T. Burleigh who was encouraged by Antonín Dvořák in 1900 to set the songs of his people in a European form. For this CD Burleigh's Sometimes I Feel Like a Motherless Child is given an added flute voice by Erik Lundgren (b. 1954) that deepens the sense of sorrow.
Other early composers include William Grant Still (1895-1975), represented by his Here's One and Hall Johnson (1888-1976) with his Oh, Graveyard and Ev'ry Time I Feel de Spirit. The CD title song, Come Down Angels and Trouble the Water and Is there Anybody Here That Loves My Jesus are by the pioneer woman composer Undine Smith Moore (1904-1989).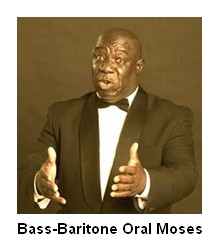 Five mid-twentieth century songs are by Robert Owens (b. 1925), including his repetitive, weighty "mumblin' word" in They Crucified my Lord and his fast-paced, jazz-influenced Go On Brother.
Four other composers, Uzee Brown (b. 1950), Moses Hogan (1957-2003), Charles Lloyd, Jr. (b. 1949) and Evelyn Simpson-Curenton (b. 1953) are represented by two songs each. Hogan's very popular Give Me Jesus offers an expansive feeling of assurance and we are regaled by Moses' deep voice in Deep River. We hear Lloyd's powerful setting of Death is Gwinter to Lay His Cold Icy Hands on Me and his peppy celebration in Do Don't Touch-A My Garment because "I'm going home." The sparkling, expanded piano in Lil' David was set by Simpson-Curenton and a declarative Sinner Please Don't Let This Harvest Pass has an extended vocalise at the end. With a traveling rhythm, Good News, set by Brown, tells the story of being on the way to heaven. The piano also offers a marching tune rhythm in Trampin' with the goal of "making heaven my home."
The spine of the CD reads "Negro Spirituals-An American National Treasure." Inside, the booklet tells the story from 2007 of how the 110th Congress of the United States passed a bill to declare spirituals a National Treasure, this only 140 years after the Fisk Jubilee Singers popularized the art form that is in no way diminished by the passage of time.
Printable Version
Florent Schmitt CD Review
Back to Top
Home &nbspCalendar &nbspAnnouncements &nbspIssues &nbspReviews &nbspArticles Contact Us