Gayle Johnson Leads Schola Cantorum in a Mostly Purcell Concert
&nbsp&nbsp&nbsp&nbsp&nbsp Taking us back to the time of the Jamestown settlement, the program Across the Choral Sea recreated a sense of music at home in England that was brought to the new world. The musicians of The Itinerant Band joined Schola Cantorum in five performances from Cape Charles to Williamsburg. We caught their performance on January 21, 2007 at Eastern Shore Chapel in Virginia Beach.
&nbsp&nbsp&nbsp&nbsp&nbsp Come let us drink by Henry Purcell opened the program. The first set "Catches and Dances" offered musical fare from a London tavern. In various vocal and instrumental combinations we heard Parson's Farewell (from the English Dancing Master) and Henry Purcell's (1659-1695) Tis women make us love, Hole in the Wall (instrumental) and Prithee ben't so sad with Gayle Johnson leading the group from the harpsichord.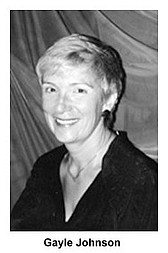 &nbsp&nbsp&nbsp&nbsp&nbsp Schola Cantorum is made up of two dozen singers devoted to bringing the community choral music from early Renaissance to present day contemporary compositions. This is Gayle Johnson's first season as Artistic Director. For this very special program Schola was joined by The Itinerant Band wearing early American costumes. Rose Ann Arnaud - cello, George Bame - guitar, Paul Brockman - fiddle and vocals, Susan Lawlor - flute and recorders, Dave McNew - bodhran, epinette and vocals, Mary Normand - celtic harp and Marsha Wallace - mandolin and vocals all worked together to create the organized mayhem and mischief of a tavern. The second set, "An Air and Dance Tune," included Planxty Fanny Power by Turlough O'Corolan, an itinerant Irishman who wrote over three-hundred songs. Two selections from a popular music book published in 1651, The English Dancing Master, followed.
&nbsp&nbsp&nbsp&nbsp&nbsp Turning to music from the English royal court they sang Purcell's Coronation Anthem for James II, I was glad, a psalm by King David. In honor of Queen Mary (of William and Mary) we heard Thomas D'Urfey's Cold and Raw and from Purcell's Birthday Ode In Honor of Queen Mary (1692), three selections. Long may she reign features a soprano soloist with the chorus with harpsichord accompaniment. A recorder interlude was followed by the men singing May her blest example. May she to heaven late return is a fugue ( a complicated round), first by the men, then the women singing with a rousing "Rejoice" to bring it all to a grand conclusion.
&nbsp&nbsp&nbsp&nbsp&nbsp The "Theater Tunes" were all by Purcell from his semi-operas The Fairy Queen and King Arthur, works that we would consider musicals because of their spoken dialogue. There is an honest heartiness nicely captured by the performers in jigs, love songs and even a protest song.
&nbsp&nbsp&nbsp&nbsp&nbsp In later sets we heard the madrigal In These Delightful Pleasant Groves, a sea shanty Haul on the Bowline and many more catches and dance tunes to round out a joyous excursion into our sometimes bawdy past. The encore was a very lively reprise of Purcell's Come let us drink. Think of it as a toast to director Gayle Johnson. Long may she reign! This look back into the history of English music was without a hint of academic fussiness. It was as vital and fresh as if it were composed just for this performance.
&nbsp&nbsp&nbsp&nbsp&nbsp Don't miss Schola's upcoming concerts: "Greatest hits of 1610" (English music in honor of Jamestown) this Saturday May 12th at Jamestown. In June Schola performs Madrigals & sacred music by Weelkes, Morley, Byrd, Tallis & Gibbons, performed as they would have been done by friends after a dinner party.
More Schola Cantorum
Printer friendly format
Back to Review Index
Home &nbspCalendar &nbspAnnouncements &nbspIssues &nbspReviews &nbspArticles Contact Us