Schola Cantorum Sings Ives
&nbsp&nbsp&nbsp&nbsp&nbsp The Charles Ives setting of Psalm 90 was a featured part of Schola Cantorum's autumn concert series titled Psalms of David, Songs of Solomon.
&nbsp&nbsp&nbsp&nbsp&nbsp Schola Cantorum is a volunteer, auditioned choral ensemble of twenty to twenty-four voices led by Dr. Lee Tepley and presents an autumn and spring concert of music of high quality with excellent performances. We heard the concert at the Church of the Holy Apostles in Virginia Beach, one of several venues where they perform. The acoustics of the church were good and the choir as excellent.
&nbsp&nbsp&nbsp&nbsp&nbsp The Ives Psalm 90, written for soprano, tenor and chorus (1896-1901, 1923-1924) was challenging for both performers and listeners, but was breathtaking in its scope and intensity. The random church bell tones, played by the singers on hand bells, added interest to this exciting choral music.
&nbsp&nbsp&nbsp&nbsp&nbsp Berstein's very theatrical Chichester Psalms with drums and organ, and Bobby McFerrin's The 23rd Psalm were contemporary works that ended the program. Other works performed were by Henry Purcell, John Dunstable, Solomon Rossi, Gottfried August Somilius, Pablo Casals and William Walton.

Schola Cantorum's A capella VIII: All Nature Sings
&nbsp&nbsp&nbsp&nbsp&nbsp Led by Lee Teply, the group was vocal fire throughout this program. The intense commitment to putting the music across was there from the beginning, but when Lisa Relaford Coston joined them for the last piece, Aaron Copland's In the Beginning (composed 1947), the intensity deepened. She negotiated the difficult mezzo-soprano solo part with aplomb. The text is from Genesis with the seven days of creation being sung by the soloist on days one, two and five and by the ensemble on the other days. What a stunning performance of this interesting and seldom heard music.
&nbsp&nbsp&nbsp&nbsp&nbsp The performance we heard was at historic Old Donation Episcopal Church on May 23, 2004 but the program was presented in several other venues in Tidewater with great success.
&nbsp&nbsp&nbsp&nbsp&nbsp Dr. Lee Teply designed a program with interesting music ranging over some 400 years. The program opened with four songs by Roland de Lassu (called Orlande de Lassus in France, 1532-1594), and included one of the oldest of all English songs, Summer is I-commen in. Another interesting early piece was Der Kuckuck auf dem Zaune sass by Johann Steffens (1560-1616) with its tenor solo and vocal sounds of cuckoos, rain and various animals.
&nbsp&nbsp&nbsp&nbsp&nbsp New to me and a real surprise was the chromatic and intense harmonies of Hugo Wolf's (1860-1903) Ergebung and Erhebung which to my ear show a kinship to the vocal part of Kantate No.2 of Anton Webern (1883-1945), which I have enjoyed for many years.
&nbsp&nbsp&nbsp&nbsp&nbsp The arrangements of Hungarian and Russian folk songs and several other pieces were included. A song with more modern scales and harmonies, Nocturnes by Hildor Lundvik (1885-1951), a Swedish composer, is about the quietness of an almond tree in winter.
&nbsp&nbsp&nbsp&nbsp&nbsp Schola Cantorum's Summer Sing on August 7th featured Mozart's Requiem and we understand was a great success. Watch the Artsong Update 2005 calendar for up-coming winter concerts and contribute if you can to this worthwhile community group. Their website is www.scholacantorumofva.org

Schola Cantorum Spring Concert Series
&nbsp&nbsp&nbsp&nbsp&nbsp Congratulations to Schola Cantorum for another fine concert series. Dr. Lee Teply and the singers brought their unique repertory to Virginia Beach, Norfolk and Hampton in their "2005 Spring Concert Series A Capella IX: Over the Edge." Dr. Teply gave insightful introductions to each piece on an overall theme that these restless composers daringly pushed past the borders of their place and time to give us exciting, interesting choral music.
&nbsp&nbsp&nbsp&nbsp&nbsp Schola shared the concert with the Virginia Childrens Chorus conducted by Jeffrey Ward and with Michael Regan at the organ. The program began with a joint performance of Incipite Domino by Giovanni Croce (1558-1609) with Schola in the front of the Eastern Shore Chapel and the Children's Chorus in the balcony. The concert ended with both groups together upfront singing two songs by Randall Thompson (1899 -1984) from The Peaceable Kingdom in eight parts with unbelievable grandeur of sound as the text unfolded only to return to a simple harmonious conclusion. Between beginning and end there was a rich diversity including Solfeggio by Arvo Pärt (b.1935), a minimalist piece in C Major; J.S. Bach's (1685-1750) Fuga a 3 Soggetti from Art of the Fugue with vocal sounds but no words; the simplicity and rustic quality of America's first great composer William Billings' (1746 -1800) Wake Ev'ry Breath and ten other selections. It was quite a journey through unusual choral material and so very well sung.

Schola's Mozart Celebration
&nbsp&nbsp&nbsp&nbsp&nbsp Schola Cantorum presented A Mozart Celebration: Choral Music of a Young Genius led by Music Director Dr. Lee Teply. Schola is an auditioned chamber ensemble in its tenth year of performing music that spans early Renaissance to contemporary classical compositions.
&nbsp&nbsp&nbsp&nbsp&nbsp The selections concentrated on pieces by a young Mozart. The motet God is Our Refuge, K. 20 was written by a Mozart who was nine years old in 1765 and taking London by storm. King George, soon to lose his American colonies, invited Mozart to play for him three times during his year-long visit.
&nbsp&nbsp&nbsp&nbsp&nbsp The final selection was the Missa Brevis in D minor, K. 65, written earlier in the month that Mozart turned fourteen. This group of twenty-one volunteers sang with a precise accuracy and a beauty of tone that was a joy to hear, from the pep and glory of Sancta Maria, K. 273 to five canons with their two or more parts of the same melodic lines starting at different times and often with different pitches to Misericordias Domini K. 222 that foreshadows music from his last work, the Requiem.
&nbsp&nbsp&nbsp&nbsp&nbsp The program also included two Church Sonatas, one in F Major, K. 244 and the other in C Major, K. 336 played by James W. Kosnik who kept the organ sound light in the spirit of Mozart's early years. These pieces were composed while Mozart was court musician to the Prince-Archbishop of Salzburg. Employment as a glorified domestic servant, as were all court musicians at this time, chafed his spirit. His dilemma was how to be free to compose as he wished while also making a living. There was no other social structure that offered him financial security.
&nbsp&nbsp&nbsp&nbsp&nbsp After receiving permission to resign he moved to Vienna and continued composing. Though there has been no detailed study of his financial life he seems to have been able to earn lots of money, though he remained an indulgent child in how he managed his money, buying the best of everything and tapping wealthy friends to make up for any shortfalls. The myth of the composer's poverty has little to do with the actual situation. The truth is that he and his wife lived beyond their means but his wife lived quite well on royalties from his music after his death. But enough of this; it is the music he gave us that is important.

Schola Cantorum's Tenth Anniversary Concert
&nbsp&nbsp&nbsp&nbsp&nbsp Artistic Director Dr. Lee Teply and twenty local singers presented a choral program to celebrate ten years of music. The cover of the program booklet describes the concert: "from ethereal Renaissance to lush Romantic harmonies, our favorite works selected from a decade of a cappella concerts." We heard them at the Eastern Shore Chapel in Virginia Beach on Saturday, June 10, 2006. There were other performances in Hampton, Norfolk and at Old Donation Episcopal in Virginia Beach.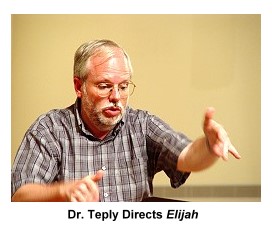 &nbsp&nbsp&nbsp&nbsp&nbsp This is Lee Teply's sixth year of musical leadership of the group. He has expanded the repertoire and improved musical performance style and technique. Schola opened with Summer is i-cumen in (c.1250 England) followed by two Italian madrigals in English translation by Baldessare Donato (1525/30-1603) and Giovanni Croce (1557-1609). They ended the first half shouting the praises of St. Cecilia in Hymn to St. Cecilia set by Benjamin Britten (1913-1976). The text is very strange and it sent me home to see what I could find about it. The text is by W. H. Auden (1907-1973), an English born poet and librettist who became an American citizen. Auden was friend and personal muse to Britten who was born on St. Cecilia's day. Britten set the text while on board a ship taking him and his life partner, tenor Peter Pears, back to England after their three-year sojourn in the United States. They arrived for a weekend in upstate New York in 1938 and sailed for home in March,1942, during World War II.
&nbsp&nbsp&nbsp&nbsp&nbsp In three parts we are taken on a musical and verbal adventure in the name of the patron saint of music, St. Cecilia. But the text is a private message to Benjy Britten from Wystan Auden about coming to terms with his own nature - his gayness and his overwhelming musical creativity.
&nbsp&nbsp&nbsp&nbsp&nbsp The ocean voyage was a slow and indirect one. Even though under the stress of the very real danger of being sunk by a German U-boat, Britten wrote music that "radiates a relaxed joyfulness" as his biographer Humphrey Carpenter phrases it. This joyfulness in Britten's sparkling setting shows that he understood Auden's message and was acting on it. A Ceremony of Carols, celebrating this now lost innocence would be his next composition.
&nbsp&nbsp&nbsp&nbsp&nbsp I would like to write an essay on the details in the text but, for now let me say: Part I is a twentieth-century continuation of the Renaissance style of choral music. Here agitated music intrudes on the peaceful choral lines. In Part II there is the bouncing energy of a child at play. The opening text "I cannot grow; I have no shadow to run away from, I only play" and then to end "I shall never be different. Love me." Part III is of an adult looking back. There are many moods expressing the torn emotions - regret that childhood has ended: "O trumpets that unguarded children blow about the fortress of their inner foe." With a good sense of humor Britten sets these words with a raw sound from the male singers. The female voices have a smooth, even tone. "O wear your tribulations like a rose" is given to a single male voice as if Auden himself is speaking to the composer. The chorus sang this beautiful, complex music "Blessed Cecilia appear in visions. . ." This live performance by Schola Cantorum was a revelation. I knew it before in a Telarc recording (CD-80408) by Robert Shaw and his Festival Singers where the rough edges get smoothed-out by all those voices in a large ambient space. The intimate experience of such enthusiastic singing that clearly delineated the text and music was breathtaking as it sorted out all the musical complexity and articulated the emotional energy.
&nbsp&nbsp&nbsp&nbsp&nbsp Several North and South American composers were featured in the second half of this eclectic program. Juan Perez Bocanegra, the first Mexican baroque composer, most likely born in Spain, c.1598, was a monk and printer as well as a composer. His Hanacpachap was published c.1631 and is a song celebrating an ivory statue of the Mother of God whom the devout ask to come to their aid.
&nbsp&nbsp&nbsp&nbsp&nbsp Carlos Guastavino (1922-1999), an Argentinean romantic who had an intense passion for his country, was a good pianist who had great knowledge of the human voice. His texts are all in Spanish. Schola sang his children's song Arroz con leche (Rice with milk) which is anything but simple as each voice group is added to the round.
&nbsp&nbsp&nbsp&nbsp&nbsp There is a larger than life size bronze bust of R. Nathaniel Dett (1882-1943) in Armstrong Hall at Hampton University. From 1913 to 1931 Dett was active as teacher, pianist and composer. He developed the Hampton Institute Choir which won critical acclaim on tours in the U.S. and Europe. His neo-Romantic setting of Ave Maria was rich, full and beautifully sung.
&nbsp&nbsp&nbsp&nbsp&nbsp In the mix were two settings by Orlande Lasso or Rolande de Lassus (1532-1594). His music is often found on Schola Cantorum programs. I suspect this Franco-Flemish composer is a favorite of Dr. Teply. In La nuit foide et sombre we traverse the emotional impact of sweet night, slumber and the bight color of the day in this great universe. The love song Mon coeur se recommande à vous is the song of a sad heart banished by a fickle lover. It is easy to see why his music is performed by Schola so often.
&nbsp&nbsp&nbsp&nbsp&nbsp The program concluded with three Nocturnes by Hildor Lundvik (1885 -1951), a Swedish romantic composer who is known in America for his lyrical choral pieces. Flowering Almond Tree, Quiet Rain and Early Spring are vivid impressionist pieces of tone colors, mostly somber, soft and sometimes dissonant. Ernest John Moeran's (1894 -1950) setting of a sea chantey, The Sailor and Young Nancy, was the last song. Though the sailor is leaving his beloved with a ring and a promise of marriage when he returns, for now he is joyous to be off.
&nbsp&nbsp&nbsp&nbsp&nbsp This was a fine celebration of ten years of exploring the diversity of choral music bringing us pieces we might never have heard otherwise. Dr. Teply is leaving the group as musical director after six years of fine performances. We will greatly miss him.
&nbsp&nbsp&nbsp&nbsp&nbsp Schola's Summer Sing community singing event is scheduled for August 12. See the AU calendar for details of the workshop for singers and the evening performance open to listeners. Schubert's Mass in G and Bach's Christ lag in Todesbanden will be sung.
More Schola Cantorum
Printer friendly format
Back to Review Index
Home &nbspCalendar &nbspAnnouncements &nbspIssues &nbspReviews &nbspArticles Contact Us