Chrystal E. Williams Wins International Vocal Competition
after Recital in Norfolk, June 6, 2014 at Chandler Recital Hall
After a stunningly lovely vocal recital with pianist Oksana Lutsyshyn on Friday evening, mezzo-soprano Chrystal E. Williams, a Portsmouth native, flew to Norrköping , Sweden the following day to compete in the Wilhelm Stenhammar International Music Competition. http://stenhammarcompetition.se
On Wednesday evening, June 18, 2014 she won first prize of 100,000 Swedish Krona ($15,000 US) and even more importantly, for building a career on the opera stage, performances with European orchestras and opera companies were part of her award. She also won the Audience Prize ($3,000 US). Altogether a nice nest egg as she builds her career.
The program, which she will reprise on July 23, 2014 as part of the Wonderful Wednesdays summer music series at the Jewish Museum and Cultural Center, 607 Effingham Street, Portsmouth, opened with four melodies (French art songs) by Gabriel Fauré (1845-1924). Maurice Ravel said "It is truly in his songs that Fauré offers us the flower of his genius." Her opening song was Les Roses d'Ispahan from 1884. The song, on mourning a lost love, is discreet, sensual and a blend of exotic orientalism and classical symmetry, captured beautifully in clearly enunciated French.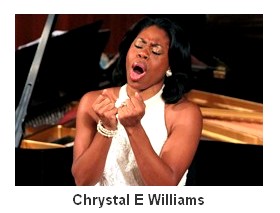 In the song En Prière (In Prayer), Ms. Williams created the supplication of one, who like Jesus, gives her all for suffering humanity.
The mood in Mandoline is created by the pianist playing a figure to suggest the mandolin player. The four characters are understated in enchanting melismas. The set concluded with En sourdine (Muted), an exquisitely beautiful nocturne of profound love and tenderness, sung with cool delivery and wide gesture, building in intensity but never causing the singer to lose her elegance.
Next, from Camille Saint-Saëns (1835-1921) popular opera Samson et Dalila, they performed Printemps qui commence (The first of spring). In the story, Dalila attempts to seduce Samson away from his leadership of the Israelite uprising. Can we blame him that he succumbed when the singer is that persuasive? Her power and passion tell us that Ms. Williams is prepared to sing this aria in a full production of the opera.
Three songs by Fernando Obradors (1897-1945), settings of classical Spanish poetry from his four volumes of songs, came next. Obradors at his most romantic is found in the beautiful, long-lined melody over piano arpeggios in Del cabello más sutil (Of the softest hair). Delicately delivered, this heart music was over far too soon. Voice alone opens La mi sola, Laureola… (My only Laureola) but was soon joined by a lively tune in the piano. The intense piano opening of El Vito (The Dance) is a transcription of a popular song that was all the rage in Madrid around 1800. A tavern dance on a tabletop for a bullfight audience has vibrancy and fire, with each stanza ending with three decisive, stamping chords.
Obradors is not listed in the most recent Oxford Dictionary of Music but singers and listeners find that his songs offer music to close a recital with a "bang."
After intermission Ms. Williams appeared on stage in the second Diva gown of the evening, having replaced her dark blue sheath overlaid with an iridescent black overdress from the first half with a full, flowing, white silk skirt and a multi-colored, sequined, silver-black top. The elegance of her appearance highlighted her superb artistry.
Sir Edward Elgar's (1857-1934) Sea Pictures is like a photo gallery of moods. There is no unifying musical theme and yet the five-song cycle offers a satisfying emotional experience. Sea slumber song, with its consoling words, is a lullaby of sea sounds. The deep tones—low notes in a rich, mezzo voice— rocked gently and warmed my soul. In haven, with text by Elgar's second wife Caroline Alice Elgar, has Schubertian piano riffs accompanying "Joy, sea swept, may fade today; Love alone will stay." Sabbath morning at sea offers a sense of mystery and the exultant piano offers the shimmer seen on water "commixed with fire" in the clear, high notes. The poem is by Elizabeth Barrett Browning.
In Where corals lie the singer journeys under the sea in music soft and low. It is a whimsical love song of caressing, beautiful feelings. The swimmer has an urgency created by the piano and doubled by the singer, warning of dangerous rocks. The music is exultant when the frightening aspects are held in check for "God surely loved us a little then." The thunder and lightning represented in both instruments offered great passion and high drama.
Encouraged by her late mother, Chrystal Williams has always performed Ride on King Jesus, set by Hall Johnson, as her encore. This year she chose an arrangement by John Carter, part of his Cantata. With the same words, this arrangement offers a more rhythmic take on the song. With outstretched arms accompanied by repeating chords of low notes, she sang "No man can hinder me" and I do not doubt that she means it as she moves into her adult career and the upcoming competition that she was to win.
We asked Chrystal for her contest repertoire to see if we were familiar with all of it. For her other devoted fans, it follows, with the year of the recital where we first heard each work in parentheses.

In the first round she sang Una voce poco fa (Rosinni's Barber of Seville) (2013), Die Nacht by Strauss (2013), and the Composer's Aria from Strauss' Ariadne auf Naxos (2012) . In the semi-finals Crystal sang Pie Jesu from the Duruflé Requiem (2005), Morgen by Strauss (2013), Fylgia by W. Stenhammar, the Habanera from Bizet's Carmen (2013), Ombra mai fu from Handel's Serse (2008), and Liber scriptus from the Verdi Requiem. For the finals she sang Una voce poco fa (2013) and the Habanera (2013).

12th Annual An Evening with Chrystal E.
Chrystal E. Williams, soprano; Oksana Lutsyshyn, piano
Black Box Theater, GSA Building, Norfolk, June 19, 2015
Review by John Campbell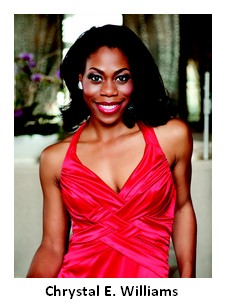 Ms. Williams came home from a successful first run of the new opera Charlie Parker's Yardbird (composer Daniel Schnyder, libretto – Bridgette A. Wimberly) presented by Opera Philadelphia. Of her role as Rebecca, Parker's first wife, New York Times critic Anthony Tommasini wrote: "Despair suffuses the poignant singing of the mezzo-soprano Chrystal Williams as Rebecca." Her fellow cast members included Lawrence Brownlee as Charlie Parker and a fellow GSA grad, dynamic baritone Will Liverman, as Dizzy Gillespie.
Earlier this year Ms. Williams had two major roles (the hero's girlfriend and a nurse) in Birmingham Opera's (U.K.) radically innovative production of Sir Michael Tippett's 1977 opera The Ice Break. Fortunately we were able to stream it from the Birmingham Opera site. Her singing and acting were most impressive.
With her broad, open smile, Chrystal Williams began her program with some of her favorite art songs written by Francis Poulenc (1899-1963) drawn from his catalogue of 150 mélodies. Voyage à Paris, from the song cycle Banalités, is a tiny sweetmeat in praise of Poulenc's beloved Paris. The piano accompaniment by Oksana Lutsyshyn ranged wildly over the entire keyboard, bringing to mind the fun of a Paris music hall. Guillaume Apollinaire's short poem celebrates a return to Paris after living in a dull place.
Nous avons fait la nuit (We switched off the light) is from nine poems by Paul Eluard. The private time the couple shares allows the singer to become aware of the mystery of the beloved. The realization seems philosophic rather than passionate. Or, as Carol Kimball says of Eluard's poetry: "The love force that makes universal knowledge possible becomes the all-powerful liberating force in human life." This force was released in Ms. Williams performance of lyrical, calm intimacy.
Fêtes galantes (an outdoor entertainment or rural festival) is a one-minute visit to a scene where life rushes by pell-mell. The whimsical text and music to match were breathtaking. The crisp delivery of words and music brought it to life.
The performers closed the set with Les Chemins de l'amour (The Paths of Love). With her whole person—facial expression, arm or hand gesture—Ms. Williams communicated this romantic love song with its lilting, lyrical melody.
Rückert Lieder by Gustav Mahler (1860-1911) followed. In 1904 Mahler set five poems by Friedrich Rückert (1788-1866). The form of each song, usually performed with orchestral accompaniment, is determined by the poetic content and the collection is often sung in a different order than what we heard. Altogether Mahler set ten of Rückert's poems and identified closely with their subtlety and delicate lyricism. Though sung in German, the titles in English are: Do not Look into My Songs, I Breathed a Delicate Fragrance, If you love for Beauty, At Midnight, I am Lost to the World. As our singer phrased it "Mahler was a fussy, private person." Without orchestral accompaniment there was an open immediacy and emotional transparency in the piano version of these songs on themes of love, vulnerability and sensitivity to the beauty of nature. Ms. Williams told us that the last song "is the epitome of what artists do." The last line is "I live alone in my heaven, in my love and in my song. " The performers captured this great depth of feeling.
After intermission Cole Porter's (1891-1964) Don't Fence Me In was presented as a favorite sentiment of the singer. The surprise for me was that Cole Porter wrote this song, so familiar to me from the group Riders in the Sky.
The set of three of Aaron Copland's Old American Songs: Simple Gifts, Long Time Ago and The Boatman's Dance gave voice to American exuberance, poignancy and power. The loud piano chord followed by a strong exclamation began each verse in The Boatman's Dance riveted the listeners' attention. All three songs were delivered with power and insight.
Traditionally Chrystal Williams closes her recital with a set of spirituals. They were Harry T. Burleigh's happy Ev'ry Time I Feel de Spirit and My Lord, What a Mornin' with its dirge-like piano opening and were followed by Hall Johnson's Ride On, King Jesus!. Closing An Evening with Chrystal E. with this rousing spiritual is a tradition going back to 2004 and the evening wouldn't be complete without it.
Ms. Williams announced the 2015 Chrystal E. Williams Scholarship winner, Amelia Dobbs. Ms. Dobbs was performing elsewhere that evening and her mother accepted the award for her.
Back to Top
Printer Friendly
Back to Chrystal E. Williams Index
Back to Review Index
Home &nbspCalendar &nbspAnnouncements &nbspIssues &nbspReviews &nbspArticles Contact Us