Chrystal Williams and Oksana Lutsyshyn in Recital, June 6, 2009
Stunning in a fitted black sleeveless gown with lace up to her throat, the lithe singer appeared in the 6th annual "An Evening with Chrystal E." In many ways it was a brand new experience for everyone. First, she sang in Chandler Hall, a perfect space for Chrystal's first all art song recital. More importantly, there is a poise and inner smoldering fire as she communicates the essence of each song. Her voice has changed into a richer, darker mezzo-soprano instrument that she understands and can use to serve the depths the composer intended.
In Gioachino Rossini (1792-1868) La Regata Veneziana she became the young woman in love cheering on her chosen young man who is rowing in the Venetian boat race. The three songs tell a single story and we know behind the official prize of the flag her chosen young man will be rewarded with a kiss. "No one rows better than you!"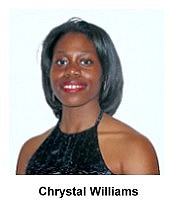 The Vier Lieder, four unconnected songs by Clara Schumann (1819-1896), came next. There is a directness in the music, as if the singer is speaking from a youthful, uncomplicated heart. In Die gute Nacht, saying goodnight is simple yet shows a deep connection with her friend. There is natural exuberance in O Lust, O Lust! "A joy from the mountain top, through all the land I'm singing." In Sie liebten sich beide (They loved each other once) the somber, slowly paced music tells the story of a couple who loved each other but never told the other. Seeing each other occasionally, they remained dead inside. The piano in all the Schumann pieces is an equal partner with the singer. The tragedy in the song is only realized in the long piano coda after the words have ended. Die Lorelei is a legendary figure who sings on a mountain by the Rhine River, luring distracted sailors to their death on the rocks below. The Heinrich Heine poem has a modern, economical setting in Ms. Schumann's hand, powerful and understated.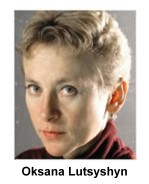 The audience failed to applaud and in the pause the mood was just right for Ms. Williams to begin Silhouette from Shadow of the Blues, settings by John Musto of poems by Langston Hughes. We see the silhouette of a black man hanging in a tree. Lynching is how Dixie protects its white womanhood. There is irony in the repeated advice to the Southern gentle lady, "be good, be good, be good." From this song the mood flows into a long piano introduction for Litany with its message "Gather up in the arms of your pity the sick, the depressed, the depraved, the desperate, the tired. All the scum of our weary city...who expect no love from above." The somber mood continues in Island: "Wave of sorrow do not drown me now." Pleading to be taken to an island "whose sands are fair." Only in the last song, Could Be, do we find relief. The perky piano signals a change as the singer laments the pawning of her watch by her former lover as she searches the streets for him, feeling that any place is dreary "without my watch and you." The spunky delivery lets us know that she will get through this too.
When Ms. Williams returned after intermission she was wearing a navy-blue, fitted, elegant , two-piece gown with a plunging neckline. She opened with Summertime by George Gershwin. When she sang "One of these mornings you're going to rise up singing, then you'll spread your wings and take to the sky" she opened her arms and her voice soared. The vocalise that ends the piece was sung full voice.
The urgency in the Villanelle from Les Nuits d'été (Summer Nights) by Hector Berlioz (1803 -1869) gives way to absolute glee as the song hurries along. The couple in the spring of love, fingers entwined, picks berries and draws us into the magic of this moment. A seamless flow of beautiful voice in Le spectre de la rose, with each phrase shaped precisely, was followed by L'Absence with its spare piano with ever-building intensity in the voice. She capped the set with L'île inconnue (Unknown island) delivered with a serene smile as she sang in French "Say, young beauty, where do you wish to go?" sure of her vocation as handmaiden of God expressing her gift of beauty.
In the four spirituals that followed she sang with a disarming simplicity an a capella Fix Me, Jesus, then with piano Give me Jesus, Ev'ry time I feel de Spirit and closed with Ride On, King Jesus! Her arrangements were by Hall Johnson (1888 -1970) and Harry T. Burleigh (1866 -1949) for Give me Jesus. Her encore was You'll Never Walk Alone by Richard Rodgers.
The purpose of the annual concert begun by Chrystal Williams as a graduating high school senior in 2004 was to start a scholarship for students in the arts. Patty McGowan is the 2009 scholarship recipient. Pianist, vocal coach and long-time friend Robert Brown was in the audience but not well enough to accompany. Ms. Oksana Lutsyshyn stepped in and as usual turned in an excellent performance.
For readers who would like to hear songs by Clara Schumann on CD, The Songs of Clara Schumann on Hyperion (CDA 67249) features soprano Susan Gritton, baritone Stephen Loges and pianist Eugene Aste in 29 songs by this little-known composer.

Chrystal E. Williams and Oksana Lutsyshyn in Recital
On June 12, 2010 at Chandler Recital Hall mezzo-soprano Chrystal Evangeline Williams sang a stunning recital with Oksana Lutsyshyn at the piano. This is the seventh year of Chrystal's annual concert, "An Evening With Chrystal E." She has allowed us to track her ever-growing maturity as a performer from 2004, as a graduating senior at I.C. Norcom High School to her four year degree program at Carnegie-Mellon in Pittsburgh and her early June 2010 graduation with a masters degree form Yale University School of Music.
Looking radiant in a black gown with a brocade top, close-fitted at the neck but with bare shoulders and a flared, pleated skirt and with a smile a mile wide she sang an extended section of the opera Arianna ŕ Naxos by Joseph Haydn (1732-1809). The story is of a young woman totally in love. Her boyfriend Theseus has gone hunting and to see where he is she climbs the Alpine rocks only to see him departing by boat with his Greek warriors. Suddenly they are swallowed by the waves leaving her bitter and angry and inviting her own death. Instead of dying she continues to tell us of her suffering. The expressive emotional range unfolded before us was deeply affecting and the piano added to the powerful climax.
Three selection from Das Knaben Wunderhorn set by Gustav Mahler (1860-1911) followed. The perky, happy tune Wer hat dies Liedlein erdacht? (Who made up this little song?) displayed some lovely low notes. By contrast the somber mood of Der Tamboursg 'sell (The Drummer Boy) grows heavier as the drumbeat to the gallows is in the accompaniment. At the last moment he plucks-up courage to die, wishing us all a good night. In the third song, Rheinlegendchen (Rhine Legend) the reaper muses on having a sweetheart. He dreams of tossing a ring into the river and seeing it eaten by a fish that is served to a king who asks whose ring it is. The girl of his fancy says it's hers and brings it back to him. Thankfully he has continued to reap the grain while fantasizing.
In Maurice Ravel (1875-1937) Chansons Madécasses (Madagascar Songs) Ms. Williams' approach is more lyrical than the recording that introduced me to these songs in the late 1960's: Ravel was the pianist and soprano Madeleine Gray sang with the ardor of one possessed. Written as a quartet for voice, cello, flute and piano, the cycle is, to quote Ned Rorem, "a trio of savage cries." The poet, Vicomte Evariste-Désiré de Parny (1753-1814) lyrical, free-verse prose is anti-colonial and as timely as today's news. The setting is viseral, demanding extended vocal technique. In the first song the melancholy gives way to a joyous exuberance at the arrival of the beloved, Nahandove, to the bower prepared for lovemaking. The mood is both reflective and enfolding, returning to a fulfilled melancholy. In Aoua! the opening shrieks create a sense of panic, warning of the danger of whites who descend on our coast promising to be our brothers only to introduce an unknown god and slavery. The music becomes most somber as the song winds down. The relaxation of Il est doux (It is nice) is a quiet meditation on all the things the cooling breeze of evening brings: the young maiden's song, the slow pace, abandoning oneself to voluptuous pleasures until time for a late supper. The mood is wistful and languorous like the mood of Samuel Barber's Knoxville: Summer 1915 (1947).
Ravel later made the voice and piano version of Madagascar Songs that we heard. The chamber version (1925-26) was commissioned by Elizabeth Sprague Coolidge, an American pianist and patron of music. It is fitting that Ms. Williams sing a piece commissioned by Mrs. Coolidge; Sprague Memorial Hall on the Yale campus was financed by Mrs. Coolidge. In addition to the Ravel cycle, she also commissioned string quartets by Schoenberg, Bartók, Webern, Britten and Copland's Appalachian Spring and a host of other 20th century works.
Back to Chrystal E. Williams Index
Back to Top
Back to Review Index
Printer Friendly Format
Home &nbspCalendar &nbspAnnouncements &nbspIssues &nbspReviews &nbspArticles Contact Us