An Evening with Chrystal E. 2012
Mezzo-soprano Chrystal E. Williams with Pianist Oksana Lutsyshyn
Kaufman Theater, Chrysler Museum of Art
June 17, 2012
The remarkable and personable Chrystal E. Williams, a third year resident artist at the Acadamy of Vocal Arts in Philadelphia, gave her ninth annual recital. She began the concert series in 2004 to fund the Chrystal E. Williams Scholarship to assist fellow students in pursuing a career in the performing arts.
Each summer she brings a gift of the music that she has added to her repertory the previous year. This year she sang the French Les nuits d'été by Hector Berlioz (1803-1869) and the Spanish Siete Canciones Populares Españolas (Seven Popular Spanish Songs) by Manuel de Falla (1876-1946) and an Austrian aria Sein wir wieder but from Ariadne of auf Naxos by Richard Strauss (1864-1949).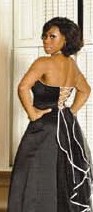 The piano accompanied version of Les nuits nuits d'été (The summer nights) was published in 1841. This, the first great cycle in French mélodie, established a new and complex sophisticated level of sung poetry. Each of the seven songs creates an individual emotional mood using rich melodies, united by a theme of love and longing. Ms. Williams, dressed in an elegant understated floor-length black, satin gown with rhinestone patterns on the bodice and a wide collar of beads at her neck and dangly silver earnings, is now a mature young woman with a commanding control of her powerfully expressive vocal instrument. Poised and appearing peacefully relaxed, Ms. Williams' glorious sound carried the message of the coming of spring with lovers walking hand-in-hand bringing home fresh wild berries. The song Villanelle is followed by Le spectre de la rose (The ghost of the rose), a stunning setting of Théophile Gautier's sensual poem: After a ball, the rose once pressed against the bosom of a beautiful girl comes back to haunt her dreams and to dance by her bedside – a perfume from paradise. Set to rich musical textures, there are opulent, soaring vocal phrases in the first two verses. The third ends quietly.
The most admired mélodie in the set is Absence with a mood of loneliness for the absent lover. It has transparent textures and the singer opened her arms wide as she seeks comfort for the pain of her loss. Ms. Lutsyshyn's superb playing was essential to creating these moods.
During intermission Ms. Williams' sister added red flowers to the two arrangements on stage. Ms. Williams returned, looking stunning in a red gown and a diamond choker glittering at her throat. With her always extra measure of enthusiasm she introduced Sein wir wieder gut (Let us be reconciled!) from Ariadne auf Naxos which has an opera within an opera: an Italian commedia del arte (comic theater piece) is mixed into the serious opera to save time at a rich patron's party. In this aria the composer resigns himself to the mess created by the patron's whim and asserts his fervent belief in the art of music. Ms. Williams' performance was magical, recreating Strauss' long, sensuous vocal lines with passion as she sang "And what is music then? Music is the holy art."
In the second cycle, Seven Popular Spanish Songs, Ms. Lutsyshyn's great musicality shone. Falla used dance rhythms, folk rhythms and virtuosic piano accompaniments, creating textures in jewel-like settings of these folk melodies. Each folk song was drawn from a different city or region of Spain. Ms. Williams captured the contrasting spirit of each.
The encore, as always, was Ride on King Jesus, with its stately piano chords. Chrystal Williams' voice filled all of the space in the hall, all the while singing with a beaming smile.

Art Song Recital: An Evening With Chrystal E. 2013
Mezzo-soprano Chrystal E. Williams & Pianist Oksana Lutsyshyn
Chandler Hall, June 7
(Prince of Peace Lutheran Church, June 9)
Review by John Campbell
On stage, dressed in a floor-length black fitted gown, with a diamond chocker and earrings to match, Chrystal Evangeline Williams presented an image of sedate elegance on June 7. Year by year her rich mezzo soprano sound deepens. The theme of the songs chosen was the things that bring people together: love and justice.
Oksana Lutsyshyn looked beautiful at the piano in an ankle-length black velvet gown and diamond jewelry. Together they offered a set of Italian songs: Intorno all'idol mio (Around my idol) by Marc Antonio Cesti (1620-1669?) paired with Sopra un'aria antica (About an old song) from twentieth-century composer Ottorino Respighi (1879-1936). Cesti was a Baroque composer whose music was known from Venice to Vienna. The exuberant, uncomplicated expression of love by the singer was lovely and was most likely an aria from Cesti's opera Orontea (1656) which was revived seventeen times in its first thirty years. The music for the Respighi song is a free paraphrase of the Cesti aria we had just heard and is the setting of a poem by Gabriele d'Annunzio (1863-1938), the composer's contemporary.
I heard metal in the voice in the Respighi song as she sang of being abandoned by a false lover. Respighi songs usually display lyricism and elegance and lack rhythmic thrust. In Sopra un'aria antica he builds to an intense, dramatic voical conclusion and uses a long piano coda to cool things down.
Four German songs by Richard Strauss made up the next set. Usually sung by a soprano or tenor, in Ms. Williams' mezzo voice the low notes were exceptionally rich and the soaring lines filled the hall, almost to overflowing.
Allerseelen (All Souls Day) was nostalgia for a love in May. She paused and seemed to take a whiff of the perfumed air before moving into the last verse filled with tears of loss. Her German diction was impeccable. Die Nacht (The Night) introduces a sense of mystery in a metaphor for loss. As the light recedes we see only silhouettes, then nothing of nature's beauty. We are left sad, but not for long. Morgen! (Tomorrow) tells us the sun will shine again and the silence of happiness will settle upon us. Zueignung (Dedication) is a love song with long lines, high notes, beautifully sung with superb support from the pianist.
The closing piece before intermission was a sparkling, mischievous Una voce poco fa (A voice has just echoed here into my heart) from The Barber of Seville by Gioachino Rossini (1792-1868). It is the manifesto of a young woman in love who will make her own decisions in life and love. What vocal power Ms. Williams displayed!
The return set was sung in French. From an operetta Toi, c'est moi (1934) by Cuban-born Moises Simons (né Rodriguez) who was active in French operetta (1888-1945). We heard C'est çà la vie, c'est çà l'amour (that's life, that's love) that tells a different story of justice for Carmen and her unfaithful Escamillo. They love, he leaves, he returns, she reproaches him, he slaps her, leaves again for another woman, he returns and she seizes a dagger and kills him.
Wearing a rippling, pleated, dark-green gown with earrings to match the diamond studded triangular broach below the bodice, Ms. Williams' pacing about showed Carmen's changing mood in this sendup of the Carmen story. It was followed by a most passionate, stunningly well-acted Habanera from Georges Bizet's (1838-1875) Carmen backed by the convincing percussive piano of Ms. Lutsyshyn.
To complete her program and give emphasis to justice she sang I have a dream by composer Lee Hoiby (1926-2011) using text from Martin Luther King's I Have a Dream speech as a song for solo voice and piano. The challenging, long text includes about one-third of the speech. Ms. Williams sang this, as well as the rest of her program, from memory. Only one piano interlude gave the voice a bit of rest to prepare for the climactic "let freedom ring" as her voice filled the hall with a joyous ringing sound. Without doubt this African-American singer demonstrates part of the fulfillment of King's dream for equality.
The encore for all ten years of the annual "An Evening with Chrystal E." recitals, Ride on King Jesus (Hall Johnson's arrangement), came before the presentation of the Chrystal E. Williams Scholarship established in 2004 for students pursuing a career in the performing arts. The recipient was graduating Governor's School for the Arts senior Jackie Pileckas. She will pursue a degree that includes vocal performance at Christopher Newport University this fall.
Back to Top
Back to Chrystal E. Williams Index
Back to Review Index
Printer Friendly Format
Home &nbspCalendar &nbspAnnouncements &nbspIssues &nbspReviews &nbspArticles Contact Us