Chrystal Williams Gives Eighth Annual Art Song Recital
Each year Chrystal Evangeline Williams, mezzo-soprano, offers a gift to the community of her enormous talent and learning. With Oksana Lutsyshyn at the piano it was a joy to hear her in recital at the Kaufman Theater of the Chrysler Museum of Art on August 5, 2011. French melodie was presented before intermission and a dramatic American vocal chamber piece after.
Ms. Williams began these annual recitals as a fund raiser in 2004 to establish a scholarship for fellow students who plan to prepare for a career in the performing arts. The remarkable thing is that at the time she had just graduated from I.C. Norcom High School and the Governor's School for the Arts where she studied voice with Alan Fischer.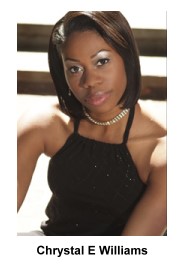 In the years since she has earned a bachelor's degree form Carnegie Mellon University, Pittsburg where she studied voice with Susanne Marsee, a master's degree from Yale in opera performance where she studied with Doris Yarich-Cross. She is now in her second year as resident artist at the Academy of Vocal Arts in Philadelphia where she studies with William Stone. She has spent summers in Italy, Salzburg, Austria and at the Aspen Music Festival. All the while she has been building a stronger and stronger resume of awards won, roles sung and solo parts in choral masterpieces.
Stunning in a black, floor-length sheath with a large red flower print, she opened with melodie by Joseph Cantaloube from his Chants d'Auvergne Series I. The language is Occitane, a traditional dialect of the Auvergne. Cantaloube set four collections of folk songs from 1923 to 1930. A single suite for solo voice and piano or orchestra is often sung. They tell of shepherds and shepherdesses and tender love all set in nature. Often sung by sopranos, here the rich tone of the mezzo voice in lush gushes of lovely sound added a new dimension. A tinkling sound in the piano reminds us of clear mountain streams. Trois Bourrées (17th and 18th century couples dances) has lots of piano interludes that give unity to the set. Ms. Williams' gestures rounded out the characterization of young adults drinking, speaking of love and worrying that their lover may find greener pastures on the other side of the stream!
The three-song cycle, Shéhérazade by Maurice Ravel, continued Ms. Williams' exploration of Ravel's more exotic melodie began at last year's recital when she sang Chansons madécasses. For Shéhérazade Ravel selected texts by poet and fellow Apache, Tristan Klingsor: La flüte enchantée, L'Indifférent and Asie. An enchanted flute plays outside the window at night, sad and joyous by turn and is experienced by the singer as kisses from the air. The second song, L'Indifférent (The indifferent one) sounds mysterious as a young stranger passes the door singing and swaying, going by without becoming aware of being observed. Asie (Asia) is a lengthy travelogue of a place that never existed except in the yearning of the poet living in the hazy bliss of his imagination. Ms. Williams' wide smile communicates that all of this is for our great pleasure.
In O ma lyre immortelle (Oh, my immortal lyre) from Sapho, an opera by Charles Gounod (1818-1893) we heard a voice of steel wrapped in velvet as she sang of the pain of lost love seeking to descend under the waves into eternal rest. The great dramatic ending is accompanied by wild piano.
After intermission Ms. Williams returned wearing a ruffled black and white fabric that created a dramatic angle where the black top met the white skirt. We heard I Remember by Michael Cohen (B.1938) with text based on Anne Frank: The Diary of a Young Girl, text by Enid Futterman. The voice was accompanied by flute (Patti Watters), cello (Michael Daniels) and harp (Barbara Chapman). Chrystal Williams spoke with serious intensity as she introduced the piece with its message of hope.
In the opening text Anne writes to her friend Kitty. "I am thirteen years old. I have to write. Something buried deep in my soul . . . my deepest secret . . ." She speaks of what it feels like to disappear from her previous life. She can only know longing of recalling a breeze because she can no longer go outside. "I remember grandmother lighting candles for Sabbath." The Cohen setting reminds me of Debussy's last works – Sonata for flute, viola and harp. The setting evoked a myriad of emotions in this twenty-minute vocal piece. I do not have words to capture my experience. I wish for our readers that in future you will have a chance to hear the piece in person.
After enthusiastic applause died away, Chrystal Williams congratulated the scholarship recipient Jonathan Belka and award recipients Brandon Bell and Livia Amoruso. Her encore came outside on the porch after most folks had gone, an cappella Ride on King Jesus. That was after she had introduced us to her dad, Bruce Williams, because her mother, who has always attended Chrystal's recitals, left this world last winter. We will give Chrystal the last word:
"My mother always encouraged me to pursue my goals and dreams, no matter what they were. She taught me to ask 'why not?' instead of 'why?'. My mother was an incredible human being – one who constantly defied odds, who constantly stared fear, worry, and doubt in the eye wearing a fierce badge of Christ; always ready to help, uplift, or defend others. With her, there was always hope, always faith and belief in the so-called impossible. Many wonder how the youngest child of five from a middle class family in Portsmouth, Virginia went on to pursue an operatic career earning degrees from some of the best educational institutions in the country, how this little girl went on to travel abroad and found a scholarship giving back to others before she herself even began collegiate studies. The belief in the impossible instilled in her by her loving and supportive mother, Nannie Adele Morrison Williams, and her unwavering faith in the Almighty is how that little, inquisitive girl is where she is today."
Back to Top
Back to Chrystal E. Williams Index
Back to Review Index
Printer Friendly Format
Home &nbspCalendar &nbspAnnouncements &nbspIssues &nbspReviews &nbspArticles Contact Us