Ambrosia Quartet Opens Portsmouth Summer Music Series
Wonderful Wednesdays, a four-program music series opened the season with a Mozart evening by Ambrosia Quartet at the series' home, the Jewish Museum and Cultural Center on Effingham Street. The choice of repertory, Mozart's only two piano quartets, was possible because Charles Woodward, the series music director, replaced the second violinist, who is on vacation in Japan.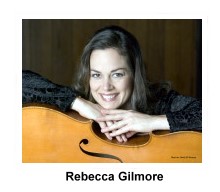 Notes for The Complete Mozart Edition CD set on Philips say that Mozart took delight in making music with his friends just for the pleasure of it. So did we, as part of an audience of about 100 who gathered to hear these piano quartets that are miniature piano concertos with the strings as a small orchestra.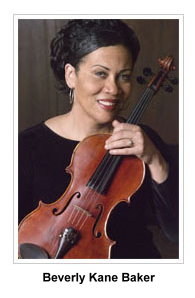 Violist Beverly Kane Baker wore a turquoise, flower print summer dress while cellist Rebecca Gilmore wore a blue-green top and dark slacks. The men were in colorful dress shirts and dark slacks: violinist Simon Lapointe in deep blue and pianist Chuck Woodward in deep lavender. The look was casual and relaxed but the playing was committed and precise. The program opened with Piano Quartet No. 2 in E flat major, KV 493, written June 3, 1768. The allegro opening movement has all four instrumental voices together followed by solo piano phrases, then all together again spinning out dramatic music. This Classical composer was given voice with no sentimentality added. The second, larghetto, movement created a dreamy feeling of being sheltered inside the loveliness of the sound. In the allegretto the pace quickened. Closing my eyes I could imagine elegantly dressed dancers whirling by. The conversation between strings and piano was interrupted by a humorous, high-pitched violin sound that led into a bold joining together.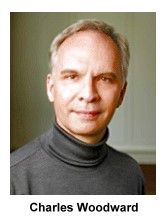 The sound inside this small, wood interior space of what was formerly the Chevra T'helim Synagogue (1918-1986) is vivid and clear of reverberation. The recently acquired baby grand Steinway piano made possible by the E.K. Sloane Fund of the Hampton Roads Community Foundation added greatly to the superb sound. In the Piano Quartet No. 1 in G minor, KV 478, composed October 16, 1785, played after a short intermission, the performers achieved a stunningly rich, deep spectrum of coordinated string sounds accompanying the ever moving piano line. The opening allegro movement of the G minor quartet is more emphatic than the quartet we heard first. The andante movement slowed to what seemed half speed – a slow dance of strings with piano, all with a quiet ending. The third, very familiar rondo movement has a daring sound and an exciting ending.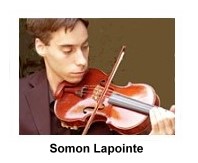 The audience's standing ovation led to an encore. The little piece Salut d'amour by Edward Elgar became popular only after the German title, Liebes Gruss, was changed to a French one. The piece has been much arranged for various instruments but the string quartet arrangement was reworked by Mr. Lapointe for piano quartet. We left the hall refreshed on a hot summer evening.

Invencia Piano Duo at the Jewish Museum
& Cultural Center in Portsmouth
The last of the Wonderful Wednesdays series of summer 2011 concerts was on August 24th and featured music by Schumann, Gottschalk and Schmitt. The two pianists, Andrey Kasparov and Osana Lutsyshyn were heard on a Steinway piano, a recent gift of the E.K. Sloane Fund of the Hampton Roads Community Foundation. Mr. Sloane, who died in 1997, bestowed numerous pianos upon arts organizations and colleges during his lifetime. His generosity continues and that is why the Jewish Museum and Cultural Center dedicated their 2011 music series to the E.K. Sloane Fund.
Unfortunately we were unable to attend but heard form several friends what a fine musical experience we missed. In my research of a piano piece by Ravel played earlier in the concert series by Jason Paul Peterson I came across the name Florent Schmitt (1870-1958). The Invencia Piano Duo, Kasparov and Lutsyshyn, are currently working on recording a CD set of the complete duo piano works by Schmitt. For this evening they played a piece written in 1912, Une semaine du petit elfe Ferme l'Oeil, Op.58 (A week in the life of the little elf Shut-Eye). Thinking our readers would enjoy a little introduction to Schmitt to prepare us for the coming CD set, I'll share this historic incident.
In Paris early in the early 1900's there was a group of young intellectuals known as the "Apaches" that included Ravel (1870-1837), Florent Schmitt, the poet Tristan Klingsor, the pianist Viñe, the writer Léon-Paul Fargue, the critic M.D. Calvocoressi and others who were the first to hear Ravel's music. Ravel listened carefully to their criticism.
Schmitt, after five tries won the Prix de Rome in 1900. Ravel competed for the Prix de Rome four times but never won. Beginning in 1901, Ravel entered the competition and every year thereafter until 1905, when he was eliminated in the preliminary test, causing a scandal that led to the resignation of the director of the Paris Conservatory.
On May 29, 1913 the Apaches attended the opening of the Rite of Spring by Stravinsky. Nobody connected with the production had the faintest idea that the music would provoke a visceral reaction. As soon as the bassoon ended its phrase in the high register at the very opening of the ballet, laughter broke out. Soon there were whistles and catcalls … "The Apaches, headed by Ravel, shrieked their praise." Stravinsky described the evening in his writings: "Mild protests could be heard immediately. When the curtain opened on the group of knock-kneed and long braided Lolitas jumping up and down (Danse des adolescents) the storm broke. Cries of 'Ta gueule' (shut up!) came from behind me. I heard Florent Schmitt shout 'Taisez-vouz garces du seizieme" (Be quiet, bitches of the sixteenth [arrondissement]). These 'garces' were in fact the most elegant ladies in Paris. The uproar continued however and a few minutes later I left the hall in a rage."

Jason Paul Peterson Plays Wonderful Wednesdays
August 10, 2011, Jewish Museum and Cultural Center, Portsmouth, Virginia. Jason Paul Peterson as guest concert pianist played a rich, complex program from memory. A simple opening of W.A. Mozart Twelve Variations on "Ah vous dirai-je, mamam", K. 265 (Twinkle, twinkle little star) began quietly but soon the pianist was moving his fingers over the keys at great speed in another variation. There were light-fingered variations, intense ones, virtuoso ones with accidentals proliferating, others with so many notes that playing it clearly seemed impossible. He made it all sound clear and look easy. He followed that with Felix Mendelssohn Scherzo in E minor, Op.16, no.2, a virtuoso piece with many fast notes that brought to mind the Rossini William Tell Overture.
The major piece of the evening followed: Piano Sonata in G, D.894 by Franz Schubert. Played brilliantly, it was amazing to watch the pianist's face to see his focused intensity as he played through this 35 minute late Schubert masterpiece. It was written in October, 1826 and published the next year. Schubert died the following November. Of the Sonata in G, pianist Imogene Cooper writes: "One of the rare completely serene sonatas that he wrote. Of course, as ever with him, there are contrasting passages which become stormy and a little bit dark but overall peace and luminosity. The last movement has tremendous wit. In it we hear cloud covering the sun which re-emerges." The first movement, Molto moderato e cantabile, was my favorite with its singing melody and moderate tempo. Fellow ODU faculty member, contralto Kelly Samarzea said that she could hear all the love Jason has for his wife in this piece. They were married in the spring of 2010. For this and other concerts he came from Switzerland where he and his wife Susanne have recently established their home.
After an intermission of lively conversations we heard Sonatine in three movements by Maurice Ravel (1875-1937) written in 1903-1905. Even in the early period of his composing career we find a mature, sophisticated precision. His music was published and was favorably received by the listening public and that is still true of this audience.
Two arrangements of American folk songs by local composer Stephen Coxe came next. Long, Long Ago, with a slow, stately opening, introduces a sadness for things long past which was emotionally engaging. Without pause Mr. Peterson played Shenandoah as a spiky tribute to Charles Ives who took hymns and folk tunes popular in his day – a hundred years ago - and made them his own. Their sound caught my ear when I was very young.
A big, bravura piece by Franz Liszt (1811-1886) Mephisto Waltz no.1 "The Dance in the Village Inn" with its romping on clusters of notes to create the effect of a symphony or at least a dance band does not move my emotions. But the prodigiously powerful playing and the amazing concentration of a true concert pianist moved me to tears – we lost our puppy of 14 years less than a week before. The pace of the music slows almost to a halt, gathers energy and gallops to a shattering ending.
The encore, G Major Impromptuby Chopin turned the small sound space into an intimate living room. We were all very pleased.
Back to Top
Back to Review Index
Printer Friendly Format
Home &nbspCalendar &nbspAnnouncements &nbspIssues &nbspReviews &nbspArticles Contact Us