A Streetcar Named Desire
Virginia Opera
Harrison Opera House
February 16, 2013
Review by M.D. Ridge
Snow and "wintry mix" were in the forecast February 16 for the Virginia Opera production of Andre Previn's opera, A Streetcar Named Desire, at the Harrison Opera House.
Soprano Kelly Cae Hogan, who sang Brunnhilde in VO's Die Walküre two years ago, was no fragile, fading flower as Blanche DuBois. It's a difficult role to sing, onstage for almost every moment. Hogan's Blanche knew how to scheme for what she wanted, even though her prospects were increasingly limited. Hogan needed her powerful voice to negotiate Previn's difficult vocal lines, all of which seemed jammed up against the ceiling—but that very power worked against the character's gradual dissolution into madness.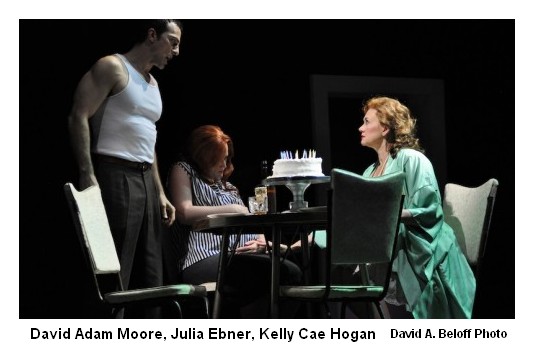 As Stella Kowalski, Blanche's younger sister, soprano Julia Ebner had a calm, sweet tone that made full use of one of the few really melodic passages—a lovely, wordless tra-la-la at the end of the first act. Her acting was understatedly effective. Ebner is fulfilling the promise she showed as Gretel on this stage in 2011.
Anyone who plays Stanley Kowalski has to contend with the image of Marlon Brando burned into audiences' mind in the play and the film. Tall and rangy, David Adam Moore has the build for Stanley, Stella's brutish husband, but his voice is a little too dim—and in the opera, Stanley really doesn't have much to do. The heat between him and Stella was well portrayed, but he appeared to have zero connection with Blanche—and there went the big emotional impact.
Tenor Scott Ramsay was perfect as Mitch, Blanche's beefy would-be suitor. He also got to sing what amounted to a very nice aria in the second act—nice arias are hard to come by in this work—and the audience burst into applause.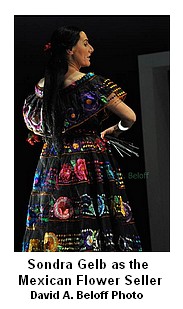 The rest of the cast worked well with what they had, especially contralto Sondra Gelb. Her rigidly ominous flower seller, who appeared to have been lifted out of a Frida Kahlo painting, was very effective as a portent of Blanche's doom.
For an opera set in New Orleans and sung in English, a little attention might have been paid to some kind of consistent regional accent—but no. However, the sung diction was mostly quite good, subtly abetted by the Supertitles.
Full marks to conductor Ari Pelto, who brought out every nuance of Previn's wonderful orchestral writing. When Blanche sang about having lost Belle Reve, the home of her fantasies, the trumpets sneered at her pretensions. A bluesy saxophone blared up out of nowhere and as quickly faded away. There are some lovely, lyrical vocal passages, but they are too few in number and too brief.
Stage director Sam Helfrich had less to work with than in last season's riveting Orphée, but took full advantage of Andromache Chalfant's very useful scenic design and Aaron Black's dramatic lighting. The minimalist set was a stark, raised box, surrounded by flat, dark walls and several open doors, through which appeared various silent characters giving life to Blanche's memories and fantasies.
Based on Tennessee Williams's steamy play, A Streetcar Named Desire premiered only fifteen years ago in 1998— but for some reason the rather academic vocal writing style never transcends its genre, and seems curiously dated. Think of watching 50s television in all its grainy Kinescope glory, or a 90s film in which the high-tech phones are bulky and inconvenient.
But the orchestral score is everything that the vocal writing isn't—by itself, it would make a gripping ballet!
This review was originally broadcast on WHRO 90.3 FM's "From the other side of the Footlights."
A Streetcar Named Desire
Virginia Opera
Harrison Opera House
February 20, 2013
Review by John Campbell
The Virginia Opera production of A Streetcar Named Desire gave a new perspective on a classic American play, then movie and now an opera (1998). Director Sam Helfrich has said "I discovered that the music had the ability to cleverly reveal aspects of each character that could easily remain hidden in a straight reading of the play." He goes on to describe actors who "play big sweeping emotions and telegraph those emotions to the audience through overwrought and excessive 'acting.'" Helfrich let the music take care of that aspect of the story while working with the cast to create unusually subtle, understated performances.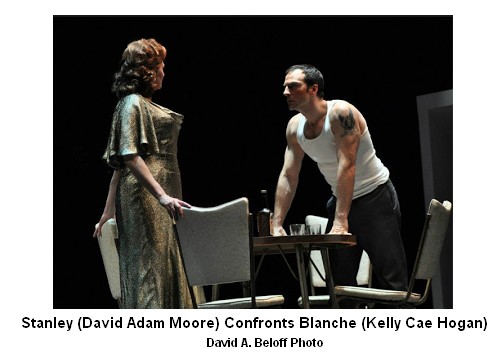 Stanley in this production disappointed viewers who were looking for someone to equal Marlon Brando's brutish character from the movie or Rodney Gilfrey's portrayal in the original San Francisco production of the opera. Stanley Kowalski, a Polish-American, told a condescending Blanche that he is not a Polack; I would add also not a brute. My take is that Stanley and his wife Stella have an erotic and loving relationship and offer the only hope for the redemption of both families through their child. The Stanley we saw was a conflicted young man who, when drinking, struck his wife. Unlike in the movie, in this opera production he does not bellow "Stella," demanding she come back to him; he lies on the front of the stage in a fetal position crying out for Stella to return. His bravado could not hide his insecurity in the face of his alcoholic, manipulative, condescending, seductive, insane sister-in-law who showed up at his door, threatening his carefully constructed life. His pregnant wife, caught between the two of them, resolved the challenge by letting her sister go while she clung to her husband. She made the right choice.
I am not unsympathetic to Blanche, a fragile woman who was overwhelmed by the death and demise of an old Southern family's way of life. Scarlet O'Hara one-hundred years on. But she is toxic and bent on her own destruction. No one can save her but we can shed a tear and move on.
Mitch, the mama's boy, likes the favor of the ladies but he cannot commit.
Mr. Helfrich has moved Tennessee Williams' mid-twentieth century characters into the twenty-first century where human sexuality and its expression is nuanced in ways that the playwright could hardly have imagined.
Many audience members didn't recall the Mexican flower woman from the play. In the opera DVD she is there but only as a projected face while the singing of "la morte" is in the background. Virginia Opera's Mexican flower woman, Sondra Gelb, told us that composer Previn later expanded the role. The dress she wore, as bright as any Rose Parade float covered in designs of flowers on a black background, was stunning for this messenger of death.
I have learned that Mal Vincent's review in the Virginian-Pilot discouraged some patrons from seeing the final performance. It is appalling that we cannot have a 21st century reviewer for our innovative opera company. Any suggestions?
Personally I'm still delighted with the changes in repertory and staging at our 21st century Virginia Opera. Remember, the only reason we are having this discussion about the merits of a Streetcar production is because of the changes in the last three years. Otherwise we'd be discussing another Traviata.
Marriage of Figaro
Virginia Opera
Harrison Opera House
April 6, 2013
Review by M.D. Ridge
What a week for Mozart!—beginning with The Marriage of Figaro at the Harrison Opera House April 6, followed by the powerful Requiem April 13.
The Marriage of Figaro is, of course, built on the bones of a satire by noble-wannabe Pierre Beaumarchais, in which the clever servant, Figaro, and his equally clever wife-to be, Susanna, thwart the lustful Count, who has eyes for Susanna—and almost every other female. At a time when marriages among the nobility were primarily ironclad sales contracts, the Countess has the tragic misfortune to be in love with her philandering husband. (Poor thing.)
For an opera with one great melody after another, you need one terrific singer after another—and this production has them.
Anne-Carolyn Bird is a joy as the resourceful Susanna, the Countess's maid, who sympathizes with her mistress's plight. Bird's airy, charming soprano brings out the character's attractive competence. (It doesn't hurt that she's really pretty, with a voice to match!)
Figaro, the Count's valet, is well sung by Bird's real-life husband Matthew Burns, the young poet in last season's Orphée. His clear, robust bass-baritone instills confidence as his character deftly avoids his master's treachery and keeps minor dustups from becoming major tragedies, all with good humor and intelligent acting.
In the trousers role of the young page Cherubino (who proclaims that every woman makes his heart race) is mezzo Karin Mushegain, who was such a knockout as Hansel in VO's production of Hansel and Gretel. She has Cherubino's aria, "Voi che sapete," thoroughly in hand vocally, as well as convincing physical verve.
As the randy, bored Count Almaviva, baritone Aaron St. Clair Nicholson is intimidating, treacherous, and jealous of everyone who seems to be having more fun than he. He wears his power to destroy them like invisible ermine: it's all about him. But realizing his mistakes and pleading for his wife's forgiveness, Nicholson makes the Count's change of heart believable—not an easy task.
Soprano Katherine Whyte's voice is almost too big for the role of the Countess. Her gorgeous arias, "Porgi amor" and the exquisite "Dove sono," almost blast the audience into submission; but Whyte redeems herself utterly in the last act, with her meltingly lovely forgiveness of her straying husband.
Jeffrey Tucker (who was last year's Mikado) is Dr. Bartolo, with a commanding bass. His good acting chops and great glee are shared by Margaret Gawrysiak as Marcellina, who schemes to marry Figaro herself but turns out to be his mother. (Don't ask.) Drew Duncan returns to the VO stage as Don Basilio, the castle's music master; lanky Aaron Ingersoll is the drunken gardener Antonio; and Ashley Logan is a pert, cheerful Barbarina.
Conductor Steven Smith gets the most out of the Richmond Symphony musicians; returning for the third act, one could see their bows waving enthusiastically—an uncommon and happy tribute.
What can one say about Lillian Groag, the stage director, who keeps all the balls in the air so deftly that nothing has a chance to lag, inserting Commedia dell'Arte characters, a small dog for the Countess, and even a raffish Madame Defarge knitting fiend, perhaps in homage to Beaumarchais' jail stint. The stage business is equally magical—as when a character steps through a mirror, or Don Basilio fishes noisily through his moneybag to produce. . . a single coin. It's all as fast and fizzy as Mozart's glorious music.
Peter Dean Beck's moveable proscenium arch serves again to delineate Upstairs from Downstairs: it rises from the low ceiling of the servants' room, to the higher ceiling of the Countess's chamber and, finally, to the open skies of the castle garden. Lighting and costumes are elegantly supportive.
This review was originally broadcast on WHRO 90.3 FM's "From the other side of the Footlights."
Back to Top

Printer Friendly Format
Back to Review Index
Home &nbspCalendar &nbspAnnouncements &nbspIssues &nbspReviews &nbspArticles Contact Us