The Pearl Fishers (Les Pêcheurs de Perles) by Georges Bizet
Virginia Opera Led by Conductor Anne Mason
Harrison Opera House, Norfolk Virginia
October 3, 2012,
Review by John Campbell
My first reaction to the new season at Virginia Opera is great enthusiasm. The renewal of our local Virginia Opera continues with the first production of The Pearl Fishers in its 38 year history as part of the continuing plan to open each season with an opera never previously produced by Virginia Opera. Also new last season was the plan to bring us one contemporary American opera each season. We all remember last season's marvelous Orphée. In February there will be a production of A Streetcar Named Desire (composed by André Previn, world premiere 1998) based on the play by Tennessee Williams. The goal is to bring in a new, younger audience and to allow some of us long-time supporters to experience some new repertory. As we age, some opera goers decline seeing their tenth production of La Bohème. I'm also pleased with the choice of matching a younger, experienced, enthusiastic conductor with each opera.
With a commission in hand and under pressure, Geroges Bizet (1839-1875) composed Pearl Fishers between April and August of 1863. In the Grove Dictionary of Music, the libretto by Michel Carré and Eugène Cormon, is described as "frigid" and Bizet concentrated on local color and background events in his music shaping. The librettists later apologized for doing such a poor job because they did not take the young composer seriously. Berlioz was enthusiastic about the new opera when it came to the stage in late September while other critics were cold and patronizing toward it.
Written 150 years ago, The Pearl Fishers is an operatic fantasy, set in a mythical, dream of Ceylon created in the imagination of a twenty-five year old romantic European. This is a French opera and unlike Italian and German opera, there is an ambivalence and vulnerability to the characters. There is no hero or villain here, only the fate of flawed human beings.
The opera is a prime example of opèra lyrique, a distinctively French style of opera that transformed opera comique, whose musical numbers were separated by scenes of spoken dialogue, into a through-composed work. Bizet set the dialogue to music in a form known as recitative: a rhythmically free vocal style that imitates the natural inflections of speech. I was captivated by this music because of its closeness to mélodie (French art song).
The tension of the love triangle of two men and one woman is unusual in that the strongest bond is filial love between the two men, Zurga (baritone David Pershall) and Nadir (tenor Chad Johnson). We are told that in the past these two friends were together when they saw at a distance the priestess Leïla (soprano Heather Buck) and both were immediately infatuated. To preserve their friendship the men agreed that neither would pursue the woman.
The staging in our small opera house was both intimate and charming. The setting is a fishing village in Ceylon (Sri Lanka). I enjoyed the look of the stage with its modern steel sculptural evocation of masts, fishing poles and lines behind a flexible saffron-colored floor suggestive of a sandy beach with a movable pier. The red of the inner curtain, which when lighted from the front appeared to be rich, red velvet turned out to be a scrim that gave a mysterious gauzy effect when lighted from behind and was suggestive of the sensuality of the tropics.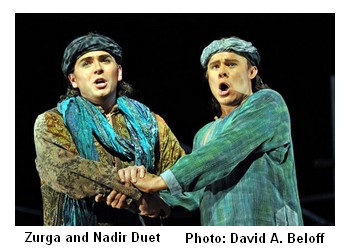 The opening scene sees Zurga chosen leader by the people of the village (36 singers and 8 dancers) where the industry is fishing for pearls. Nourabad (bass Nathan Stark), high priest of Brahma represents the rigidity of their religion. Immediately after, Zurga's friend Nadir arrives. Together they sing the best known music of the opera, Au fond due temple saint, a duet celebrating their friendship.
The new diving season is about to begin and a veiled priestess is on her way from the Hindu temple to chant and pray for the safety of the pearl fishers while they are diving. This is a world of rituals with taboos and superstitions dictating how society is organized in an attempt to control the erotic, indulgent and uninhibited expression of the creative impulse. The villagers are distrustful of her remaining a virgin while there and she swears an oath. Nadir sleeps on the beach and dreams of the priestess he loves. He wakes to hear her singing and praying to ward off evil spirits and realizes that she is his beloved. He approaches her, and with great fear of community censure, she removes her veil and they hold hands singing. A storm erupts and the villagers arrive terrified. The couple is discovered, denounced and condemned by the village, egged on by the high priest.
Zurga is forgiving of his friend until he sees Leïla's unveiled face, recognizes her and in a jealous rage condemns them to death. The third act begins with Zurga alone in front of the scrim (his tent) where he sings a most passionate aria of regret, l'orage c'est calmé. Leïla enters and unsuccessfully pleads for Nadir's life. As she is being taken away she gives a pearl necklace to one of the fishermen to take to her mother. Zurga seizes it and remembers that as a child Leïla had hidden him to save his life and this necklace is the one he had given her. Zurga forgives the couple, releases them and sends them on their way. Alone he faces the fury of the village and sings his farewell to life.
I'm always delighted to see a new opera here in Tidewater. Just to have a context for the lovely opening duet that many of us know was worth the price. We are fortunate to have a vital, innovative opera company when many arts groups are struggling.
This is a French opera and it is not a repertory staple, in fact until recently it was rarely performed. The Metropolitan Opera has not presented the work since Enrico Caruso was in its cast in 1916. In the past few years there have been many performances by first and second tier opera companies all over the U.S. In 2008 Lyric Opera of Chicago mounted a production with baritone Nathan Gunn as Zurga. The response was mixed. San Francisco Opera and Washington Opera did as well. In 2010 English National Opera mounted a visually stunning updated production complete with complex, crowded sets, marvelous costumes, a visible sea and video projections of pearl divers. Ticket sales were not brisk and the production was critically panned. Even so, Pearl Fishers, in the 21st century, is becoming one of the most performed French operas, along with Saint-Saens' Samson et Dalila.
Conductor Anna Manson led the The Pearl Fishers with intelligence and subtlety; the singing was never covered by the players of the Virginia Symphony. Singer and voice teacher Karen Hoy pointed out "This was the best support for the singers I have ever heard from the pit. The energy behind the drama in the second act was very effective and so helpful to the singers both musically and dramatically. It's so much easier to sing, move and act when pit energy is undergirding your sound in a musically sensitive way and not just loud and louder. That is exhausting and only creates competition not support for the singer's sound." Each of the four principal singers gave us a strong sense of character portrayal and with interpersonal emotional involvement.
Our DVD from Teatro la Fenice (Venice) has an Angkor Wat-like temple dominating the stage but logic is on the side of no temple. This is a remote fishing village, a rather humble setting, after all.
The Pearl Fishers
Virginia Opera
Harrison Opera House
September 29, 2012
Review by M.D. Ridge
Virginia Opera opened its new season September 29 with Bizet's opera The Pearl Fishers. There was an appreciative audience for the story of two friends who fall in love with the same woman, and fall out over her — but a number of problems marred the production.
The opera's one Big Aria, Au fond du temple saint, was sung in the very first act. Where do you go from there? Now, it really is a gorgeous duet for tenor and baritone— for many years the most requested piece of music at WHRO — yet while it's nice to hear its melody repeated instrumentally later, and again, and then reprised in the last act, there's a fine line between "Oh, good, here comes that song again," and "Oh, God. Here comes that song. Again."
Then there's that red scrim, which also appeared again. And again. And again. Crucial actions taking place in front of it lost impact by being visually divorced from everything else.
Merrily Murray-Walsh's costumes were a problem. They're very elaborately printed and put together—but the tiny details couldn't be seen even from mid-orchestra, so almost everyone in the large chorus of villagers seemed fairly drab and vaguely Muslim, which was rather odd since their god is Hindu. The women had nearly identical shoulder bags, like Pernese carisaks —something to hold the flower petals they were always strewing.
Their newly elected chief, Zurga, needed a turquoise scarf around his neck to distinguish him from the other villagers; without it, he was hard to pick out. (Not good planning for a lead role.) The light teal tunic of Zurga's friend—and romantic rival—Nadir was much easier to spot. (Well, he is the tenor.) The footwear resembled upscale surfer-type flip-flops with heel straps, so they could walk around on the steeply raked stage without making those annoying little flappy sounds.
You couldn't miss the temple priestess, Leila, of whom both men are enamored. She appeared first in a gauzy bright red gown, ornamented in gold, with a veil to match—sort of a blazing burkha. Later, she wore something less all-encompassing, though elaborately patterned, and still red— with a filmy teal scarf that got put to use as a blanket. (Excuse me?) At least she had nice sandals.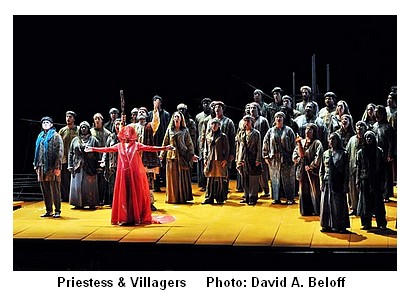 Leila was the temple priestess, sworn to remain veiled and pray for the villagers' safety when they went out to dive for pearls. But there was no temple. She sat on the dock (which apparently was supposed to be a rock at that point) like a Ceylonese version of Denmark's Little Mermaid. Well, we think it was a dock; it seemed to move around.
Actually, it might have been best to turn off the Supertitles, so that the glaring gaps between the libretto and what was actually going on onstage would be less incongruous. According to the libretto, Leila arrived in a canoe, but there was only a very abstract sailing ship at the back of the set. The chorus sang of dawn and sunshine—but the sky remained black. The High Priest sang, "Listen to the festive sounds," while the villagers were silently getting ready to stone Nadir. (And they were aiming at the audience.)
The opera has long stretches of lovely music with zero action. Director Tazewell Thompson tried to move things along with dancers, and processions strewing flowers, and so forth. But one wonders why Thompson separated the singers in every duet. The well-prepared chorus sounded wonderful, but physically was pretty static. Choreographer Matt Ferraro's "tribal" dances ranged from exaggerated quasi-Balinese marching, to a sort of Sumo-Lite wrestling in MC Hammer pants, to a low-to-the-ground danse sauvage that could be described as Pilobulus: The Very Early Years.
Happily, however, the singers were terrific. Heather Buck, who was so riveting as the Princess in last season' Orphée, was a lovely Leila, especially in the pretty "O Dieu Brahma" at the end of Act I, full of coloratura runs and trills, and her "I can sleep" aria in the second act. Tenor Chad Johnson had ardor and passion as Nadir, especially in "I hear as in a dream," reflecting on his love for the forbidden priestess. As the chief, Zurga, baritone David Pershall swallowed his low notes a bit in the first act, but, like the others, his voice got richer and warmer act by act. (The weather had suddenly changed, which may have affected the singing.) Pershall gave everything he had to his powerful second act aria, "O Nadir," in which Zurga remembers his friendship for Nadir, and his sense of betrayal. (Zurga's death scene was played out in front of the scrim — unfortunate staging that left Pershall just hanging out to dry.)
Nathan Stark had little to do as Nourabad, the High Priest; but his portentous bass invested the role with dignity and strength.
Ann Manson conducted Virginia Symphony players with grace and sensitivity.

This review was originally broadcast on WHRO 90.3 FM's "From the other side of the Footlights."
Back to Top

Printer Friendly Format
Back to Review Index
Home &nbspCalendar &nbspAnnouncements &nbspIssues &nbspReviews &nbspArticles Contact Us