Virginia Opera: Sweeney Todd
Harrison Opera House, September 26, 2014
Review by M.D. Ridge
Stephen Sondheim said of Sweeney Todd, "If you do it in a theatre, it's a musical. If you do it in an opera house, it's an opera." Presented September 26 at the Harrison Opera House as Virginia Opera's 40th season opener, Sweeney Todd, the Demon Barber of Fleet Street, was not only an opera but one not to be missed, even if you have to go to Richmond to catch it.
Baritone Stephen Powell, outstanding in last season's Falstaff, commands the stage with a superb voice and passionate acting in the title role. Fifteen years before, an unjust and powerful judge had Sweeney transported to Australia so he could corrupt Sweeney's innocent, beautiful wife Lucy. Rescued at sea, Sweeney's obsessed with revenge on the judge—and, for that matter, on everyone. Powell gives him both flawed humanity and a psychopath's grim tunnel vision.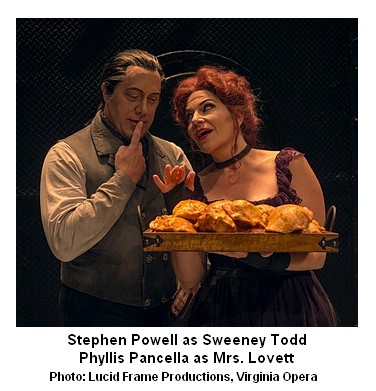 Returning to his old Fleet Street digs, Sweeney encounters Mrs. Lovett, maker of the "worst pies in London," who tells him his wife is dead and offers him his old lodgings upstairs. Mezzo Phyllis Pancella makes Mrs. Lovett a wily, quick-witted survivor with a cheery outlook and eyes for Sweeney; her clear voice carries Sondheim's quick, complex lyrics easily, with an unerring ear for Cockney glottal stops, and, not least, brilliant acting. Towards the end of the first act, a new source for the meat in her pies dawns on her—without a word, Pancella makes that epiphany a revelation simultaneously macabre and funny.
Baritone Andre Chiang's big, ardent voice and honest simplicity are perfect for the role of Anthony Hope, the sailor who rescued Todd at sea and falls in love with his daughter Johanna, now the evil judge's ward. Soprano Amanda Opuszynski, who's getting to be a welcome regular with Virginia Opera, sings Johanna with innocent sweetness.
Bass-baritone Jake Gardner is a standout as Judge Turpin, once obsessed with the barber's wife and now obsessed with the barber's daughter, whom he has raised as his own daughter and intends to marry. In a shocking self-flagellation scene, he vainly tries to control his sexual thoughts of Johanna.
Soprano Diana DiMarzio is the demented Beggar Woman, who veers in and out of screechy insanity, accosting men in the street for sex, suggestively asking, "Don't I know you?" and crying piteously, "Alms, alms." (I'm not going to give you the spoiler, but it's pretty clear.)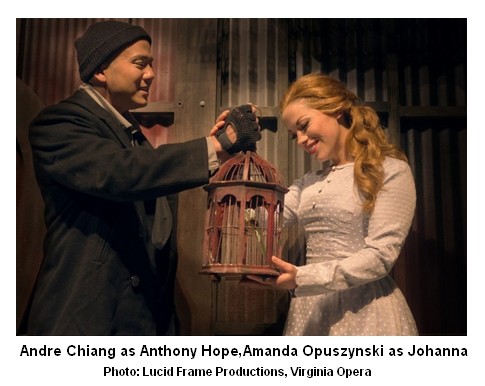 Where are the tenors, you might ask? Scott Ramsay is the massive Beadle, Judge Turpin's henchman, displaying impressive vocal and physical agility. Javier Abreu is a jaunty Pirelli, the snake oil mountebank and barber who loses Sweeney Todd's challenge—and becomes his first victim. And as the naive Toby—Pirelli's assistant and later Mrs. Lovett's—David Blalock has an open, happy demeanor and a voice to match.
Director Ron Daniels, who co-wrote the original play, keeps the action humming along, although Riccardo Hernandez's set doesn't exactly help. The audience's suspension of disbelief is stretched to the max as Todd tips his victims backward out of the infamous barber chair, but their bodies fall out of a chute at house right—visually at the same level. And one wonders why cutting the throats of the first two victims produced a visible bloody spray—but not in subsequent victims. Had the Demon Barber just gotten . . . neater?
The costumes, by Emily Rebholz, had some odd lapses but mostly worked well; and James McGough's period wigs were appropriately messy. Maruti Evans's lighting design was very murky in places, but the Emerald City green of the barbering contest and the ominous blood red of later scenes were weirdly effective.
Kudos to dialect coach Ellen O'Brien—few things are worse than a fake English accent, and Cockney is hard to get right, but the well-prepared cast had wonderful, effortlessly crisp diction.
Thankfully, Bryan Delaney's sound design worked well, except for one horribly unbalanced moment in the prologue. It was all quite loud, but at least it was very clear, which made resorting to the error-ridden Supertitles mostly unnecessary.
Virginia Symphony musicians (who got a roar of applause when introduced) gave a rousing performance under the direction of Adam Turner, now Principal Conductor of Virginia Opera. We hope it won't be their last production, since they hadn't yet signed a season contract.
This review was originally broadcast on WHRO 90.3 FM's "From the other side of the Footlights."

Virginia Opera H.M.S. Pinafore
Harrison Opera House, November 7, 2014
Review by M.D. Ridge
Virginia Opera's jaunty production of William S. Gilbert and Arthur Sullivan's H.M.S. Pinafore opened November 7 at the Harrison Opera House. It's as richly comic as when it first appeared on the London stage 136 years ago—a merry skewering of the British class system, the Royal Navy, social pretension, even patriotism, combined with utterly charming music and unforgettable patter songs.
Her Majesty's ship Pinafore—how's that for the name of a warship?—is at anchor in Portsmouth. (Not ours; the south of England one.) Little Buttercup comes aboard to sell trinkets to the ship's crew; soprano Magda Gawrysiak—who was the witch in VO's Hansel and Gretel—gives cheerful Bu''ercup a sunny resilience.
Rafe Rackstraw—okay, it looks like Ralph, but it's pronounced Rafe, as in Vaughan Williams—Rafe is the manly, lowborn sailor whose love for the captain's daughter is hopeless. Cullen Handy has broad shoulders to match his broad smile, and a nice tenor voice to woo his love. As Josephine, the captain's daughter who loves the lowly tar, soprano Shannon Jennings acquits herself charmingly except for one unfortunate high note.
Matthew Scollin is the scoundrel seaman Dick Deadeye; Brian Mextorf and Keith Brown are Rafe's prime shipmates. One wishes Courtney Biller had more to do as Cousin Hebe; her marriage to the admiral comes out of the blue. But so does everything else—logic is not a must for Gilbert & Sullivan.
But it's a tossup as to who steals the show—baritone Christopher Burchett as the gentlemanly Captain Corcoran, much admired by his crew, or Jake Gardner's turn as Sir Joseph, the "ruler of the Queen's Navee."
Bass-baritone Gardner, chest blazing with gold braid, is perfectly cast as the admiral who's never been to sea, and radically professes that "love levels all ranks"—except his, of course. (The character is based on one W.H. Smith, at that time a political appointee as First Lord of the Admiralty, who had never, ever served in any military or nautical capacity.)
But I lean toward Burchett—who sings the wonderful "I Am the Captain of the Pinafore" with its refrain, "What, never?" "Well . . . hardly ever." Burchett's beautifully underplayed comic timing is impeccable, his diction flawless—and he moves well. And in the topsy-turvy surprise ending (remember, do not ask for logic), Burchett, demoted, reappears in seaman's garb with a first-class lower-class accent—a small detail, but telling.
Full marks to director Nicola Bowie, who brings unique British insight to the production, as well some snappy topical anachronisms tucked into the libretto—a reference to "Restoration hardware" and a throwaway line about "no telephone communicates with his dungeon cell."
It's crucial to Gilbert and Sullivan that the performers play it straight, so to speak—their clueless absurdity gives the audience even more to laugh about. Bowie is also an experienced choreographer, so all the players, including both the men's and women's chorus, move and dance credibly. That's an accomplishment, especially considering the women's bulky Victorian bustles. (Too bad the program doesn't list the two sailors who do the fancy split leaps. They're great.)
The Pinafore's quarterdeck serves the production very well, and director Bowie makes excellent use of it. The curtain depicts the war goddess Britannia, with banner and shield, and the British flag—perfect.
Conductor Adam Turner makes the most of an orchestra of Virginia Symphony players. Music this well-known can be a challenge, but it's all crisp and rollicking, nicely underscoring the joyful absurdity of the libretto. One wonders, though, what the musicians thought during the night elopement scene, when the drifting fog was billowing over the edge of the stage into the orchestra pit.
This review was originally broadcast on WHRO 90.3 FM's "From the other side of the Footlights."
Back to Top

Printer Friendly Format
Back to Review Index
Home &nbspCalendar &nbspAnnouncements &nbspIssues &nbspReviews &nbspArticles Contact Us