Carmen
Virginia Opera
Harrison Opera House, Norfolk
March 21, 2014
Review by M.D. Ridge
Ginger Costa-Jackson, a 2012 graduate of the Met's Lindemann program, strode into the first-act scene of Virginia Opera's new production of Carmen with the irresistible confidence of a woman who knows she can turn any man's head—and enjoys that knowledge. Those flashing eyes, that carmined slash of a mouth—Costa-Jackson's Carmen was, like Lord Byron, "mad, bad, and dangerous to know." She didn't have a huge voice—but she didn't need it: she could have whispered her way through the role and still been stunning.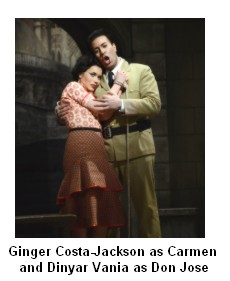 Tenor Dinyar Vania looked the part of Don José, the soldier who falls in love with Carmen; he had a nice Andy Garcia sort of look—a country boy, in way over his head. However, his passionate voice unfortunately went sharp on just about every high note. Worse, he had absolutely no chemistry with his village sweetheart, Micaela; without that, and without establishing Don José from the very beginning as an upright and virtuous man who is a challenge to Carmen's sexual rapacity, the tension falls apart. Poor Don José, instead of being a tragic figure destroyed by a heedless woman, came across as just another poor schlub under the gypsy's spell, though there are intimations throughout of the desperation that will bring him to violence. Hollow-eyed and disheveled in the last act, Vania finally pulled it all together.
As Micaela, Corinne Winters was shy with the jeering soldiers, but plucky enough to persist and convey to Don José his mother's wish that they marry. Winters' voice was perhaps too powerful for the role—less sweet village maiden and more likely to go one-on-one with her rival, which threw off the balance of characters.
Winters was more moving in the third act scene in the mountains, where she has followed her love to the smugglers' hideout; in a touching aria, she protested, "I am not afraid." But she was.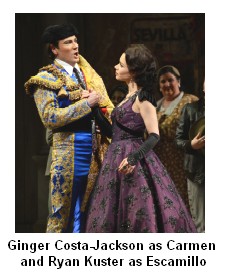 The arrogant toreador Escamillo was sung by bass-baritone Ryan Kuster, whose voice had a curiously muffled effect in the second act but was better in succeeding scenes. He had the physique for the part, which included a well-choreographed knife fight with Don José in Act III.
The biggest surprise was the performance of the two smugglers—Le Dancaïre, sung by baritone Andre Chiang, and Le Remendado, sung by tenor David Blalock. Chiang had awesome clarity of voice, superb diction, and that indefinable thing called "presence"—when he was onstage, you had to look at him! Blalock's lighter, higher voice blended beautifully with Chiang's in duet and dialogue. They were terrific.
As the gypsies Frasquita and Mercedes, the voices of soprano Jeni Hauser and Mezzo Courtney Miller blended beautifully, and their acting was crisply effective. Bass-baritone Matthew Scollin sang the role of the tall, lantern-jawed Zuniga, Don Jose's superior officer, with gusto and a hint of menace.
The production values were excellent. Updating to the 1950's, Merrily Murray-Walsh's costumes hit the mark, with the women's full skirts and narrow waists, the men's fedoras, the officers' uniforms and the smugglers' leather garb. Even the shoes, which are the hardest to get right in period costuming, were very good indeed, for the most part. The sad-sack group of recruits in the first act was hilariously perfect! And in the final act, Carmen's embroidered lace gown was a true work of art.
The large chorus was very well trained by Adam Turner. Bizet wrote some brutally fast passages for chorus and small groups, which they handled with clear, precise diction.
Stage director Tazewell Thompson had much more to work with than last season's relatively static The Pearl Fishers. In Carmen, he was still into scrims, for whatever reason; but there were knife fights, dances, and a rolling-on-the-ground, hair-pulling catfight in the first act, all well-choreographed by Anthony Salatino, and seamlessly integrated into the overall story by Thompson. David Gordon's sets had a great sense of real places, yet allowed the singers and dancers to move freely.
Players from the Richmond Symphony were under the competent baton of Grammy and Tony Award-winning conductor John DeMain. But Bizet's stirring rhythms and distinctive melodies were, as always, the star.
This review was originally broadcast on WHRO 90.3 FM's "From the other side of the Footlights."

Ariadne auf Naxos
Virginia Opera
Harrison Opera House, Norfolk
February 7, 2014
Review by M.D. Ridge
The plot of Ariadne auf Naxos, which premiered at the Harrison Opera House February 7, is confusing to start with: the richest man in town (who's never seen) has planned an entertainment for his guests (that's the audience), but time is running short—the fireworks must start promptly at nine—so the tragic grand opera about Ariadne abandoned by her lover on a desolate island and Zerbinetta's slapstick comedy troupe must perform simultaneously on the same stage. The earnest composer of the opera is appalled. The diva and the tenor are furious. Zerbinetta just shrugs (she's going to do her own thing anyhow). All this takes place in a ratty backstage area with a piano and a couple of sofas, on which lounge the punk-attired Zerbinetta and her troupe, all leather and chains and singlets and tattoos.
Mezzo Stephanie Lauricella was terrific as the Composer. Her warm, clear, passionate voice and excellent acting chops touchingly brought out all her character's vocal and personal nuances—triumphing over a wig that appeared to have been attacked by cannibal moths.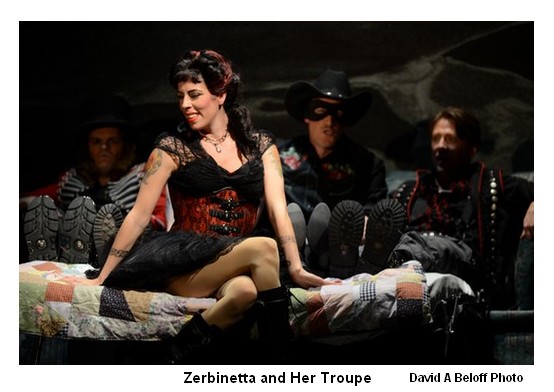 In classic commedia dell'arte, Harlequin, Scaramuccio, Brighella and Truffaldin wear instantly identifiable costumes. Clad in wannabe Village People biker garb, they were impossible to distinguish from each other. My apologies to those good singers Christopher Burchett, Ryan Connelly, David Blalock and Matthew Scollin, but I gave up trying.
The Music Teacher—Jake Gardner—was a forceful presence with a rich baritone, supportive of his composer protégé but wise in bowing to the inevitable. Tenor Edwin Vega embodied the dancing master with sly humor and physical verve. As the Major-Domo, Mike Schaeffer spoke with energy and authority.
That was the Prologue, which was sung in English with remarkably clear diction by all.
The second part, the opera/commedia dell'arte mishmash, was sung in German. Soprano Christina Pier, as the lovelorn Ariadne, spun out Richard Strauss's long, long phrases with beautiful tone and superb breath control. Her gravitas gave life to Ariadne's long, sad lament.
Zerbinetta was saucily played by soprano Audrey Luna, whose voice began rather thinly but warmed into the brilliant coloratura demanded by the score. The less-than-attractive punk costuming made Zerbinetta less than enchanting—which dampened the overall effect, though Luna gamely gave it her all, including some rather explicit sexual miming.
As Bacchus, the god who comes to rescue Ariadne, tenor Ric Furman was appropriately passionate, though it was hard to rid oneself of the mental image of his first act appearance in bathrobe and animal-print skivvies.
The three nymphs attending Ariadne on her island—Naiad, Dryad and Echo—were well played by Amanda Opuszynki, Courtney Miller and Jessica Julin. They sang with great beauty and style, blending effortlessly.
Under the baton of Garrett Keast, the orchestra of Virginia Symphony players brought out all the power and sweep and Romantic passion of Strauss's music.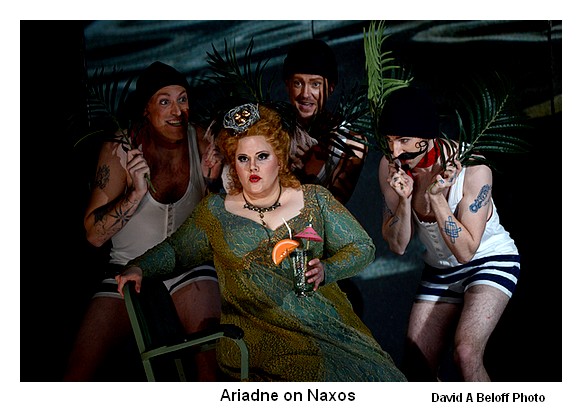 Taking up most of the stage's limited space with huge, cumbersome walls was a peculiar choice by scenic designer Andrew Lieberman. However, it worked well for the second part, when lighting designer Aaron Black's projections of shimmering waves effectively evoked Ariadne's isolation in the vast sea. But doors popping open in the sea? A water cooler? Abrupt lighting changes? Perhaps the jangle was meant as ironic, but . . . it just felt jangly.
Nancy Leary's costumes for Ariadne and her attendant nymphs were flat-out gorgeous, seemingly spun out of the sea's mists and waves. But Ariadne's headdress—a bird's nest with golden eggs—seemed odder than necessary. Some of the costumes in the Prologue—the Major Domo's spiffy suit, the Composer's natty purple shirt and brown-and-white wingtips—were spot on, but the biker punk look of Zerbinetta and her troupe defeated me.
But I never got Breaking Bad, either.
This review was originally broadcast on WHRO 90.3 FM's "From the other side of the Footlights."
Back to Top

Printer Friendly Format
Back to Review Index
Home &nbspCalendar &nbspAnnouncements &nbspIssues &nbspReviews &nbspArticles Contact Us