Conductor Joseph Rescigno Returns to Virginia Opera
Harrison Opera House
September 27, 2013
Notes by John Campbell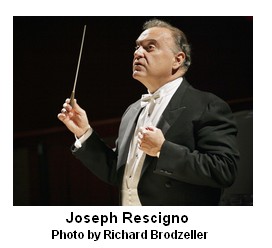 At the end of the opera Falstaff, the title character declares "All the world is a jest." Verdi was 79 when the opera came to the stage and it had taken him almost a year to create his masterly orchestration. It is a meticulous work as we learned when Joseph Rescigno led the Virginia Opera Orchestra peopled with top players of the Virginia Symphony Orchestra in a nuanced performance. The rhythmic sparkle and orchestral finesse is essential for the comedy to work. Maestro Rescigno provided the secure musical structure that underlies the freely declaimed monologues bathed in melodic abundance. At the end of the opera everything and everyone fall into place in an exuberant ten-part fugue, one of Maestro Rescigno's two favorite moments in opera. This cascade of merriment brought the evening to a delightful end.

Virginia Opera Falstaff
Harrison Opera House
September 27, 2013
Review by M.D. Ridge
Say Verdi, and the mind jumps to his great operatic tragedies—La Traviata, Il Trovatore, MacBeth, Rigoletto, Aida, Otello. You'd think you'd have to look elsewhere for laughs—but not so.
Virginia Opera opened its 39th season September 27th with Giuseppe Verdi's (1813-1901) richly comic Falstaff, his last opera, written in his late seventies. Boito's complex but amusing libretto gave the composer a complex, amusing character—Sir John Falstaff, who appears in three Shakespearean plays, Henry IV, Parts 1 & 2 and The Merry Wives of Windsor. He's a fat, lecherous, over-the-hill trickster down on his luck, who still sees himself as an irresistibly seductive lover. He meets his match when he tries to put the moves on two wealthy married women, Alice Ford and Meg Page, sending them identical love letters. Not a good move.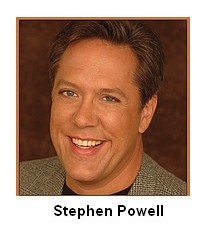 Baritone Stephen Powell sets a high standard for the cast. His huge but very musical voice and wonderfully nuanced acting bring out not only the old rogue's ridiculous self-delusions but the rueful moments when Falstaff has intimations of mortality. Powell's comic timing and vocal agility shine as his character describes how Alice will succumb to his charms, singing her cooing surrender in a surprising falsetto—completely unexpected, and utterly hilarious.
As Alice Ford (okay, a-LEE-chay—it is an Italian opera), Cuban-born soprano Elizabeth Caballero has spunk—and splendid pipes. She organizes the women's revenge on Falstaff. Contralto Ann McMahon Quintero is Mistress Quickly, with a creamy, dark voice and an imposing décolletage; as the go-between, she gets Falstaff to come to the Ford house so Alice and Meg can play a trick on him.
With strength and presence, baritone Weston Hurt sings jealous John Ford, Alice's husband. He doesn't know it's all a trick, and shows up with reinforcements to search the house. Alice and Meg bundle Falstaff into a big laundry basket and have him dumped out the window into the Thames below. It's all a very fast-moving slapstick shell game (who's hidden in what basket?), with pairs of characters in sporting garb—cricket, tennis, rugby, golf—running through the back of the set. Why? Who cares! It's funny! Think Woody Allen with the Keystone Cops.
And in Act III, it's both funny and sad to watch Falstaff totter very slowly across the stage, lamenting that a noble knight could be treated so ignobly.
But the fun's not over: Alice, Meg and Mistress Quickly plot further revenge, and arrange a tryst in the garden at night. Meanwhile, Nannetta, Alice's schoolgirl daughter, loves young Fenton but is being forced by her father to marry the clerical twit Dr. Caius. But the Windsor wives know what to do about that, too.
When Falstaff shows up for his garden tryst, he's captured, poked, prodded, teased, and tormented by the masked plotters, and finally admits that he's been played for a fool—in a way, it's a relief for him.
Soprano Amanda Opuszynski is a charming Nanetta, pertly Gigi-like in schoolgirl braids but entrancing in her Queen of the Fairies disguise; her voice grows with her character. Tenor Aaron Blake ably and tenderly sings her lovelorn beau Fenton.
Meg Page, sung by mezzo Courtney Miller, gives good support to Caballero's more insistent character. Dr. Caius is really a stock character, but tenor Ryan Connelly sings him well. Falstaff's servants Bardolfo and Pistola— stock characters too— are given comic life and indefatigable energy by tenor Jeffrey Halili and bass Jeffrey Tucker.
It's not easy to keep all the balls in the air all the time for something as frothy as this— but stage director Stephen Lawless has made wonderfully imaginative choices that move the action right along, especially when John Ford and his men pile laundry baskets and furniture together to make a slow-moving barricade from which to attack Falstaff. It's a great sight joke, and the audience howled with appreciation. One might ask how and why Mistress Quickly rolled her tea cart everywhere, but it really doesn't matter.
Scenic and costume designer Russell Craig set this Falstaff apparently in a near-deserted theatre. Various large baskets are labeled with the names of Shakespearean plays—Macbeth, Lear, Midsummer Night's Dream, etc.—allusions that make sense in the final scene. I particularly liked John Ford's shooting outfit (very Downton Abbey!) and Falstaff's highly detailed court outfit, with cloak and sashes—even an Order of the Garter garter.
But all would have been for naught without Stephen Powell's funny, touching, powerful performance as Falstaff—and, not least, Verdi's glorious music.
This review was originally broadcast on WHRO 90.3 FM's "From the other side of the Footlights."

The Magic Flute
Virginia Opera
November 8, 2013
Review by M.D. Ridge
On opening night November 8, Virginia Opera's new production of The Magic Flute began with the house lights up. On the bare stage was a bed and several children's toys were scattered around. As the overture continued, a silent young couple were going to bed, angry with one another. Then their dream began.
I confess I was more than a little leery at the idea of staging The Magic Flute as a dream sequence; but for the most part, it worked, and allowed for some delightful touches that kept the action zipping along. I've never seen better use of the three boy spirits who help Tamino on his journey. Anna Maples, Fran Coleman and Kristen Choi sang with clarity, energy and good humor, as they appeared and reappeared on children's scooters, hobby horses or a tricycle, clad in high-collared white jackets, jodhpurs, boots and pith helmets—they were just a hoot!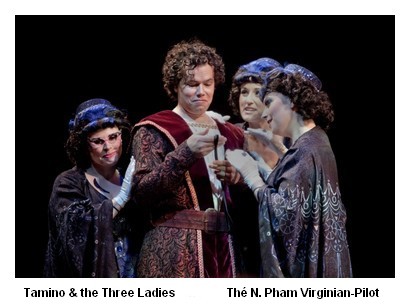 Tenor Matthew Plenk, who was Nanki-Poo in VO's Mikado, sang Prince Tamino with passion and fervor. He's gotten firmer control of his vibrato, which still threatens to break loose, but fortunately did not.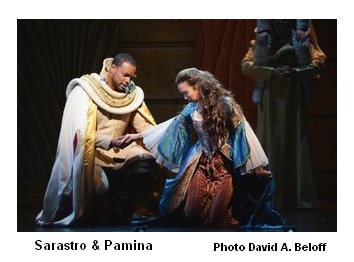 Pamina, the plucky abducted princess, daughter of the Queen of the Night, was sung by Nadine Sierra. Her beautiful soprano voice suited the character admirably— strong without being overpowering, sweet without ever cloying. Her duets with Plenk were lovely.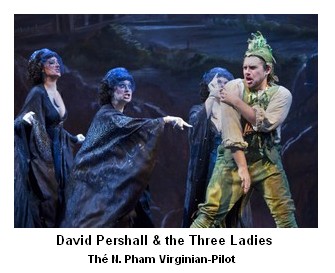 Baritone David Pershall nearly stole the show as Papageno, the bird catcher in search of a girlfriend, who is reluctantly drafted into helping Tamino. Pershall, who was the island chief Zurga in last year's The Pearl Fishers, had all the chops: hearty voice, believable acting and lively movement. As the screechy hag who turns into his beloved Papagena, soprano Amanda Opuszynski had less to do, but did it with humor and grace.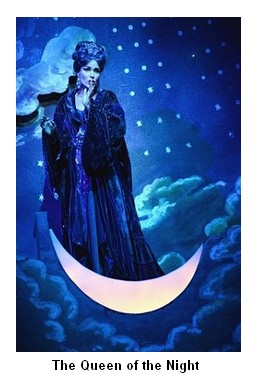 In her third VO appearance, soprano Heather Buck sang the role of Pamina's mother,The Queen of the Night, with powerful intensity, making her character both cold and fiery. Her aria in which she exhorts her daughter to kill Sarastro—the one with that high, high F—was chilling, and more impressive than her more subdued first act aria.
As her sunlit counterpart Sarastro, bass Kenneth Kellogg had the look of Billy Dee Williams in Star Wars—tall, elegant, imposing, assured — but perhaps not quite as vocally powerful as the lowest notes demanded.
The Three Ladies—minions of the Queen of the Night—were portrayed wittily by Natalie Polito, Courtney Miller and Sarah Williams, the latter in cat's eye glasses like a brunette version of Penelope from TV's Criminal Minds. The director had the three channeling the Supremes, complete with Motown-style choreography.
The role of the villainous Monostatos, overseer of Sarastro's slaves, was sung by tenor Ryan Connelly with energy and verve; he was tattooed like a TV gang member and clad in swoop-toed pink genie slippers and bulbous bright purple and pink harem pants reminiscent of hip hop artist M.C. Hammer—and Connelly had the hip hop moves, too.
The men's chorus sounded just great— fully engaged in the action, not just "Stand here, sing this."
Stage director Michael Shell did a bang-up job. The second half of The Magic Flute can get pretty static, what with all its ponderous paeans to the joy of freemasonry, but Shell deftly kept everything light, brisk and thoroughly enjoyable. I'm still not entirely convinced by the dream sequence idea, but this production skipped happily over just about every pitfall.
Scenic designer Troy Hourie's sets were bright and workable. Marie Anne Chiment's costumes were terrific to look at and moved well, and Driscoll Otto's lighting heightened every scene.
This Magic Flute was sung in English, with helpful English supertitles useful in high tessituras. However, I found Kit Hesketh-Harvey's translation from the German to be remarkably silly.
It's not often you see an audience cheering for the conductor coming back into the pit to begin the second half—but that's exactly what happened. Conductor Mark Russell Smith created "holes" to cradle the singers' voices, so that the orchestra never covered a crucial line, but was always supportive. That's pretty rare, and the Virginia Symphony players were most responsive. Full marks to Smith!
This review was originally broadcast on WHRO 90.3 FM's "From the other side of the Footlights."
Back to Top

Printer Friendly Format
Back to Review Index
Home &nbspCalendar &nbspAnnouncements &nbspIssues &nbspReviews &nbspArticles Contact Us