Virginia Chorale Hosts Reception
to Welcome Charles Woodward
Chuck Woodward will be interim artistic director of the Virginia Chorale for the 2011-2012 season. This "cultivation" event was by invitation and was held at the Clay and Jay Barr Education Center (the Virginia Arts Festival headquarters building), 440 Bank Street, just across the street from Chrysler Hall. After finger foods and drinks we gathered in the Robin Hixon Theater. After he was introduced Charles Woodward spoke briefly about the coming season of four concerts, the Young Singers Project concert and the wine tasting and sale. See calendar at www.artsongupdate.org for details.
" I am so excited to work with this group of singers" Mr. Woodward said before he introduced Adam Turner at the piano and sixteen year-old treble soloist Jon Paul before directing the group in a selection from the 23rd Psalm from Chichester Psalms by Leonard Bernstein. The first program "American Tapestry" will also feature music by Copland, Ellington, Moses Hogan, Sondheim and Whitacre on October 14, 15 and 16, 2011. All programs will be presented in Norfolk, Virginia Beach and Williamsburg. The opening selection to get things started was a rousing It Don't Mean a Thing (If it ain't got that swing) by Duke Ellington, featuring solo work by Kimberly Markham and some impressive Swingle Singers type part singing by the Chorale.
The second program, "A Season of Joy," the first week of December, will feature the Chorale's signature a cappella sound in a motet O, Magnum Mysterium by Spanish Renaissance composer Tomás de Victoria (c.1548-1611) and traditional carols in interesting arrangements. The mystery of advent was captured in the selection we heard. The singing was excellent and a tension I had noticed in the singers in the past was gone.
The third program, "From Cupid's Bow", preparing us for St. Valentine's Day, will be February 10, 11, & 12, 2012 and will feature Brahms' Liebeslieder Walzer, Op.52 and love songs by Parker: Songstream and Song of Songs. We heard 'S Wonderful by George and Ira Gershwin.
The last concert in late April 2012 "À Paris" with music chosen by Mr. Woodward will celebrate the 150th anniversary of Debussy's birth. A selection from his Trois Chansons de Charles d'Orleans was the musical example sung in French. The song they sang (in English So They Say) had a pretty, romantic sound, very comfortable to hear.
A favorite part of the program was when Mr. Woodward invited the singers to introduce themselves. I counted nineteen singers present from a roster of twenty-four. There are many returning singers with Anne Kincade Luna in her 21st season and Anna Sterrett and Suzanne Oberdorfer new to the group. They are leaders in the community, teachers, scientists, military personnel, music professionals and more. What they have in common is a love for and training in group singing. They proved that once again when they sang Happy Birthday to new member, tenor Andy Chugg and invited the audience to join in.
For subscriptions and questions phone Jessica Anderson in the Virginia Chorale office at 757-627-8375 or email her at info@vachorale.org. Season dates and venues at artsongupdate.org


Season of Joy
Virginia Chorale
December 4, 2011
First Presbyterian Church, Virginia Beach
Reviewed by John Campbell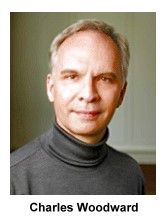 The Virginia Chorale, under the direction of Charles Woodward, has once again melded into a performing instrument of flexibility and beauty. Three performances, with the last of these at First Presbyterian Church of Virginia Beach, where we heard them, presented seasonal selections. The first half had classical music, old and new. After intermission, in a gesture of inclusiveness, we heard a set of popular Christmas songs by Jewish composers with Mr. Woodward at the piano: The Most Wonderful Time of the Year, Let it Snow, White Christmas and The Christmas Song followed by best loved Christmas hymns in fine arrangements.
With an audience of 160 listeners, the program gave a nice balance of art music and popular seasonal favorites. My orientation for art music was satisfied by Francis Poulenc's (1899-1963) frightfully difficult Hodie Christus natus est, with so many independent vocal segments, that in this performance meshed perfectly, giving us three minutes of very complex joy just as the composer conceived it to do.
Looking back into the great western musical past we heard pieces by Tomás Luis de Victoria (1548-1611). This year is the 400 year anniversary of his death and, as Mr. Woodward pointed out in brief opening remarks, the music is relevant in this present time. O magnum mysterium (O great mystery) of the birth of the Lord was followed by the Gloria with all the vocal lines gliding together sweetly. In Victoria Ne timeas Maria (fear not Mary, for you have found favor with the Lord), a solo soprano opened, soon supported by a rich, choral sound. Contrast developed between solo voice and chorus but all was resolved in a smooth, lovely ending. This one was the very best of the four by Victoria.
Two British opera composers who may be leading us to a new wave of English language opera were featured. Jonathan Dove (b.1959) The Three Kings (2000) was set for Kings College, Cambridge. The poet Dorothy L. Sayers anchored each line of the story of a young king, a king in his prime and a very old king with a repeating, soothing line "O balow, balow la lay." The choppy, rollicking vocal setting of the text "Both his hands were full of gold" mellowed out at the end. The singers created a great urgency as the story unfolded.
Tarik O'Regan (b.1978) set Threshold of Night (2006) for St. John's College, Cambridge. This was the most inventive, modern song of all. The text by Kathleen Raine has an oblique sense of mystery about it. "Who stands at my door in the storm and rain / On the threshold of being?" The sound is homogenized, a sort of squeezed together atonal sound that conveys a sense of mystery. Urged to go back the being refuses: "I will not go back for hate or sin / I will not go back for sorrow or pain / For my true love mourns within / On the threshold of night." As I said before, this coming of the child is oblique, opaque and set beautifully.
The chorale members were relaxed and happy to be singing, giving a glowing energy that communicated to the audience. The director and listeners passed this goodwill back. The evening ended for the singers in a reception at the home of the president of the board, Jim Naughton, where his wife Deb had prepared a sumptuous repast in a house beautifully decorated for Christmas. A cake and the Chorale singing happy birthday was a surprise for her husband. We had a fine time networking with singers and board members. A very good beginning for the holiday season.

From Cupid's Bow
Virginia Chorale
Three Venues
February 10, 11, 12, 2012
Review by John Campbell
The performance by the Virginia Chorale was a Valentine's Day musical treat par excellence. We heard the group at First Presbyterian Church in Virginia Beach with more than forty souls who braved Tidewater's first snowstorm of the season on Saturday evening. It was a program loaded with musical treats that ranged from Brahms' Liebeslieder Waltzer to three Renaissance pieces to three Beatles tunes arranged for chorus.
The Renaissance period lasted from c.1430 to the end of the 16th century. The opening set included Hark, all ye lovely saints above by Thomas Weelkes (1576-1623), a joyous piece with shifting dynamics. From the Biblical Songs of Songs set by Jean l'Héritier (1480-after 1552) we heard Nigra sum sed Formosa (I am black yet comely). The passionate, romantic poems were beautifully sung with pure high notes, secure inner voices and velvety bass underpinnings. They closed the set with Veni, dilecte me by Orlando de Lassus (1530-1594), who was the most prolific and versatile composer - a superstar - in the 16th century.
The two pieces I found most exciting came after intermission. First we heard Five Hebrew Love Songs by Eric Whitacre (b.1970) on texts in contemporary Hebrew by Hila Plitmann (b.1973) and four selections by Alice Parker (b.1925) from her Songstream on poems by Edna St. Vincent Millay (1892-1950).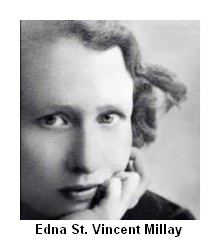 Songs from Parker's Songstream have often been presented on Chorale programs over the group's twenty-eight seasons. What is different this time is that I read Savage Beauty by Nancy Milford this past summer. This biography of Edna St. Vincent Millay prepared me to hear her poetry with a deeper understanding. She wrote from her heart and experience and reflected life in Jazz Age America. "She smoked in public, took many lovers (men and women, single and married), flouted convention sensationally and became the embodiment of the New Woman" so says the book jacket. All of that is true but the person under the hype was fragile, sensitive and had great determination to live her life as well as she could and paid a great price physically and emotionally to bring us such great beauty. The Spring and the Fall gives us the history of a romance in its prime and its end. Nuit Blanche (White Night) gives us the troubled experience of an insomniac. Thursday is a whimsical, self-mocking description of her own fickle heart. Lethe describes drug-induced bliss to deal with pain. The title of the song set comes from the last line "Dip the song in the stream." In mythology Lethe is the river of forgetfulness in Hades.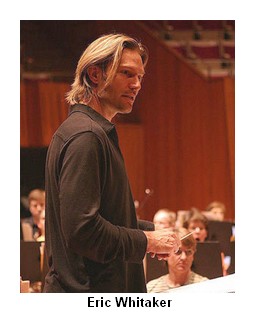 In the Christmas 2011 issue of BBC Music magazine there is an interview with Eric Whitacre, a handsome, blond, athletic composer who grew up in Reno, Nevada dreaming of becoming a rock star. He had no idea that there was such a job as being a composer. After graduating from the University of Nevada Las Vegas he ended up at the Juilliard School where he studied with David Diamond who tried to replace his rock song writing "with composing technique that would let him write on days when no inspiration would come."
In the interview with James Naughtie he says "It never worked for me...I wish I could write functional music. I can't." For inspiration he looks to Bach, opera and Benjamin Britten. In Britten's music he finds innocence and great loneliness. His own music grows out of his inner connection to texts by e.e.cummings, Emily Dickinson, Robert Frost and others. He describes himself as neither a Christian nor an atheist and believes that there is a deep, physiological response to music. He writes music that makes people feel good.
Our second experience of this good feeling was in 2009 when Scott Williamson led the Chorale in Leonardo Dreams of His Flying Machine. In this nine minute "opera brève" choral fantasia you travel through western musical history from Renaissance inspired music to virtuoso coloratura of Baroque opera to neo-romantic tone clusters to repetitive minimalist dance-like figures, all filtered through a modern sensibility. This musical journey was emotionally breathtaking and intellectually pleasing.
Currently Whitacre, his wife, singer Hila Plitmann and son live in England where he is composer-in-residence at Sidney Sussex College Chapel at Cambridge University. To his profound satisfaction he is getting to know the greatest music of the Anglican choral tradition.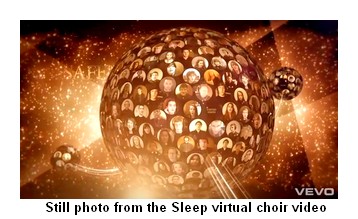 Harris Ipock led the Chorale last spring in Whitacre's Water Night, a sensual poem matched "by music of intimate warmth with harmonies blossoming into fourteen-part tone clusters." (Program notes). This time Mr. Woodward led the Chorale in Sleep. Last year Whitacre invited singers via the internet to send him videos of them singing Sleep for a virtual recording. The very moving result, accompanied with stunning visuals can be found on YouTube. Some 2,052 people from 58 countries participated with Eric conducting. The test run, Lux Aurumque was the first test of the idea of a virtual choir and "Virtual Choir III" will soon be assembled. The Chorale sang Lux Aurumque in December, 2008.
Recently Whitacre's composer-in-residence status has been renewed for five years. For those interested in seeing him and his wife who wrote the text for Five Hebrew Songs, there is a YouTube tutorial on pronouncing the Hebrew texts. Hila is a soprano and when they were traveling in Germany he incorporated the cathedral bells that awoke them into the accompaniment of the fourth song Éyze shéleg! (What snow!).
Printer friendly format

Review Index
Back to Review Index
Home &nbspCalendar &nbspAnnouncements &nbspIssues &nbspReviews &nbspArticles Contact Us