Schub-Kavafian-Wiley
Virginia Arts Festival
Robin Hixon Theatre
May 10, 2012
Review by M.D. Ridge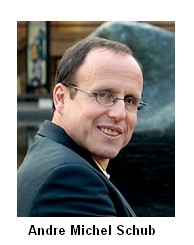 The trio of André-Michel Schub, Ani Kavafian and Peter Wiley was introduced May 10 at the Hixon Theater by none other than WHRO's Raymond Jones. Jones noted that Schub, as music director of the Virginia Arts Festival Chamber Music Series, "gets — and plays with — lots of chamber music folks." That night, Schub was playing with two of the best.
The evening began with Beethoven's Cello Sonata in G minor, Opus 5, number 2. Wiley's cello had a rich "singing" tone that blended beautifully with Schub's clear piano statements; it was like a conversation — singly, then in harmony. The second movement was brighter, with dancing rhythms and melodies. Schub's driving left hand exuded power. He's an interesting performer to watch because he's not just playing the music, he's in the music, with a dancer's erect but dynamic posture.
Wiley would make a fast page turn with his bow hand, and swoop precisely onto the next note. The Rondo had a lively, cheerful piano beginning — brilliant, but not overwhelming the cello, and vice versa. Balance was everything.
Violinist Ani Kavafian gave the Grieg Violin Sonata No. 3 in C Minor, Opus 45, every possible ounce of drama, plumbing its depths and heights with both power and delicacy. After the song-like dialogue of the second movement, there was a bright, folk-y dance melody. The third movement was one of quickness and power. Kavafian's playing was very physical, over the piano's great rolling arpeggios.
Returning for the Brahms Piano Trio No. 2 in C major, (op. 87, No. 3), Schub said how pleased he was to be playing "three of my favorite pieces with two of my favorite people." It begins with violin and cello in unison— the cello's powerful low notes seemed to resonate right through the soles of one's shoes. The piano joined them for the restatement of the theme.
The second movement began with lovely, limpid piano, joined first by the violin, then the cello, in a gypsy-flavored theme, with delicate ornamentation in its variations. The Scherzo movement was light and fast, the instruments singing and soaring together. The trio had a wild, bravura command of the Finale,with both elegance and earthiness, for a satisfying performance by three great pros.
The Hixon Theater is a nice venue for chamber music — a little dry, but admirably clear — though the sounds of the air conditioning coming on could get intrusive in quieter moments.
This review was originally broadcast on WHRO 90.3 FM's "From the other side of the Footlights."

Itzhak Perlman and the Perlman Music Program
Virginia Arts Festival
Sandler Center
May 12, 2012
Review by M.D. Ridge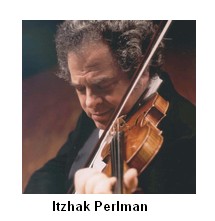 On the Sandler stage May 13, there were five music stands in readiness — but only four chairs. Four young musicians of the Perlman Music Program took their places, to enthusiastic applause — and then there was a roar when Itzhak Perlman himself zoomed onstage in his shiny black Amigo scooter. He parked it expertly, swiveled the seat around, and gave the cue to begin the Mozart Quintet in G minor for Strings, K. 516. It was the beginning of an extraordinary afternoon of ensemble musicianship.
Perlman's high, sweet tone is unmistakable — really, you could pick it out blindfolded — but instead of overshadowing the young string players who have studied with him, he drew out everything they had to offer — beautiful tone, superb technique and, not least, freshness and infectious enthusiasm.
In the Mozart, the players with Perlman were Hungarian-born violinist Erno Kallai; cellist Jia Kim; and violists Cong Wu and Andrew Gonzalez. Kim's brow was delicately furrowed with concentration; her cello sounded a bit dim in the second movement, but was richer and brighter in the third. (The Sandler's acoustics may reward more open harmonies.) Cong Wu focused laser-like attention on the music.
Andrew Gonzalez, who was raised in Chesapeake and was a member of the Governor's School for the Arts, was focused, alert and relaxed.
Here's the thing: Perlman radiates joy when he plays: joy in playing, joy in the music, joy in being. Of all the players, Gonzalez was the only one who seemed to openly enjoy performing in the ensemble as much as Perlman did. He was alert to everything— the music, the other players, and, of course, Perlman.
A different group assembled for the Prelude and Scherzo for String Octet, Opus 11, by Dmitri Shostakovich — Perlman sat this one out, so the violinists were the brilliant Sean Lee, Ihnseon Park, Doori Na and, again, Erno Kallai. Jia Kim was joined by Cuban-American cellist Thomas Mesa; Cong Wu and Andrew Gonzalez were the violists. The Shostakovich rocked! It featured unusual techniques, eerie sliding notes in every instrument (but not all at once), sometimes an even brutal attack. The ending was imprecise, but that was the only flaw — the energy was absolutely crackling.
Kallai sat out the final work, while Perlman rejoined the group for Mendelssohn's Octet in E-flat major, Opus 20. A cheerful first movement had some foreshadowing of the 16-year-old composer's breakout work, Overture to A Midsummer Night's Dream. It was all wonderful ensemble playing, and they kept their focus even when a gentleman (I use the term loosely) in a front row got up, stood in the aisle and took a picture with his cell phone! At least it wasn't a flash picture — and he sat down before the ushers could remove him bodily.
But the future of classical music appears to be in good hands. The kids are way more than all right!
This review was originally broadcast on WHRO 90.3 FM's "From the other side of the Footlights."

Bruce Brubaker
Virginia Arts Festival
Hixon Theater
May 8, 2012
Review by M.D. Ridge
Hearing — and seeing— pianist Bruce Brubaker in concert is an Experience. Put a capital E on that.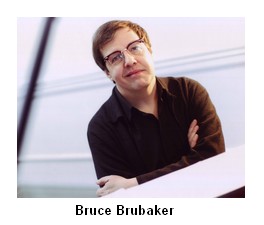 At his May 8th concert in the Robin Hixon Theater at Virginia Arts Festival headquarters, Brubaker's performance of 20th- and 21st-century music was breathtaking.
He began with a fairly typical 80's piece by Philip Glass, called Mad Rush, in which repetitive patterns are altered by very subtle variations and changes in tempo and dynamics from peaceful to dramatic, back and forth. The effect is hypnotic, like shifting light and shadow. At one point, the Steinway piano seemed to be bouncing from Brubaker's pedal action.
A Room, written in 1948 by John Cage, which Brubaker called "the first minimalist piece," began with plain but odd arpeggios, and little rhythmic burps and starts. Narrator Mark Mobley, long ago the excellent music critic for the Virginian Pilot, read Cage's own rather poetic description of how the piece came about.
Another piece by Cage, called Dream, was aptly titled. Outside the theatre's glass wall, one could see the light changing as the sun set, with banks of colored clouds, flags fluttering, and the plaza fountains swaying in the wind as the streetlights came on — a perfect visual counterpoint to the subtly drifting beauty of the music.
The Virginia premiere of the five short pieces of Nico Muhly's Drones & Piano contrasted odd electronic droning sounds with the piano's abrupt fits and starts, like interrupted conversations. The drones — produced by Brubaker's iPod (docked in a rig on the piano) — incorporated sounds like weird viola, breaking bamboo. It was very intense, unsettling, and a little irritating — possibly a metaphor for how noise affects us.
Mobley returned to read a dramatic portion of poet Allen Ginsburg's anti-Vietnam war poem, Wichita Vortex Sutra, on which Philip Glass's piece of the same name is based. The music had a mesmerizing progression, tapering off to . . . nothing.
Railroad (Travel Song), by Meredith Monk had jazzy minimalist patterns and rhythms that stopped . . . then continued differently, with dissonant arpeggios.
Brubaker needed a page turner for Alvin Curran's extraordinary Hope Street Tunnel Blues III, which Brubaker compared to "extreme sports." It was so fast, and so complicated, not only didn't he have a second to turn pages, he never had a hand free to do so. The intensity, the rapid repetition and occasional bass bumps, hurtled onward — stopped abruptly— and continued at full intensity. Page after page was lifted aside as he continued without a break, like an engine at full throttle — brutal! His hands were a blur, one banging out a bass note, and another, and another until they became part of the hurtling rhythm, then a strong, bluesy jazz riff, then intensity again. (Think: Rachmaninoff on speed!) When the final note sounded, the audience held its breath until every last overtone had faded away and Brubaker lifted his hand from the keyboard. One could hear the silence. And then the applause erupted.
Had he been a major league baseball pitcher, Brubaker would have spent the rest of the evening icing his hands, arms and shoulders — but he came back for another piece by Philip Glass, whose 75th birthday was in January. Metamorphosis II was adapted from his score for the documentary film, The Thin Blue Line,; it had an eerie, thoughtful, Bergman-esque quality.
At the end, a young man with close-cropped hair wearing combat boots and sharply-pressed Army camouflage, was the first to leap to his feet, applauding.
That's the future of serious music right there: Brubaker's stunning performance and the young Army guy's genuine appreciation.
This review was originally broadcast on WHRO 90.3 FM's "From the other side of the Footlights."

Coffee Concert IV
Virginia Arts Festival
Williamsburg Winery
May 24, 2012
Review by M.D. Ridge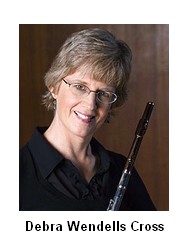 Among the jewels of the Virginia Arts Festival are the Coffee Concerts — less formal presentations in various venues, at 10:30 in the morning. Such was Coffee Concert IV, a Festival Williamsburg event at the Williamsburg winery, in a large, dark room with a low-ish beamed ceiling, nicely suited for chamber music.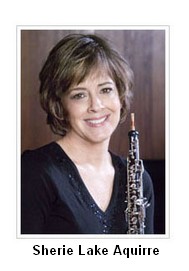 The program began with Michael Mauldin's Mountain Winds, for flute, oboe and harp. Like the winds, it was divided into North, South, East and West — each movement bringing "with it the spirit of the lands and people in that direction," according to Mark Mobley's admirable notes. Each movement began with Barbara Chapman's harp, which posed questions in big glissandos, answered by flute (Debra Wendells Cross) and oboe (Sherie Lake Aguirre).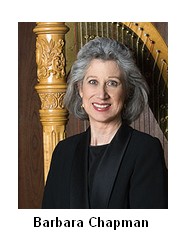 In the final movement evoking the West wind, the harp sounded like raindrops, while the flute had Philip Glass-like variations in consort with the oboe's melody. There was a slight glitch when Cross inadvertently turned two pages at once; but the players calmly stopped, went back and played the lovely piece through to its finish.
Cellist Michael Daniels joined Cross and Chapman for At Dusk, by Arthur Foote. Cross said lightly, "Look — it's all on one page!" and got a warmly appreciative laugh from the audience. The pensive, peaceful piece sounded like a familiar melody, but it really wasn't. It was the same kind of sensation as trying on a new shirt and finding it feels perfect next to your skin.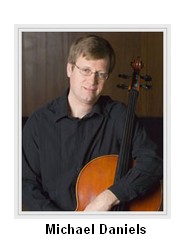 The last work on the program featured violinist Tianwa Yang, whom Virginia Arts Festival director Rob Cross noted had made her Virginia debut with Virginia Symphony. Trim, petite and purposeful, Yang played from memory the Bach Partita No. 2 in D minor for unaccompanied violin. The huge sound of Yang's violin produced a brisk Allemande and a brightly cheerful "skipping" Courante.
In the slow Sarabande, a dance redolent of held glances and coy invitation, Yang ran all the changes. Her fingers moved like lightning in the fast, perpetual motion of the Gigue. The Chaconne is essentially 64 fiendishly difficult variations in a row without a break; Yang played it brilliantly — then, finally, broke into a wide smile.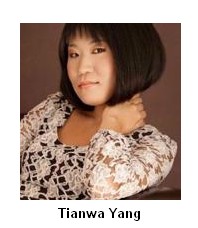 Her encore was a bravura piece, Sonata No. 3, Ballade, by the Belgian violinist and compose Eugène Ysaÿe.
The glare from the improvised lights was a tad distracting, but that's eminently fixable. It was a charming concert — chamber music with warm intimacy and superb musicianship.
This review was originally broadcast on WHRO 90.3 FM's "From the other side of the Footlights."
Back to Review Index
Printer Friendly Format
Home &nbspCalendar &nbspAnnouncements &nbspIssues &nbspReviews &nbspArticles Contact Us