Soprano Renée Fleming in Recital with pianist Hartmut Höll
Virginia Arts Festival 2012 Opening Event
Harrison Opera House, April 16, 2012
Collaborative Review by Sondra Gelb, Shirley Thompson, Margaret Gupta, Steve Brockman, Scott Strickland and Karen Hoy, edited by John Campbell.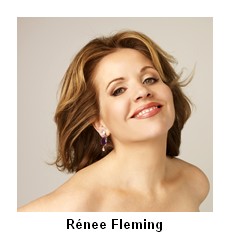 Sondra Gelb - The Virginia Arts Festival kicked off their 2012 season in the best way possible—with America's home-grown leading soprano, Renée Fleming, in recital. Taking the stage at the Harrison Opera House in front of a nearly full house, Ms. Fleming strode gracefully onto the stage in an understated black and grey gown with black opera-length gloves, followed by her spectacular accompanist, Hartmut Höll. She began with a set of Korngold songs; the first, Sterbelied (Death Song), she sang carefully, yet not tentatively, obviously getting a feel for the house and acoustics. The subsequent songs were sung with growing abandon and charm. The songs she chose, Das Heldengrab am Pruth (The Hero's Grave on the Pruth), Was Du mir bist (What are you to me?) and Das eilende Bächlein (The rushing brook), were not the broadest or most luscious of Korngold's repertoire, but were a very tasteful selection to introduce a well-considered recital.
Shirley Thompson– Hartmut Höll , the accompanist, was absolutely fantastic and played the most difficult repertory with amazing technique. [Thompson and Margaret Gupta both mentioned that there was no bio for him in the program and he was listed only once and in smaller type than the singer—JC] It may take a few generations to catch on, but the term we are trying to teach our voice students is that their accompanist is their collaborative artist, not to be taken for granted!"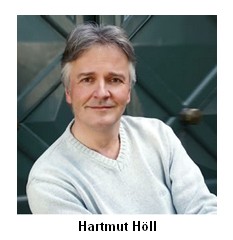 John Campbell —Hartmut Höll (b.1953) studied at the Stuttgart Conservatory in the mid-seventies where he met his future wife, Mitsuko Shirai, a Japanese-born mezzo-soprano. While a student of composer/accompanist Hermann Reutter, Höll served as accompanist for master classes given by Elizabeth Schwarzkopf. In the early eighties he became Fischer-Dieskau's regular accompanist. He offered probing and conscientious support in the last fourteen years of Fischer-Dieskau's performing career. To quote the Christian Science Monitor, he is a pianist "of spiky originality and great emotional depth."
Gelb —Ms. Fleming took the microphone in order to quietly and gently, with humor, explain her reasoning for the flow of the program. Her description of the artistic scene of early 20th-century Vienna gave great meaning to her choice of repertoire, and the audience was given the opportunity to grow with it.
Campbell— A word of explanation on the choice of music presented" For the art song aficionado this was a dream of an event. For the more casual diva-worshipping crowd, it was a challenge.
Karen Hoy: Korngold, Zemlinsky and Schoenberg would not be the repertoire of choice for our area but it was a compliment that she thought we could handle this heady stuff. Her sense of style and commitment to the words first is impressive. She's kind of like a classical Barbra Streisand. [Shirley pointed out how using the Harrison Opera House supertitles system for the texts helped greatly—JC] Ms. Fleming invited the audience along on an evening of discovery of some new composers and their music. She sang the art songs using sheet music, part of the process of making these songs part of her expanding repertory.
Campbell—Anthony Tommasini, writing in the January 29, 2012 New York Times, said: "Ms. Fleming has become immersed in all things Vienna at the beginning of the 20th century: not just the music but also the architecture and painting; the fantastic salons and the agitation for women's emancipation." As part of her 2012- 2013 Perspective Series at Carnegie Hall she will present the program "Vienna, Window to Modernity." Ms. Fleming's appearance for the Virginia Arts Festival seems to be an early step in a continuing project.
Her recital here featured art songs by Viennese-born composers: Zemlinsky (b.1871), Schoenberg (b.1874), Korngold (b.1897), and an operetta aria by Lehár (b.1870) who lived in Vienna. The premier of his Die lustige Witwe (The Merry Widow) was a colossal success. The operetta quickly spread around the world and remains a favorite. Virginia Opera has presented it many times.
Schoenberg's father came from a German-speaking Jewish community; his mother grew up in Vienna in a family of cantorial singers. Their son Arnold learned much of the classical repertory from a military band and by performing in coffee houses. "He learned instrumental forms by subscribing to an encyclopedia and waited for the "S" volume to arrive before composing a sonata." He needed no formal instruction though he took some lessons from Zemlinsky, according to critic Alex Ross.
Alexander Zemlinsky's father was Catholic; his mother was the daughter of a Sephardic Jew and a Bosnian Moslem. His music is lyrically potent in the vein of Mahler and Strauss. In 1901 Schoenberg married Zemlinsky's sister Mathilde. He and Zemlinsky remained lifelong friends.
Because of Schoenberg's reputation for grueling atonal music, the early works came as a surprise for many listeners. The songs were Jane Grey and Erwartung (Expectation). The poet for Erwartung was Richard Dehmel (1863-1920) who also wrote the texts for the Zemlinsky songs. Schoenberg relished the erotic visions of Dehmel who also furnished the story for the lush, romantic orchestral Transfigured Night.
Fortunately for Erich Korngold he was taken by Austrian theater director Max Reinhardt to Hollywood in 1934. They had collaborated on opera projects in Vienna where Korngold had written his first four operas. Before his fifth opera could be staged, the NazIs invaded Austria in 1938. He remained in Hollywood producing some of the finest music ever written for film. He became a U.S. citizen in 1943 and died in Hollywood in 1957. Schoenberg emigrated to the U.S., settling in Los Angeles and teaching at the University of California from 1936-1944 and spent his remaining years on his compositions. He died there in 1951. His music and its powerful and continuing influence on other composers has been revolutionary.
Zemlinsky wrote little music once he reached America in 1938 via Prague. He died in Larchmont, New York in 1942. Only since the mid-seventies has his music enjoyed a gradual return to the concert hall. Lehár died in Bad Ischl, Austria in 1948 where his villa has become a museum to celebrate his music.
Gelb—The songs by Zemlinsky (on texts by Dehmel) were almost heartbreaking, especially after Ms. Fleming shared with us his personal tragic story. Then, in an effort to leave us on a "high note" at intermission, she ended the first half with the well-known Vilja from The Merry Widow. Granted, Ms. Fleming's extreme "piano" high notes are not as easy or "floaty" as they once were, but she charmed the audience completely with her interpretation. There were moments during the program, however, that she truly let loose with some pitches above the staff, and they were just as stunning as ever.
Ms. Fleming began the second half of her recital wearing an even more stunning flesh-colored under-gown with a sheer purple-striped over-gown and a "diva wrap." She sang two songs by Schoenberg which, I thought, would be an artistic gamble, but they were performed as fluidly and lyrically as any Romantic composer's works.
Scott Strickland—The Schoenberg pieces reminded me of the Korngold and Zemlinsky pieces. The tone of the music so faithfully represents the poetry of the words. The Jane Grey piece was so haunting. The text of these pieces is even more compelling than the music.
Gelb—Ricky Ian Gordon's Night Flight to San Francisco was reminiscent of a Richard Strauss stream of consciousness excerpt, and Ms. Fleming seemed to be as much in the grasp of the line and text as she made us feel.
Thompson—This piece was my personal favorite. Miss Fleming mentioned that she had asked Mr. Gordon to orchestrate it for her but would be using the original piano version.
Strickland—The text of Night Flight to San Francisco was so unusual and compelling. With each verse I couldn't wait to hear what would happen next.
Gelb— Her next two arias, from Leoncavallo's La Boheme (which was all but lost in the shadow of Puccini), illustrated her ability to sing with her own voice, yet embody two totally different characters, Musetta and Mimi.
Strickland—I'd never heard Musette from La Boheme. As lovely as her interpretation of the art songs was, she seemed more at home with the opera arias. She of course didn't need the music for the arias which freed her physical interpretation of the music. I loved her Mimi Pinson. She conveyed such a sense of fun and was so animated.
Gelb—Her finale was Vissi D'Arte from Tosca, which she sang with more tenderness and pain than the typical drama and angst. Her encores included O, Mio Babbino Caro, I Feel Pretty, the ravishingly beautiful Marietta's Lied from Die tote Stadt, composed by a twenty-year-old Korngold and Summertime.
Thompson—Vocally I want to mention the way she closed the recital at the end of Summertime with a two-octave (I believe) descending glissando and back up to key, which was pure perfection, like liquid gold! As a singer I know what kind of control such a glissando takes, and for me, that was a magical moment to end the evening.
Gelb— Although the program seemed relatively short, that fact was only due to her completely comfortable presence on stage and our joy of wallowing in the true beauty of her instrument.
Campbell—There is a substantial series of recordings by Höll and Shirai. I have Arnold Schonberg – Ausgewahlte Lieder on the Capriccio Label (CD 10514) that includes the Jane Grey and Erwartung songs of Ms. Fleming's program. Other composers represented in the series include Robert Franz, Viktor Ullman, Hugo Wolf, Alban Berg, Reutter, Hanns Eisler and Karl Michael Komma as well as Mozart and Brahms. Also the CD Schonberg Lieder is available on a Sony CD (SMK52667) with Glenn Gould, piano and singers Ellen Faull, Helen Vanni, Donald Gramm and Cornelis Opthof.
Gelb— "On a strictly personal note, I first met Renée when we were in New York's All-State High School Chorus in... all right...1976. There was a small solo in one of the pieces we were performing, and a gaggle of wannabe soloists was invited onto the stage with the conductor to audition. We sang the two lines, one teenager after the other, and at some point I heard this voice. We study, we practice, we improve and grow, but the core instrument doesn't change. That voice was a 16- year-old Renée Fleming. Later on I had the joy of attending college and performing with Renée. For some bizarre reason, the conductor chose me to be the soloist with Renée as my understudy. If I hadn't heard that voice again for 30 years, I'd still remember it—so memorable that I can still see what she was wearing. And, even then, she was slightly reserved, terribly nice, and very much a gracious lady."
Virginia Arts Festival: Renee Fleming
April 16, 2012
Harrison Opera House
M.D. Ridge for Artsong Update
In a rare recital program that ranged from Viennese lieder of the late 19th and early 20th centuries to operatic arias, soprano Renee Fleming demonstrated the creamy voice and superb technique that have made her one of the world's most sought-after singers. She could have stepped seamlessly into that era in her sumptuous gowns, long gloves and striking jewelry — it's all part of looking like a star as well as singing like one. Accompanist Hartmut Höll was brilliantly yet subtly supportive, so that piano and voice were one. I was particularly struck by her breathtaking performance of the two Schoenberg selections: Jane Grey, Op. 12, No. 1, and Erwartung (Expectation) Op. 2, No. 1. One tends to think of Schoenberg in terms of something quite different from these strange, bittersweet, utterly lovely ballads. Fleming's extraordinary Vissi d'arte, from Tosca, would have been worth the price of admission all by itself.
Back to Top
Printer Friendly Format
Review Index
Home &nbspCalendar &nbspAnnouncements &nbspIssues &nbspReviews &nbspArticles Contact Us