Reviews
Dance Theater of Harlem
Virginia Arts Festival
Chrysler Hall, May 17, 2014
Review by M.D. Ridge
Dance Theatre of Harlem combined forces May 17 with the Virginia Symphony and the Virginia Symphony Chorus at Chrysler Hall for a gorgeous presentation of Gloria, choreographed by Robert Garland to the transcendent music of Francis Poulenc.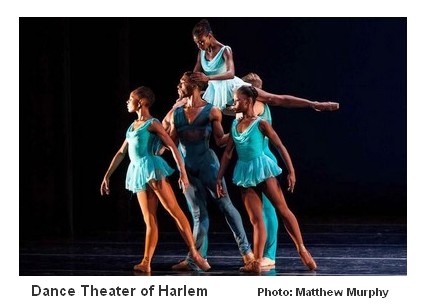 The company, costumed in simple, beautiful shades of blue and green, danced with both balletic precision and modern abandon in the first movement, "Gloria in excelsis Deo," as conductor Benjamin Rous brought out every nuance of the music with players and chorus. The youngest dancers—local student dancers—were utterly charming. In "Laudamus te," four dancers explored bright, shifting rhythms. The voice of soprano Jennifer Welch-Babidge soared serenely over the chorus in "Domine Deus, rex Coelestis," while Da' Von Doane and Ashley Murphy danced with passion and skill against an octet. At one point, Murphy—I think it was she—did a bourrée of tiny steps on pointe across the entire stage from wing to wing—a simple step series extended into breathtaking effectiveness. The jaunty liveliness of "Domine Fili Unigenite" had the dancers smiling joyfully. Welch-Babidge's exquisite solo for "Domine Deus, Agnus Dei" was matched by four dancers whose shadows, thrown up against the backdrop, befitted the grandeur of the vocal theme. The final movement, "Qui Sedes," involved the whole company again, including the children, who snapped happily into perfect fifth position; at the end, the adult dancers were shadowed, as if frozen in time, while the children walked slowly and fearlessly into the light.
It was breathtaking, a true celebration of Harlem's spiritual legacy. The conjoining of 40 Virginia Symphony players and 20 Symphony Chorus singers, under the expressive baton of Benjamin Rous, with the spectacular vocal solos of Welch-Babidge and the visual, physical magic of Dance Theatre of Harlem made this a sumptuous feast for every sense.
Dance Theatre of Harlem was founded in 1969 by Arthur Mitchell (the first African-American dancer with the famed New York City Ballet) and the late Karel Shook. In the last two years, the company has risen like a phoenix from the ashes of a long hiatus that began in 2004. Co-founding member and former principal dancer Virginia Johnson was named Artistic Director in 2009, and Mitchell became Director Emeritus.
The remaining two works on the program were performed to recorded music. Choreographed by John Alleyne to a commissioned score by Haitian-American composer Daniel Bernard Roumain, Far But Close is a "spoken word ballet": Daniel Beaty's urban poetry explored the healing power of romantic love. Can a chance encounter on a subway train really turn into real love? The four dancers—Jenelle Figgins, Ingrid Silva, Francis Lawrence and Anthony Savoy—did not merely mirror the words but went beyond them, answering the question, "How do broken people love each other? Best they can—in fragments." They were still dancing in sensuous intertwinings as the curtain came down.
Return, the final dance, was choreographed by Robert Garland for Dance Theatre of Harlem's 30th anniversary; it made an appropriate ending to a spectacular evening. It answered questions you didn't know to ask—how can you do classical ballet to the music of James Brown and Aretha Franklin? (Answer: beautifully, that's how.) Can you really combine street dance, like the robot and break dancing, into classical music without its looking like a stunt? (Answer: Oh, yeah, baby, yes, you can!) By the end, the audience, unbidden, was clapping in excellent rhythm, and the wonderful dancers, with their crisp turns, fluid arms, powerful leaps and unusual steps, were showing the audience, "We can do it all!"
Yes, they can.
Usually, ballerinas' pointe shoes are pink, tied securely and smoothly at the ankles with pink ribbons. The pointe shoes for Dance Theatre of Harlem were dyed to blend with each dancer's skin tone—some lighter, some darker. This gave each dancer a subtly elegant, long, long, unbroken line from hip to toe. That one small, but well-thought-out, detail was, to me, particularly telling.
As the audience walked out into the plaza outside, the delightful Cirque Mechanics was setting up for their next show. I was one of what looked like hundreds at their earlier show—gymnastic aerial maneuvers on and around a moveable gantry propelled by bicycle pedals. Pure fun for a balmy summer night. And somehow, it seemed to fit right in with Dance Theatre of Harlem's spectacular performance.
This review was originally broadcast on WHRO 90.3 FM's "From the other side of the Footlights."
Dance Theater of Harlem
Virginia Arts Festival
Chrysler Hall, Norfolk, Virginia, May 17 & 18, 2004
Review by John Campbell
In April, 2013, Dance Theater of Harlem (DTH) returned to public performing with Francis Poulenc's Gloria, choreographed by Robert Garland in a beautiful premier with recorded music. Their student program had remained open while the company was on an almost ten-year hiatus.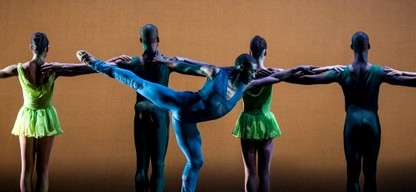 In conversation after the performance the dancers expressed their excitement at performing Gloria with live musicians for the first time ever. Two images stand-out: the first, a line of eight dancers, with their backs to the audience and arms linked to form a wall. A single female dancer on point explored ways to move around and through the barrier. The second image was the loving hugs shared at the close of the Amen with the principals in pale yellow and everyone else in pale gray.
Begun in 1969 in the basement of a church in Harlem by Arthur Mitchell and the late Karel Shook, DTH was the nation's first black, classical ballet company. Mitchell was the first African-American to become a principal dancer in a major U.S. ballet company (New York City Ballet). From his despair at the killing of Martin Luther King he found hope by establishing first, a ballet school and later a dance company.
It did this reviewer's heart good to sit in a well-integrated audience at Chrysler Hall, knowing that in 1958 many Virginia public schools were closed to avoid integration. Now we have this historic dance company in a 3-year residency in Norfolk, thanks to the Virginia Arts Festival and the inclusive leadership of Robert Cross. This fits well with DTH's goal of "reaching new audiences with a powerful message of self-reliance, artistic relevance and individual responsibility …" and with an ambitious goal of transforming "lives through the art form of ballet."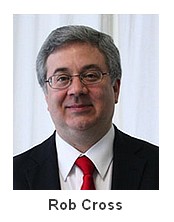 Robert Cross, festival director, says "The Virginia Arts Festival has had a long relationship with DTH. We are delighted to be part of this great company's re-emergence…" which will include mentoring of local student dancers of all ages and abilities, master classes, panel discussions, student matinees and public performances like this one at Chrysler Hall.
The second piece, Far But Close, is the story of a young woman, reluctant to open herself to the possibility of a new love, who finds courage to do so leading to a fairy-tale ending. At intermission, my female companion for the evening and I agreed that the affair would be unlikely to last. The African-American woman on my other side and I had a lively discussion on the same topic. The piece was thrilling but we all shared our skepticism based on experience.
Return, with music by James Brown, Aretha and Carolyn Franklin and Alfred Ellis, had us all ready to fill the aisles with our gyrating bodies. Instead, we watched trained ballet dancers give us a new take—both classical and funky—on popular tunes.
Review Index

Home &nbspCalendar &nbspAnnouncements &nbspIssues &nbspReviews &nbspArticles Contact Us