Fanfare by Thomas Joseph
Eastern Virginia Brass
Hofheimer Theater, Virginia Wesleyan College
February 4, 2013
Review by John Campbell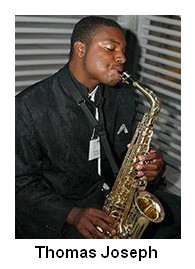 For over thirty years Eastern Virginia Brass has premiered many works and many of these they have commissioned. On Monday night, February 4, they added a work by a recent Old Dominion University graduate, Thomas Joseph to that list. He had studied with Marlene Ford who plays horn in the quintet. His Fanfare (2010) offered a sense of harmonic continuity and interesting tone colors. Though brief, the piece opens a curtain on a very promising career as a composer. Preparation by the quintet for the premier was made possible by a grant from Stihl, Inc.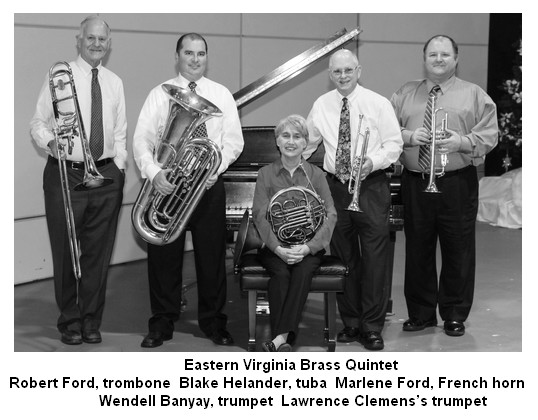 Dr. Andrey Kaskparov, who was Mr. Joseph's composition instructor, and Dr. Adolphus Hailstork, both of ODU, were in attendance. Dr. Hailstork has written When Lilacs Last in the Dooryard Bloomed (text by Walt Whitman on the assassination of Abraham Lincoln), for the Eastern Virginia Brass. The premiere performance is set for spring 2014 as part of the Virginia Arts Festival. The plans are that the large chorus will include the ODU choir, I. Sherman Green Chorale and Schola Cantorum.
The first piece on the program, Contrapunctus IX from Art of the Fugue by J.S. Bach (1685-1750) is a double fugue with an original theme closely followed by a second theme. The two themes appear both above and below each other, creating double counterpoint. A solo trumpet played by Wendell Banyay begins and is soon joined by Lawrence Clemens's trumpet The trombone, played by Robert Ford is added next, then Ms. Ford on horn. Blake Helander on tuba completes the rousing and sometimes brash amalgam of sound.
The overflow audience was then treated to Suite from the Montenegrian Hills (1961) by French Canadian composer Morley Calvert (1928-1991). His light, pleasing music for brass quintet in four movements offered both fine music and good humor. Marche had a brilliant opening, a dancing rhythm and a prominent role for trombone and tuba. Chanson Melancolique was indeed a sad song without words that blossomed into an unusually mellow sound for brass instruments. Valse Riducule bops and bips and opens the way for the image of large, clumsy dancers – think tuba and trombone. Danse Villageoise was the sound of a community holiday dance. Throughout Calvert created cunningly concise textures within the limited palette of brass only.
A suite of Renaissance and Baroque music followed, offering five, short pieces: Johann Pezel (1639-1694) and a rich, complex piece by William Byrd (1539-1623) (both arranged for brass quintet by King) and two pieces by Giles Farnaby (1563-1640) (ed. Howarth). The first was somber and the second was playful with a great rush of sound to end. Between there was a most pleasant tune, Volta with a lovely resolution, written by John Dowland (1563-1626).
Another piece written in 1961, Quintet by Sir Malcolm Arnold (1921-2006), was composed for the New York Brass Quintet. Arnold was a great admirer of Louis Armstrong which prompted him to take up the trumpet. In his compositions he keeps in touch with his audience while still offering challenging music. The first movement has dissonant, abrupt, individual clusters of sound that, when integrated, produce a pleasing whole. In my mind's eye I saw a French comedy about bicycle riders. The second, Chaconne, movement was dark and somber …. Until the trombone enters in a contrasting mood. The third movement, Con Brio, was a first class romp, both Jazzy and with a sustained intensity that finally resolves. The piece demands virtuosic playing, especially for the tuba. Many readers may know Arnold's music from the movie The Bridge on the River Kwai or from his several other film soundtracks.
The traditional American song Just a Closer Walk (with Thee), arranged for brass quintet by Gillis, opens as a New Orleans funeral dirge, slow with lots of slides, then picks up tempo of an oom-pa-pa ragtime romp with braying trumpets leaving us with a hearty, good feeling.
The Eastern Virginia Brass Quintet once again made a strong case for their ensemble as both educational and entertaining.

Billion Dollar Trio
Music of Dvorák, Brahms, Tajcevic and Piazzolla
Hofheimer Theater, Virginia Wesleyan College
November 26, 2012
Review by John Campbell
The Billion Dollar Trio chose this name to emphasize the quality of unlimited resources that they bring to music and that music can bring to an audience. This piano trio has a clarinet instead of a violin with cello and piano. Pianist Tomoko Nakayama has been praised for superior technical facility and musicality. Currently she serves as staff accompanist at the Juilliard School. A native of Japan, she earned her bachelor and master's degrees at Juilliard.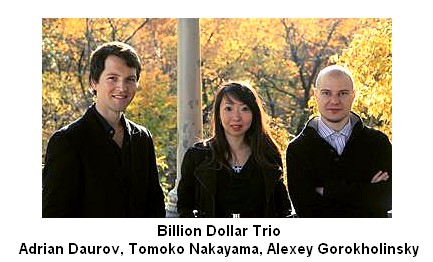 Alexey Gorokholinsky, clarinet, is noted for his intensity and virtuosity and his willingness to challenge the boundaries of his instrument. Born in Russia, he came to the U.S. at age fifteen to attend Idyllwild Arts Academy in California, followed by the Juilliard School where he appeared regularly in chamber performances in New York City and beyond. His day job is teaching at a public school in Brooklyn. As a composer he combines classical instruments and electronics on his CD Model for Assembling.
Adrian Daurov, a versatile cellist, has been seen on many concert stages. He's played with Alicia Keys, Josh Groban, Sarah Brightman, the Trans-Siberian Orchestra and others. His debut as a soloist with the St. Petersburg State Symphony Orchestra at age fifteen led to a scholarship to study at Juilliard. He has served as principal cellist with the Chamber Orchestra of New York. His own ensemble is the Voxare Quartet that was featured on Romaine Collin's recent jazz album.
They opened with three movements from Dvorák's (1841-1904) "Dumky Trio (Piano Trio No. 4 in E minor), I., IV. and VI. With the clarinet substituting for a violin, some sections were more successful than others. For me, this much-loved piece did not work well cut into pieces. Redemption came when they played Brahms' beautiful Clarinet Trio in A minor, Op. 114. The playing was superb. In conversation after the performance I learned that the "Dumky" had been abbreviated to fit into a required one-hour, no intermission format.
Seven Balkan Dances by Marko Tajcevic (1900-1984) was a piece that was totally new to the listeners. It had been introduced to the men of the trio by a patron who invited them to do a read-through of several chamber pieces. The patron is a pianist who pulled out the sheet music and it was love at first hearing. Croatian composer Tajcevic originally wrote the pieces, based on Balkan folk music, for solo piano. After it had become his most popular piece, he arranged it for all sorts of instrumental combinations, including piano trio.
By using unusual blends of instrumental colors he achieves the exotic sound of vocal quartet notes found in Eastern European folk music. For example, in the first dance he pairs very fast notes with long cello lines. The second has a Bartók-like use of folk dance. The third has a pronounced strange blend of sonorities. The fourth dance opens with a throaty cello and slow clarinet notes, then a moody piano solo soon joined by the cello. The trio together brings it to an end. Five had a fast Gypsy travelling pace and six uses plucked cello, staccato piano with short, chirpy clarinet notes. Only at the end of the seventh dance does he use sawed cello playing followed by a foot-stomp dance reminiscent of Kurt Weill.
A spoken introduction by Ms. Nakayama for Primavera Porteña (Spring) from Astor Piazzolla's Four Seasons of Buenos Aires ended with "Please swing with us." Think nightclub tango with slow, rhythmic piano, soulful cello and a clarinet that swings joined together, off for a breathless run. We all had fun, players and audience alike.
The warm, intimate space of Hofheimer Theater offers a chamber music experience that is up-close and personal. It is a group activity that nourishes the spirit.
Printer-friendly format

Back to Review Index

Back to Top

Home &nbspCalendar &nbspAnnouncements &nbspIssues &nbspReviews &nbspArticles &nbspContact Us