The Georgia Guitar Quartet
Hofheimer Theater, Virginia Wesleyan College
November 8, 2012
Review by John Campbell
The Georgia Guitar Quartet is four young men playing four acoustic guitars. They are four young men on the move who have formed a chamber group and have carved out an unusual niche in the contemporary music scene. In addition to recitals they give master classes and workshops and recently began a summer classical and commercial guitar camp in the beautiful mountains of Western North Carolina.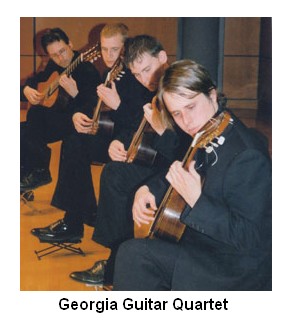 They sat in a semi-circle dressed in black, each holding a guitar; from the left, Brian Smith, Jason Solomon, Phil Snyder and Kyle Dawkins played Flight, an original piece written by Dawkins (b.1975) who picked-out the melody while the other three strummed the rhythms. Then they all went off in different directions and we soon began to understand that this was new music. Mr. Smith used the body of the guitar as a drum while from the others we heard finger nails on silky strings, picking below the bridge and other effects. This all added up to exciting entertainment.
Very old music followed: Five Dances from Terpsichore by Michael Praetorius (1571-1621), named for Terpsichore, the mythological Greek muse who ruled over dance. The composer collected some 300 dance tunes from the French court of Henry IV and harmonized and arranged them in four to six parts, perfect for four guitars. The playing was lovely. Seamless musicianship was displayed in the familiar Courante, lively La Bourée, somber Spagnoletta, stately Ballet and the very fast Bransle Double. Next they played The Cat's Fugue, K30/L 499 by Domenico Scarlatti (1685-1757) (arr. R. Mayeur), an intriguing round of four voices.
Phil Snyder,who told us that he had always wanted to play Frédéric Chopin (1810-1849) Étude, Op. 10, No. 3, got the piano score and realized that it was written in four natural parts, one for each guitarist. He explained that for the pianist the melody is much harder to bring out but easy for the quartet. The melody in one guitar lends itself to conversation because the players can pass around the melody; one questions, the other answers. Their sound was so precisely coordinated that the lilting, lovely melody came through beautifully.
Latin rhythms can be a challenge for non-Latins but Edward Grieg (1843-1907) was not in that group. In Anitra's Dance from Peer Gynt (arr. P. Snyder) he provided a subtle variety of sounds that was reminiscent of a Mariachi band. There was a breath-taking energy in the Flamenco-flavored "Puck" from Grieg's Lyric Pieces, Book 10, Op. 71. We were especially impressed with Mr. Snyder's finely nuanced lead guitar work and sensitive face as he played.
We heard Etude 5 from Douze Études Pour Guittare by Brazilian composer Heitor Villa-Lobos (1887-1959) arranged by Jason Solomon, the tall, trim blond in the group. Phil Snyder began a brief solo and was soon joined by Kyle Dawkins. From there the four parts fitted beautifully together.
Linus and Lucy by Vince Guaraldi (1928-1976) had lots of percussion. Two players carried the melody on strings while the other two played rhythm on the resonant guitar bodies, even at times turning the instrument over and striking the back. Finally they all drummed!
Phil Smith, who wore glasses, a beard, ponytail and the friendly face of a young Santa, arranged Spanish Dance No. 2, Orientale by Spanish composer Enrique Granados (1867-1916) . It was a quiet tune with a sweet counter melody. Next we heard an original piece by Smith, Freight Train from Highlands Suite. On his way to the Highland Summer Camp in North Carolina with his van overheating he recalled the coal-powered train that carried folks up the mountain in times past. He captured the percussive, moving energy of the train.
Music by the great Argentine composer Alberto Ginastera (1916-1983), Dance of the Beautiful Maidens from Danzas Argentinas, came next. Arranged by Phil Snyder who introduced the piece, explaining that though Ginastera only wrote one piece for guitar you can hear the guitar in his use of an open G in all his piano pieces. Snyder described it as "one of the prettiest things you'll ever hear" and it was.
Kyle Dawkins borrowed a traditional Irish tune for hammered dulcimer, The Road to Lisdoonvarna, that he heard his college roommate play on CD. He suggested we think of the guitar as a drum with strings. We heard a Flamenco-Irish tune where repetitions built layer by layer to a rousing climax. These later pieces were in great contrast to the enormous sensitivity to nuance displayed earlier in the program. It was an unexpected but not unwelcome contrast. We hope to hear them again soon.
Printer-friendly format

Back to Review Index

Back to Top

Home &nbspCalendar &nbspAnnouncements &nbspIssues &nbspReviews &nbspArticles &nbspContact Us