Così fan tutte
Tidewater Opera Initiative
Perry Family Theater, Norfolk
August 15, 16 & 17
Review by John Campbell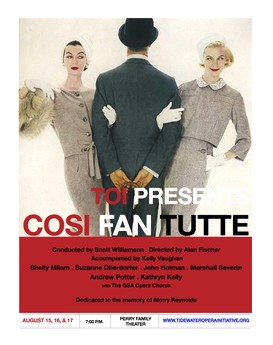 The first opera production of Tidewater Opera Initiative was a sparkling heart's delight of W.A. Mozart's Così fan tutte (Women are like that) in a topical English translation. A revolution in the arts is underway. This production marks the beginning of this new movement in the arts in America and now in Tidewater. This is the first independent, grassroots group to stage a fully developed opera production here. No board of rich patrons, prominent citizens and attorneys, no years of development, though these things are in the works to make TOI an ongoing entity in the local musical landscape.
The rules have changed. The idea was suggested by Suzanne Oberdorfer's father when she complained about the dearth of opportunities for young, professional singers locally. He suggested she start her own opera company. Ms. Oberdorfer and Kathryn Kelly ran with the idea and worked with Kickstarter, a website that facilitates crowd-sourced fundraising for proposed projects. We received a request for support on May 27th for the proposed performance. Our pledge led to this email on June 6th: "Congratulation! Thanks to you and fifty-nine other backers, Tidewater Opera Initiative's First Production! has been successfully funded. We will now charge your credit card."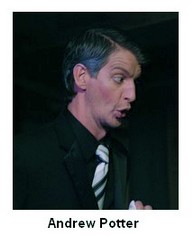 Bass Andrew Potter of Lynchburg was Don Alfonso, a cynical, old bachelor who is tired of hearing about the constancy of his young friends' sweethearts. He maintains that all women are fickle and that if his two young men friends will act on his instructions for a day he will prove it. The young sailors, Guglielmo and Ferrando, protest mightily that their sweethearts will behave otherwise and agree to a hefty bet on it. We know baritone Marshall Severin, a 2012 graduate of Christopher Newport University, as Sid in Albert Herring and Dr. Falke in Die Fledermaus. Here he is Guglielmo, fiancé of Fiordiligi (Shelly Milam-Ratliff). Ms. Milam-Ratliff is returning to the stage after spending time as a devoted wife and mother. She was Kate Pinkerton in Virginia Opera's 2011 production of Madame Butterfly and looks forward to singing Pamina in Roanoke Opera's Magic Flute.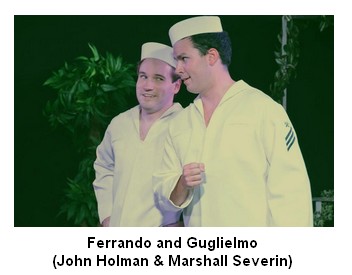 Ferrando was tenor John Holman, who after a stint in Germany (Magic Flute, Schumann lieder) and taking a music degree at James Madison University returned to Tidewater where he has covered roles and sung in the chorus of Virginia Opera. We know him from the Virginia Chorale. His fiancée Dorabella (mezzo-soprano Suzanne Oberdorfer) comes with a recent success as Ruth in Roanoke Opera's Pirates of Penzance. More recently she has covered roles and sung in the Virginia Opera chorus. In June she was heard in new opera roles with the John Duffy Composers Institute concert (2011). Kathryn Kelly as Despina, the sisters' maid, rounded out the cast of principal players. Ms. Kelly has degrees from Westminster Choir College where she was Female Chorus in Britten's The Rape of Lucretia and Dorabella in Così. As part of the Westminster Choir she performed at both Carnegie Hall and Avery Fisher Hall. She appeared in Virginia Opera's production O, Freedom.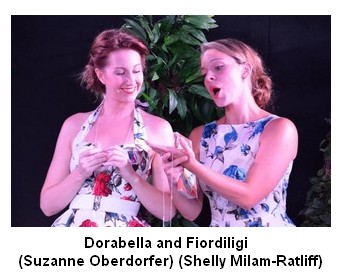 The bet is made and soon the sailors pretend to leave for a deployment with full musical goodbyes and all the grief that creates, including duets and finally a quartet of the couples and a chorus of eleven including cover artists and GSA alumni, juniors and senior class members.
Despina, the maid, jokes about the stability of a relationship with a sailor in her knowing, witty and earthy way.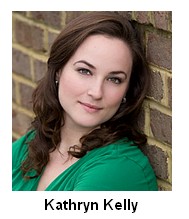 Soon the two suitors show up as exotic, turbaned Albanians with black mustaches highlighting their fair skin and attempt to put the moves on the other's fiancée. After some great singing and finding no wavering of devotion they exit.
After a conference with Alfonso they burst in claiming to be so overwrought at the sisters' rejection that they have taken poison. Dorabella even kicks one of the guys to see if he's still alive.
Despina, garbed in suit and tie as a doctor, arrives with a huge magnet and shocks them back to life. Ms. Kelly's comic timing was superb. All of this while the music flows on. Mr. Holman's advances toward Ms. Milam-Ratliff are still slapped away. The quartet becomes a quintet as Despina joins in. Alone, the girls agree that a mere flirtation will do no harm.
Dorabella does not resist and gives her locket to Guglielmo. The locket contains Ferrando's picture. Her sister Fiordiligi continues to resist Ferrando's advances. Alone together, the guys learn what has happened but soon Guglielmo's sympathy turns to gloating. His time comes soon enough when Fiordiligi succumbs to Ferrando. Both reconfigured couples agree to marry and Despina, dressed as a notary, does the honors. The marriage contracts are signed just as martial music signals the return of the sailors. Soon all is revealed and the chorus sings about accepting life's good and bad times. In today's society, unlike the 1950s and in Mozart's day, the couples may remain reconfigured.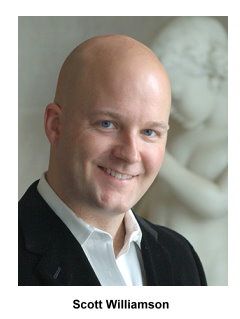 Scott Williamson conducted the company, pacing the opera so that spoken sung parts (recitative) were conversational, like natural speech. Mr. Williamson, who led the local Virginia Chorale for several innovative seasons, is currently General and Artistic Director of Opera Roanoke. Pianist Kelly Vaughan studied at Virginia Commonwealth University and Liberty University and is currently a music teacher and performer in Hampton Roads.
In this production the action was moved to mid-1950s Norfolk. The look and costumes were updated but the action and characters were as Mozart and his librettist, Da Ponte, intended. Why the '50s? Back then, many people stayed in relationships even when they discovered that their partners weren't right for them.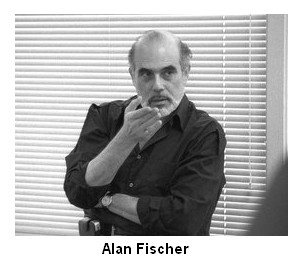 Visually the cast looked the youthful characters they played except for Andrew Potter whose hair had to be grayed and age lines added to his face to become Don Alfonso. At times the spare stage set, courtesy of the Governor's School for the Arts, was evocative of a drawing room and at others a formal garden of Mozart's Europe. Even more important is that Alan Fischer, GSA Vocal Music Chair, was stage director and scenic and lighting director. Before coming to GSA in 1994 Mr. Fischer performed in comprimario tenor roles in the U.S. and Europe and has sung with the Todi Festival and Virginia Opera.
Ms. Oberdorfer told us that the smooth cooperation between Mr. Williamson and Mr. Fischer was typical of a production process that seemed charmed.
The house of 100 was full at the paid preview and the two regular performances. Ms. Oberdorfer told me that not only were they able to make their budget but they could give a small stipend to the singers and have funds toward next year's opera.
Back to TOI Index

Printer Friendly Format
Home &nbspCalendar &nbspAnnouncements &nbspIssues &nbspReviews &nbspArticles Contact Us