Tidewater Opera Initiative presents Baritone Wes Mason & Pianist Stephen Z. Cook
Christ and St. Luke's Episcopal Church
July 20, 2013
Review by John Campbell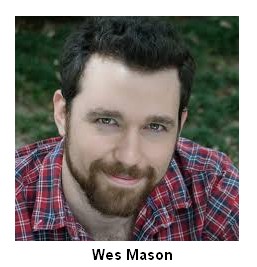 Wes Mason has a spacious and reverberant baritone voice and is building an exciting career on opera stages around the U.S. and Italy. Mr. Mason grew up in Norfolk and expressed his delight in presenting a recital at home. Stephen Z. Cook at the piano shared the responsibility for what turned out to be an outstanding experience of art song and opera arias.
Suzanne Oberdorfer, president of Tidewater Opera Initiative (TOI), introduced the performers for this fund raiser for the new group. She thanked Wes Mason for coming and paying his own travel expenses so all donations and ticket sales could go to TOI for their first opera production, Mozart's Cosí fan tutte on August 16 and 17, 2013.
Three songs by Henri Duparc (1838-1933) came first: Chanson Triste, Extase and Phidylé. Chanson Triste was Duparc's first melodie (art song) and speaks of tender and intimate feeling with a beautiful melody in the piano that illuminates the text. This, and Phidylé, require a substantial vocal weight and an excellent pianist to do justice to Duparc's genius. Fortunately we were offered a superb performance. Extase has only six lines of text and includes a dominating piano prelude, interlude and postlude. The voice unfolds gradually, building to a stunning intensity as a tribute to Wagner's Tristan und Isolde, "Yet it is totally French in sentiment and style" (Carol Kimball, Song).
Next Mr. Mason gave us Paul Bowles' (b.1910) Blue Mountain Ballads with text by Tennessee Williams. Heavenly Grass, with its shattering longing for a return to innocence, was followed by Lonesome Man filled with ragtime syncopation, it is a colorful snapshot of a southern character. The old man's rocking chair keeps a steady rhythm going in the piano throughout. Cabin is a nostalgic recounting of a long-past passion that destroyed the lovers like the winter storm that now destroys the cabin. The open, jazzy recounting of a young woman's many charms in Sugar in the Cane and the danger of being overwhelming to the man that dares to approach her, is drenched in rhythmic vitality. Wes Mason's performance of one of my best-loved American song cycles left me breathless.
A sneeze by a nearby audience member elicited a "Gesundheit" from Mr. Mason during the piano introduction to Votre toast je peux vous le render from Georges Bizetís Carmen. Mr. Mason's singing was firmness, power and luminosity personified with strong support from Mr. Cook at the piano.
The second part of the program began with Oh, What a Beautiful Morning from Oklahoma (Rodgers and Hammerstein). Wes told us that he would like to sing the role and encouraged us to convince Virginia Opera to mount the musical for him. He then regaled us with sweet, hugely open singing in Johanna from Sweeney Todd (Sondheim).
This was followed by songs shared with TOI members who are featured in the Cosí staging in August. Mr. Mason and Suzanne Oberdorfer (Dorabella in TOI's Cosi') sang Wunderbar from Cole Porter's Kiss Me Kate. A couple in love, they danced together to end the song!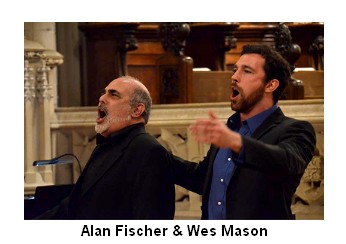 From Donizetti's L'elisir d'amore, Alan Fischer (Cosí's director) sang Venti scudi as Nemorino, the young bumpkin who joins the army for the money to buy the elixir to pursue his love, with Wes Mason as Captain Belcore. In the duet Mr. Fischer's voice opened out with a surprising richness. From Mozart's Don Giovanni Kathryn Kelly and Wes Mason sang La ci darem la mano. Ms. Kelly's voluptuous sound will be heard as Despina in Cosi' in August. In their duet the Don is busy seducing Zerlina as he sings "Come, come my darling to restore our pleasure of an innocent love" but only her love is innocent. He hugs her against his chest and winks at the audience!
The principle female roles in the coming Cosi' fan tutte, Shelly Milam-Ratliff (Fiordiligi) and Suzanne Oberdorfer (Dorabella) gave us a sample of the August performance to be sung in English: I will choose the handsome, dark one. Their voices made a fine blend with well-formed trills.
Mr. Mason and Ms. Milam-Ratliff shared the stage in If I Loved You from Carousel (Rodgers & Hammerstein). Wes, sans jacket and with rolled-up sleeves looked very serious as he sang in a deep, lovely voice. Ms. Milam-Ratliff was a very pretty match in voice and looks.
Joey, Joey, Joey from The Most Happy Fella (Frank Loesser) brought us to the end of a grand evening of music. Wes Mason is busy building a career in opera and musical theater and his future looks bright.
We're looking forward to Tidewater Opera Initiative's first opera production, conducted by Scott Williamson. The Governor's School for the Arts Opera Chorus will sing and Alan Fischer will direct.
Back to Top
Back to TOI Index
Printer Friendly Format
Home &nbspCalendar &nbspAnnouncements &nbspIssues &nbspReviews &nbspArticles Contact Us