Glorious Creation
Schola Cantorum of Virginia
Eastern Shore Chapel
January 28, 2012
Reviewed by John Campbell
The ticket featured a picture of planets in space and a glorious photo of the starry heavens was on the program booklet, underscoring the theme of the sacred music program, Glorious Creation. One of the man-made creations was the major choral cantata by René Clausen (b.1953), A New Creation, a forty-minute piece presented as the first half of the program. The twelve sections begin with Prologue with Joseph Browne singing "In the beginning was the word..." (St.John, Chapter 1) followed by All Flesh is Grass sung by the twenty-one member ensemble with organ as continuo played by Marie Bliss. With the unhurried tempo, overlapping part-singing with some thorny harmonies, you knew this was not the usual sacred piece. The short pleasurable O Be Joyful led to The Call: "Come, the Lord has become my strength."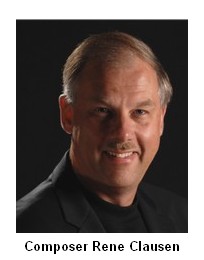 In the solo Lament alto Kim Rouke gave us some lovely, contralto bottom notes, low in her mezzo-soprano voice. This was accompanied by Ms. Bliss at the organ. It has been said that Clausen's most popular harmonies are based on close dissonances, "tone clusters" in tonal settings that push the boundaries of chordal language. Agnus Dei brought the chorus into a lovely, lengthily held note that ended a sweetly sung section. The flute-like high notes of soprano Dana Henning were the high point of the solo I am the Bread of Life. A New Creation, which followed, is exultant: "Christ lives in a new creation." The setting was also a new creation, an exciting use of vocal resources.
In this gently paced aria, The Greatest of These is Love, George Londeree's tenor solo reassured us that Christ's love is patient. The next section, a group song titled Hymn, has been excerpted as Set Me as a Seal and widely performed on its own. If this sounds familiar, it is. Schola Cantorum used it as the title and as a pivotal work in the May/June 2011 concert.
A jet plane went over and was honored by silence, followed by The Spirit Helps Us (in our weakness). Bass Leif King was soloist, singing "a new spirit will give you shelter." At the very end Ms. Rouke sang "A new heart I will give you..." and the quartet of soloists completed the song together.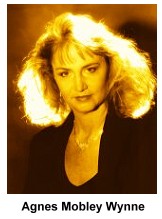 The closer was Praise the Lord with layer upon layer of building sound. The dance, an ominous sound that begins in the organ, is taken over by the chorus, breaking into white Gospel glorious shouts for joy. The solid choral sound dies away layer by layer to end the piece. There was a richly deserved standing ovation. Under Ms. Mobley Wynne's leadership the chorus has gone from strength to strength.
After the break a long organ prelude opens The Lord is My Shepherd by local composer K. Lee Scott (b.1960). The work was premiered at First Presbyterian Church of Norfolk in November 1995. The four-part harmony becomes challenging, with frequent time and key changes.
Next we heard And I Saw a New Heaven written by Edgar L. Bainton (1880-1956) with text from Revelation 4:1-4. An Englishman, he was on the continent at the outbreak of World War I and was interned in a prisoner-of-war camp. In 1933 he emigrated to Australia to take a job as director of a conservatory. This piece was a lyrical, rich and inventive setting of the dramatic story of the end of death as God comes to dwell among men. Without pause the group sang Randall Thompson (1899-1948) Alleluia. Late in life Thompson headed the music department at the University of Virginia (1941-6). World War II in Europe was his inspiration for the urgency of the packed harmonies in this piece. The massive sound was written to overwhelm the listener just as the events of two world wars did these two composers.
Jubilate Deo was written in 1961 by Benjamin Britten (1913-1976) for St. George's Chapel, Windsor. Set for chorus and organ, the music is joyful with a happy dance in the organ. This commission made Britten an "establishment" figure in the public eye even though he and Peter Pears, his life partner, were gay leftists and conscientious objectors.
Agnes Mobley Wynne, Schola Cantorum of Virginia's artistic director, read the poem Elegy by her friend, poet Ellen Wise as an introduction for the last set of songs. I know the lovely Sure on this Shining Night by Samuel Barber (1910-1981) (text James Agee, 1938) as an art song, but it was sung here in an arrangement for chorus.
Let Down the Bars of Death (1935-36) on a text by Emily Dickinson, was set for chorus with soothing harmonies and an a cappella close. The last selection returned to music by René Clausen. His Kyrie from Memorial is a reflection on the horrific events of September 11, 2001. The lovely enfolding sound and rich, warm, long-held notes were healing.
There is a CD of Memorial for mixed chorus and orchestra with baritone soloist Peter Halverson, a fellow faculty member at Concordia College with René Clausen who conducts the choir and orchestra.
Eastern Shore Chapel is home base for Schola Cantorum where they practice, have retreat space and a supportive congregation. This program was dedicated to the Eastern Shore Chapel family.

Schola Cantorum with Leigheas
presents a Celebration of Celtic Music
Artistic Director Agnes Mobley Wynne
Old Donation Episcopal Church, February 2, 2014
Review by John Campbell
Scottish poet Robert Burn's A Red, Red Rose: "O my luve's like a red, red, rose,\that's newly sprung in June;\O my luve's like the melodie\That's sweetly played in tune." The poetry set the tone of an excellent, light-hearted afternoon of music organized and directed by Agnes Mobley Wynne leading Schola Cantorum of Virginia in an a cappella setting by James Mulholland.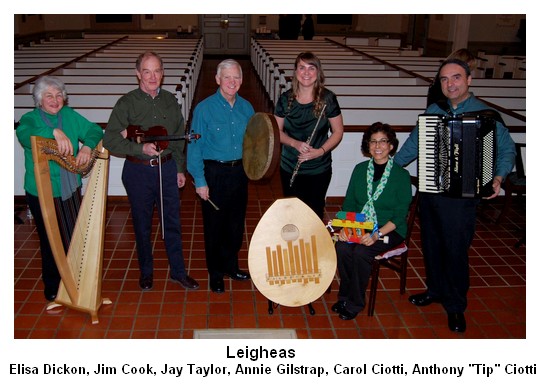 The chorus was often accompanied by Leigheas ("lay-huss"), a group of musicians that preserves the tradition of band music of Scotland and Ireland. They opened the concert with a set of jigs, The Irish Washerwoman, that was hearty and familiar. The a cappella chorus opened with Ye banks and Braes (text Burns). Both groups joined in Loch Lomond—you know, that song about taking the high road or the low road. Mezzo-soprano Pam Getty sang in Scottish Gaelic Ailean Donn (Harris Love Lament), with Elisa Dickon on Celtic harp, a harp characterized by compact, robust construction.
The set that followed by Leigheas began with a "slow air" by Tom Anderson (1916) and two reels, Spootiskerry by Ian Burns and Willafjord, a traditional Scottish reel performed by Anthony "Tip" Ciotti, accordion; Carol CIotti, percussion—including a marimbula; Jim Cook, fiddle; Annie Gilstrap, flute; Ms. Dickon, harp; and Jay Taylor, 19th century tin whistle.
Schola Cantorum then sang A Red, Red Rose. It was heart music with passion and the voices rose up all rich and thick at the end. Baritone Dan McCready sang Down by the Sally Gardens—the place where thatch for roofs is grown—accompanied by harp and fiddle. The text is by William Butler Yates to a traditional tune arranged by Monath and Hughes.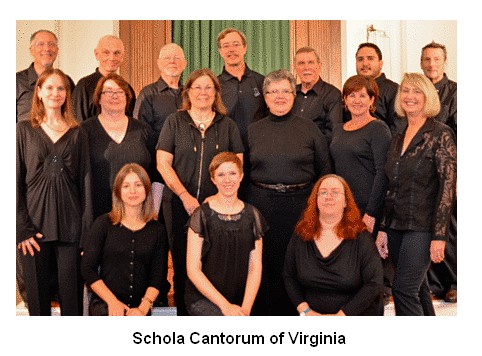 The women of Schola sang The Last Rose of Summer, arranged by tenor Joseph Kasper who teaches music theory and sings with Schola. Interestingly, the vocal lead was passed from mezzo to high soprano and back, engaging the listener in the poetry of Dubliner Thomas Moore (1779-1852). Two sets by Leigheas followed. The jig is the most popular dance form, all with brief tunes—no theme and variation here. We heard three traditional Shetland reels followed by a couple of strathspeys, a type of dance tune characterized by the rhythmic "Scottish snap," composed by fiddler Neil Gow (1727-1807) who inaugurated an era of professional fiddlers in Scotland. For the previous 150 years, folk fiddling had been an underground, local and amateur art. Gow ,as a celebrated Highland reel fiddler, met the great Scottish poet Robert Burns in 1787. Four of Neil's sons went on to become professional fiddlers also.
Next the band introduced their instruments. In general terms Irish violin (always called a fiddle); a variety of flutes, from the early single key type to a modern fully keyed one (the kind we heard); a factory-made penny whistle and free-reed instruments like the accordion and concertina; Celtic harp and percussion: bodhrán (a small frame drum), marimbula (giant wooden thumb piano) and Trik Ballak—a type of wooden tambourine. The accordion surprised me but a little research gave me the notion that there is a similarity of sound of the Irish bagpipe that uses a bellows rather than the blow pipe of the ones played by my Scottish ancestors. I have also heard that Irish bagpipes have a much sweeter sound than the Scottish, hence more accordion-like.
With a maternal grandfather who played fiddle for dances, I have listened to this music all of my life through but I have never researched or written about it before. There is much to know. This program, presented in three other venues around Tidewater, has had large audiences to hear a mix of a cappella music by Schola Cantorum and sets of instrumental reels, strathspeys, jigs, polkas and waltzes by Leigheas. Having accompanied vocal soloists, in heart-felt collaboration, was a bonus.
Tenor soloists Jay Taylor and harpist Elisa Dickon were a Tidewater art song duo long before they became part of Leigheas. Their two songs, O, Saw Ye the Lass Wi'the Bonny Blue E'en (R. Ryan, text arr. John Sinclair) and The Harp that Once Through Tara's Halls, came as no surprise to this longtime admirer of their art. Mr. Taylor has gained vocal power in the top of his range.
Baritone Jeff Stark with Tip Ciotti on accordion sang the only contemporary song on the program, Tom Lehrer's (b.1928) sendup of Irish misery ballads, titled The Irish Ballad. "…we drowned daddy in the creek, water tasted bad for a week, we had to drink gin…" The several verses provoked hearty laughs all around.
After the polka set and waltz set that highlighted pieces by Turlough O'Carolan (1670-1738) and Ruaidri Dall Ó Catháin (c. late 16h – early 17th century) came a sort of perpetual motion traditional reel, The Road to Lisdoonvarna . Next came the triple rhythm The Minstrel Boy with text by Thomas Moore and arranged by Joseph Kasper for himself and the other two tenors and the six baritones of Schola, in the plaintive, powerful vocal enactment of the drummer boy's story.
No Irish program is complete without Danny Boy, sung by Schola with accordion and harp accompaniment featuring vocal soloist Elizabeth Taylor. The Parting Glass, performed by all, completed an evening of light-hearted, well-presented music. Though they didn't tell us whether it was Irish or Scotch whiskey they were singing about, the performers left the stage clapping in time and the audience joined in as the tempo accelerated.
The energy of this performance was infectious. Dropping a set fee in favor of donations has greatly expanded the audience in all four venues.
Printer friendly format

Back to Top
Back to Review Index
Home &nbspCalendar &nbspAnnouncements &nbspIssues &nbspReviews &nbspArticles Contact Us