Music for a Summer Evening
Patti Watters, Flute
With friends Oksana Lutsyshyn, piano; Ellen Golliher, soprano; Dennis Zeisler, clarinet
Prince of Peace Lutheran Church
June 3, 2012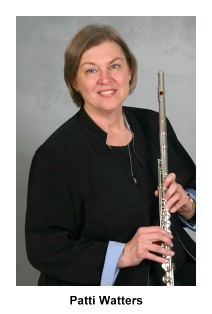 Patti Watters and friends shared their joy in music-making with an appreciative audience of more than fifty listeners. Sunlight illuminated the stained-glass windows as the cool sound of the flute in three little pieces by Gabriel Fauré (1845-1924) invited us to relax and enjoy. The piano sets out the cadence of the lovely French melodies: Piece, Morceau de Concours and Fantasie (1898). The flute was lyrical or boisterous or playful by turn with great leaps of sound in the last piece.
Staying with French repertory and adding the voice of soprano Ellen Golliher, we heard Le Rossignol (The Nightingale) by Leo Delibes (1836-1891) with flute and piano. It came as no surprise that the text, a love song of a shepherd girl who believes that love comes back every spring like the roses do, set the stage for soaring flights of graceful sound in voice and flute. The singer's voice was sometimes quiet and caressing, sometimes stunning in high extended vocalise passages. The story ended as the girl is chided: "Once love flies away from you, it's gone forever, Alas!" The singing completed, the flute made one last soaring flight to end.
Then came Fauré's Dolly, Opus 56, originally written for piano four-hands (1894-97) in an arrangement for piano, flute and a very mellow clarinet part played by Dennis Zeisler. Of the work's four movements, Berceuse is a lullaby, Mi-A-Ou is a fast-paced trio, Le Jardin de Dolly opens with solo clarinet soon joined by piano and flute. Kitty-Valse begins as a pretty waltz only to become an urgent, engaging tune for the trio.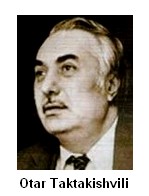 The big discovery of the evening for this listener was Sonata by Otar Taktakishvili (1924-1989) for flute and piano. The music is an open-hearted coloristic feast and Taktakishvili's most popular sonata. Ms. Watters told us that this sonata is a good alternative to the ever-popular Poulenc flute sonata. Taktakishvili's country, Georgia, formerly part of the Soviet Union, was described as similar in climate to California and is also a great producer of fruits and vegetables. The sunny climate is reflected in the exuberant Allegro cantabile, first movement. Aria, the second movement, is a dance tune with the flute portraying the voice accompanied by a piano that becomes heavier and more dramatic as the flute soars ever more lightly. In the last movement, Allegro scherzando, the piano and flute skip along joyously together, flying at the end!
All four performers joined in the final piece: Dog Chronicles by Catherine McMichael, a five-song cycle guaranteed to please all dog lovers with the insight and humor of the texts by several unknowns and some famous writers. The opening text by Mark Twain goes like this: "If you find a starving dog and make him prosperous, he will not bite you. This is the principal difference between a dog and a man."
The text, from A Dog's Book of Virtues by Lord Byron and others, describes the canine traits in some very high notes and gestures involving the whole person of our singer who growled the word "growl." In Puppy Love there is perky instrumental writing on a text that challenged the singer with sustained high notes. In Boys, Dogs, and Mothers the spoken text elicited a laugh. "Every boy who has a dog must have a very good mother …. So the dog gets fed regularly." The set closed with Dog Heaven, a decisive message: "If dogs don't go to heaven when they die, then I want to go where they go when I die." Texts were furnished for all songs.
This was Ms. Watters' first recital in many years. Now an adjunct flute instructor at the Governor's School for the Arts and Old Dominion University she has the time to be a recitalist once again. She was at GSA from the beginning in 1985 until she turned over the chairmanship of instrumental music to her worthy successor, Jeffrey Phelps in 2011.
It was a delightful evening and we look forward to more superb recitals like this one. Patti's musical friends were topnotch performers also.

Back to Top
Review Index
Printer Friendly Format
Home &nbspCalendar &nbspAnnouncements &nbspIssues &nbspReviews &nbspArticles Contact Us