LOV Broadway and Beyond
Museum of Contemporary Art, Virginia Beach
October 20, 2013
Review by M.D. Ridge
Lyric Opera Virginia director Joseph Walsh introduced their Broadway and Beyond program saying that these days, young opera singers are expected to have the versatility to cross over into other genres. (The amazing Kiri Te Kanawa started out singing in pop clubs in New Zealand.) Selections ranged from opera to Broadway to film, sung by soprano Cristina Nassif and baritones Jonathan Estabrooks and Eric Greene. This was the third program in the series; the two earlier programs had featured the creamy voice of Aundi Marie Moore, whom I was sorry to have missed—but Eric Greene more than made up for it.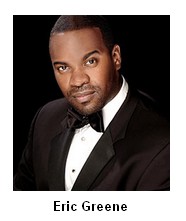 Of the three singers, Greene was the most comfortable in all genres—vocally and physically. In his initial appearance, as Escamillo, singing the Toreador Song from Carmen, he strode onto the stage already in character, commanding the audience's attention from the git-go—and was rewarded with cheers. In the Broadway segment, he sang "A Woman Is a Sometime Thing," Jake's "lullaby" from Porgy and Bess, with great gusto and humor. He changed gears easily for "Somewhere," Tony's touching anthem of hope from West Side Story, investing it with believable pathos and easy, heartrending high notes. Two spirituals—"A City Called Heaven" and "Witness" were another change of pace, as was his impassioned singing of the beautiful baritone aria from Wagner's Tannhäuser. Greene's ornamentation in various genres is not for the sake of ornamentation itself but to further the path of the music. It's all part of the package, along with his superb diction and excellent breath control. He's done many roles with Virginia Opera, including Escamillo in 2006, and his experience is apparent in his commanding stage presence.
Greene joined forces with Christina Nassif for Rossini's "Cat Duet," which rings the changes on . . . meow. They had fun with it, and at one point Joseph Walsh, at the piano, woofed at them—it was hilarious.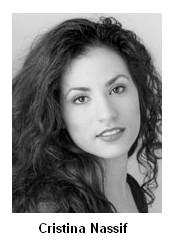 Radiant in a dark teal gown, Nassif sang "Voi lo sapete," Santuzza's aria from Cavalleria Rusticana, plumbing its dark mezzo depths with ease. In the Broadway segment, she sang "I Could Have Danced All Night," from My Fair Lady, and Victor Herbert's very funny prima donna song, "Art Is Calling for Me." But the wobbly chin that accompanied high open vowels was a distraction. An extraordinary choir director told me once, "Anything that is not under the singer's control is a vocal fault," and so it was here. Manuel Ponce's Mexican ballad "Estrellita" was better sung, if over-emoted. Even better were "Lover, Come Back To Me" and "Autumn Leaves," the latter sung first in French, then in English. Operatic vibrato tends to blur lyrics that must be comprehensible; a straighter tone would have served the music better.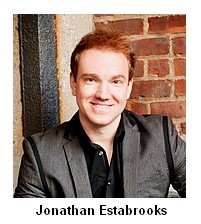 Baritone Jonathan Estabrooks has a robust and forthright style. He began the program with a floridly dramatic aria from Ambrose Thomas' Hamlet, "O vin dissipe la tristesse (O wine, dispel the sorrow)," which the Danish prince sings to the actors who will provide entertainment. In the Broadway segment, Estabrooks sang Freddy's song from My Fair Lady, "On the Street Where You Live." (He could use some of Greene's physicality and move about a bit more, not to mention coming onstage already in character.) He scraped the bottom of his range in "Empty Chairs and Empty Tables," from Les Miserables; however, he was very good in duets with Nassif — an aria from the Barber of Seville and "My Heart will Go On," from the film Titanic, which were properly passionate and mutually supportive. And his final song, "Over the Rainbow," had everything you could want.
LOV general and artistic director, the enthusiastic Joseph Walsh, provided the afternoon's piano accompaniment, interacting with the singers —and as they say, a good time was had by all.

Impressions of Broadway and Beyond
Museum of Contemporary Art, Virginia Beach
October 20, 2013
By Scott Strickland
Once again opera neophyte Scott Strickland agreed to share his impressions of the performance with us.
Joe Walsh sat at the piano center stage and the singers walked on from stage right as the music began. Only gesture and facial expressions gave cues to the roles they were creating.
Although I knew the performance would be a mix of Broadway and opera I was particularly interested in how Broadway show tunes would be interpreted by opera singers. With their vocal power and agility opera singers offer exciting possibilities for popular music. One of the first CD's I ever purchased was a rendition of the original Broadway score of West Side Story sung by Kiri Te Kanawa and Jose Carreras with Leonard Bernstein conducting. It was amusing to hear Maria and Tony with the accents reversed although this still placed them on opposite sides of the track. Te Kanawa didn't disappoint particularly in the upper register and sustained passages although some critics found her Maria too regal to be credible. I found Carreras' interpretation vocally solid (of course!) but a bit dramatic for the Tony I knew.
My strongest impression of the performance was what a consummate entertainer Eric Greene was. Although his rich baritone was impressive, his stage presence was even more so. He thoroughly engaged the audience with each appearance from the moment he entered the stage until the moment he exited. He displayed a range of facial expressions and gestures perfectly suited to each line of music. He delivered strong performances in the operatic, Broadway, folk and spiritual genres. His interpretation of the spirituals A City Called Heaven and Witness were the most moving performances of the evening. It was obvious Greene was thoroughly enjoying himself. He should be presented in a one-man showcase of his wide-ranging talents.
Soprano Cristina Nassif was born for the opera stage. Her powerful voice and dramatic gestures reveal a history of interpreting opera's leading ladies. Her facial expressions in particular were so compelling especially when interacting with her male partners. Her reactions seemed completely genuine as if she were hearing their lines for the first time. Her performances of the operatic pieces were powerful and rock solid. But it was her heartfelt interpretations of Autumn Leaves and Estrellita which were most moving. She imparted a melancholy beauty to each piece. Her command of French and Spanish diction was impressive.
Baritone Jonathan Estabrooks delivered solid performances in all the evening's musical genres. His interpretations were understated but heartfelt. It wasn't until the final ensemble rendition of New York, New York that the audience glimpsed his potential to command a stage. His Empty Chairs and Empty Tables from Les Miserables was my favorite of his.
Editor's note: Eric Green has appeared in no fewer than nine Virginia Opera productions including Escamillo in Carmen, Robbins in Porgy and Bess and most recently the father in Hansel and Gretel (2011).

La Bohème
Lyric Opera Virginia
MOCA, Virginia Beach
March 16, 2014
Review by M.D. Ridge
Lyric Opera Virginia presented its condensed version of Puccini's classic opera La Bohème at the Virginia Museum of Contemporary Art—MOCA—in Virginia Beach March 16. It was thoroughly enjoyable and satisfying, not least because of Won Whi Choi, who sang Rodolfo with passionate conviction, superb command of dynamics and excellent breath control. His acting was no less impressive, and his slight frame fit the role of the starving poet more accurately than—well, than most tenors. He had a quality of stillness that's hard to do without vanishing—but his rapt attention to Mimi's story riveted the audience's attention, too. His aria, "O soave fanciulla," was just gorgeous, with the subtle accompaniment of Vince Zentner's harp and music director Joseph Walsh's thoughtful piano.
Melissa Shippen Burrows sang Mimi with great charm and simplicity, but looked rather too healthy to be dying of consumption. As Musetta, Kristina Bachrach was a shade unrefined vocally—but that fit well with her flirtatious character. In the final scene, when Musetta gives her jeweled earrings to he sold to buy medicine for the dying Mimi, both Bachrach's singing and acting were empathetic and generous.
Michael Weyandt was a relatively introverted Marcello—a ferocious artist, stabbing at his palette and canvas with vigor, but clueless about his girlfriend Musetta's motives.
As the musician Schaunard, Chase Peak was robustly extroverted, with a big, exuberant voice and confident manner. Adam Richardson's deep voice projected calm wisdom as Colline, the philosopher. Singing together, the four—Won, Weyandt, Peak and Richardson—displayed the attractively virile sound of close friends who may bicker with one another but remain intensely loyal.
Stage director Stephanie Vlahos brought an impressive bag of tricks to this production. To begin with, omitting an intermission kept the audience's attention undistracted. The relatively cramped stage underscored and intensified the interaction between characters—Mimi and Rodolfo, Marcello and Musetta. Small bits of well-thought-out stage business were telling details, such as Colline looking sadly at his treasured coat, his one luxury, which he'll pawn to buy medicine for Mimi; or Rodolfo's tender caresses (not too much, not too little—just enough). It's the little things that make the difference, by engaging the heart as well as the ear.
One thing could not have been planned: the polar vortex that plunged this area into unusually frigid weather. When Mimi and Rodolfo sang of the hardships of the long, cold winter, and their longing for spring, every audience member was in perfect sympathy!
I normally find updates a little suspect, but moving the production to Paris of the 1950s was a good move, that made appropriate costumes more accessible: the little girls' twinsets and long circle skirts festooned with poodles were right on the mark, and Mimi's red beret was perfect. In her first scene, Musetta's glitzy dress was a little over the top, but her subsequent costume was well thought out, with only one false note: no nice Catholic girl would have ever worn a rosary as a necklace.
The small group of children sang well and enthusiastically, but one could have done without the overly loud recording of "Frere Jacques" between scenes. Having the youngsters bringing out the adult singers for curtain calls was a charming touch.
The supertitles were well done, contemporary without being forced. (Just ignore the bit about the horse and carriage.)
This review was originally broadcast on WHRO 90.3 FM's "From the other side of the Footlights."

Master Class, Lyric Opera Virginia
Price Auditorium, Virginia Museum of Contemporary Art
May 2, 2014
Review by M.D. Ridge
After a tempestuous career in the often harsh spotlight of the operatic world, soprano Maria Callas gave a number of vocal master classes at Juilliard in the early 70s. In Terrence McNally's play, Master Class, three aspiring young singers come under the famed diva's scrutiny—with riveting results.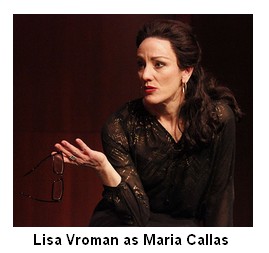 Lisa Vroman, who was such a knockout in last season's The King and I, returned to Lyric Opera Virginia May 2. She strides onto the stage in a spotlight, declaring directly to the audience, "I don't believe in microphones. If you can't hear me, you're not listening!" They listened—oh, they listened!
Vroman is a brunette soprano. So far, so good. But where Callas was over 5'8", Vroman is tiny, incredibly petite —yet her straight-as-a-poker posture and commanding stage presence make her seem taller than the students who tower over her. She roams the theatre, engaging audience members, making catty remarks about how they look and how her contemporaries sang. Although Vroman is an outstanding theatrical singer, for this production, hers is essentially a non-singing role. It's a wise decision: Vroman doesn't need to sound like Callas (no one could), which leaves her free to explore, convincingly, the singer's frustration in having to explain to students how to bring an aria or a role alive—when once, all she would have needed was to sing it.
The first student is Sophie DePalma, a shy blonde with a nervously squeaky speaking voice. Sophie is funny and touching, and, when finally allowed to sing more than one note, displays a startlingly big voice that makes credible her character's lofty ambitions.
Sarah Kate Walston, who sang "Caro nome" so winningly in last season's LOV production of Viva Verdi, is Sophie. Callas cuts her off in the middle of her first note, and impatiently demonstrates the difference between simply waiting for an introduction to end, and being in the music before a note is sung. She distracts Sophie, criticizes her consonants. Poor Sophie exclaims, in tears, "This is hard!"
Yes. It is. That's the point.
The diva can see the student's potential, which makes the loss of her own career even more difficult. With a Callas recording rising in the background, Vroman sings a few notes and drifts into memories of her liaison with the "crude, cruel" and manipulative Onassis, for whom she left her hard-won musical career behind. She thinks back to her school days at the conservatory, when she was fat and unattractive. "Where are the pretty blondes now— the enemies!" She re-lives a crowning moment at La Scala, thinking triumphantly, "It's over. . . I won, again!"
After the interval, she asks questions of the audience, musing airily, "How can you have rivals when no one can do what you can do?" She remembers singing the title role in Medéa, "when Jason is leaving Medéa for another, younger woman. . ." Life imitates art.
Nicole Jenkins, as Sharon, the second student, arrives in a gorgeous ball gown to sing Lady Macbeth. She gets the Callas treatment: "This is an opera, not a voice recital!" And the teacher remembers that there was no one to tell her about clothing mistakes. Sharon flees.
Editor's note: M.D. Ridge's radio reviews have a time restriction. She does not mention that Sharon returns to sing the Lady Macbeth aria with power and passion. Callas keeps demanding more and Karen stands up to her and tells her that Callas' bitterness is because she shredded her voice by over-singing for 10 years and she makes it clear that she will not make the same mistake.
Joshua Baumgardner, who plays Tony, the third student, essays Cavaradossi's aria about Tosca. The student argues with Callas, because he knows only the notes, not the feelings behind them or the technique to bring them out. But he begs for her help—and when he's finished singing, passionately, she says quietly, "That was beautiful."
At the end, after reliving Callas's debut at La Scala, her complicated relationship with Giovanni Meneghini, to whom she was married for ten years, and her tragic affair with Onassis, Vroman stands alone onstage, then walks off unceremoniously. Under the projected classic photograph of Callas, the recorded music rises: Callas singing the great aria from Tosca, "Vissi d'arte": "I lived for art. I lived for love." Perfect.
LOV's impresario Joseph Walsh plays Manny, the accompanist, with gusto and respect. Director Greg Ganakis made zingy with movement what could have been fairly static, taking full advantage of Vroman's physical abilities and allowing room for her to express every facet of a complex, combative and, ultimately, tragic figure. Lighting director Autum Casey met the challenge of varied venues with evocative projections. It was a thoroughly satisfying production.
This review was originally broadcast on WHRO 90.3 FM's "From the other side of the Footlights."
Back to Top
Review Index
Home &nbspCalendar &nbspAnnouncements &nbspIssues &nbspReviews &nbspArticles Contact Us