Romeo & Juliet
Lyric Opera Virginia
March 17, 2013
First Presbyterian Church, Hampton
Review by M.D. Ridge
Building on last season's "jewel box" presentation of Carmen, Lyric Opera of Virginia has expanded its outreach from Richmond, Virginia Beach and Hampton, to Gloucester on Friday, March 22, with an interesting new 90-minute presentation of Romeo and Juliet. It boils the Gounod opera down to two characters—Romeo and Juliet, of course—but instead of presenting the familiar story in linear fashion (boy meets girl, they fall in love, life interferes, they die), stage director Stephanie Vlajos reverses things. First comes Juliet's poison aria, then the tomb scene in which the lovers die. The story reels ever backward to their first meeting, and in each scene, we see more and more of their innocence and the freshness of first love, still untarnished by disappointment and frustration.
It sounds kind of weird, but it works. (I was reminded of the classic short film, An Occurrence at Owl Creek Bridge, in which a doomed man relives the best moments of his life.)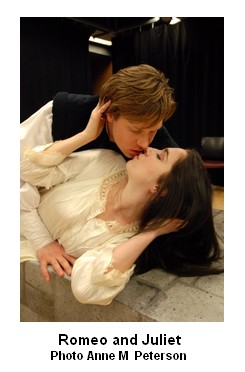 Juliet was sung by young soprano Emily Duncan-Brown, who brought to the role a voice with power to spare, yet great sweetness in pianissimo moments. Her expressive face and eyes were a great asset in limning the character visually as well as vocally, with attractive low notes as well as impassioned heights.
The excellent young tenor Cody Austin, who was the adoring Arturo in Lyric Opera's La Traviata two years ago, sang Romeo with ardor and tender energy—romantic without being sappy, positively gobstruck with love. He moves more surely now, and his voice is developing admirably well. Their well-matched duets were beautifully sung.
Recorded period music set the aural stage between scenes. The star-crossed lovers entered, bearing tall, lighted candles. A low wall served as tomb for Juliet's feigned death and Romeo's subsequent suicide; it also became their marriage bed and figured in the balcony scene. The unbilled costumes were simple and effective.
Lyric Opera artistic director Peter Mark conducted general director Joseph Walsh, energetically supportive on piano, and Virginia symphony violinist Allegra Havens, whose rich, gorgeous, dark tone suited the music perfectly.
In the resonant acoustics of Hampton's First Presbyterian Church for the March 17 performance, Gounod's music wove a captivating spell, in which the two young lovers rose from their tomb and relived their brief life together in reverse, culminating in the exquisite duet in which Romeo calls her his "ange adorable."
Juliet's waltz, "Je veux vivre dans ce reve," which came toward the end of the performance, is probably the most familiar aria of the opera, the one that every young soprano wants to sing.
For that very reason, it was rather overpowering in this setting; a little less verve might have better highlighted its lyricism.
In a nice twist, the two singers reprised the death scene at the end, which rounded off the performance very smoothly, and made sense of the director's vision.
Peter Mark is committed to bringing opera to places and people who might not have seen a full opera and are leery about the expense and time commitment; it's a gamble that seems to be paying off handsomely.
This review was originally broadcast on WHRO 90.3 FM's "From the other side of the Footlights."

An Evening with Romeo and Juliet
Lyric Opera Virginia
MOCA Theater, Virginia Beach
March 15, 2013
Review by John Campbell
Staging opera scenes from Charles Gounod's Romeo and Juliet in the theater at MOCA (Museum of Contemporary Art) had its challenges as there is no backstage and so all entrances and exits were through side doors and aisles. The hall is shallow and wide and we sat in the back row, center. It was a wise decision because the volume of sound often created an unpleasant overload. Other performances may have needed all that volume because they were in large church sanctuaries but here loudness was a problem.
The physicality of the handsome singers, their soulful kisses and their being swept up in such intense passion so innocently was a lovely thing to watch. Tenor Cody Austin, who had sung Romeo the night before also, has a large, robust sound that tended to lose focus; the sound fragmented when he pushed to achieve his top notes. With Emily Duncan-Brown, our Juliet, only rarely did the sweetness in her voice get a chance to be used. In this small theater their singing could have been tailored to the venue and the physical intimacy could have been expressed in their voices. Both singers have flexible, powerful voices and could easily have given a nuanced French style performance for this French opera had they been asked to do so.
The staging seems to have been for a jaded audience familiar with the opera, not a new audience. I found Director Stephanie Vlahos' novel backwards presentation of this "jewel box" opera superfluous The reverse order would be confusing to an audience new to the opera and weakened the climactic conclusion.
We all owe Peter Mark a debt of gratitude for his helping to build a vital audience for opera in the past. I applaud his idea of bringing in a younger audience by presenting performances in a variety of venues, leaving behind the expense and stuffiness of opera and instead focusing on the human voice. Now if we can only convince him that the volume of the voices could be tailored to the size of the venue and that loud, louder and loudest is not the only way a singer can communicate, his mission could move forward.
Back to Top

Printer Friendly Format
Review Index
Home &nbspCalendar &nbspAnnouncements &nbspIssues &nbspReviews &nbspArticles Contact Us