Within These Spaces, Composer Lori Laitman's New CD
Within These Spaces (Troy 1118) is the fourth CD of songs by Lori Laitman released on Albany Records since 2000. The title is a line taken from the first song in a five-song cycle with the same name. Three poets wrote the texts: the first three are by Marjorie Saiser (b.1943) I Grow to be my Grandmother, My Mother has Recovered and Letter to my Daughter; Janet Coleman (b.1935) The China Cup and Judith Spornberger (b.1952) Pioneer Child's Doll. The songs speak of the relationships of mothers and daughters and family: growing older and reminding oneself of one's grandmother, recovery from illness and picking rhubarb and lilacs to celebrate, remembering the touching moment of sharing joy at a child's birth and meditation on objects passed down through time that carry rich family history. The is a natural feel to Ms. Laitman's music as she expresses love, joy and pain using word painting that is lyrical and emotionally engaging.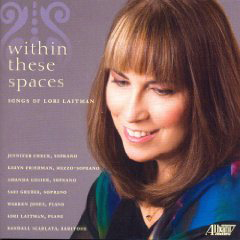 There are several local connections to this CD. Back when there was the Norfolk Art Song Society, Debbie Harris sang the premiere of Sleep Little Child with a text by the composer in May, 2003. Ms. Harris had requested a song and Ms. Laitman responded by revising an a capella lullaby she had written years before for a competition. The warm happy energy of a mother and child in harmony is reflected in the musical setting. Having the song sung by the baritone Randall Scarlatta (who appeared with Virginia Opera a few years back) on the CD is a nice touch.
In November of 2008 we heard a recital performance of The Silver Swan, Ms. Laitman's setting of text by English composer Orlando Gibbons (1583-1625). Counter-tenor Brian Asawa sang the original Gibbons setting and later the new Laitman setting at Chandler Hall in Norfolk, Virginia. Additionally, he built the theme of the recital "Swans Upon the Water, Voices in the Autumn Sky at Night" around this text that reads "The Silver Swan who living had no note, when death approach'd unlocked her silent throat; leaning her breast against the reedy shore, thus sang her first and last, and sung no more. Farewell all joys; O Death, come close mine eyes; More geese than swans now live, more fools than wise."
Ms. Laitman took on the difficult task of resetting the text of Gibbons' magical madrigal only when asked by Dr. Carol Kimball who wrote our favorite book on art songs: Song A Guide to Style and Literature. First performed at a recital honoring her retirement from the University of Nevada, Las Vegas, Carol Kimball commented "I think the song - like all good death scenes - has its only particular 'operatic moment' when the emotions of the text are underlined in an especially poignant way by high note phrase accompanying "farewell all joy" and the last note held as long as possible symbolic of swan's dying breath."
These examples are typical of the thirty-four songs on the CD. Ms. Laitman has created a circle of living poets, talented younger singing professionals and an ever growing audience that trusts her gift. Women poets have provided the text for most of the songs. Laitman lets all of her poets speak clearly - especially the women - without the melodramatic setting that male composers have used in classical song. Viewed from a feminine perspective, women give birth to each new generation and we men look on as outsiders, dramatizing in a way women do not find necessary.
There are eight settings of Emily Dickinson poems. In Two Dickinson Songs she sets Good Morning, Midnight with a fresh look at a very familiar text and Wider than the Sky, a meditation on the human mind which is even more immense than the heavens. She pairs An Amethyst Remembrance and The Perfected Life as first time settings with Dear March, made popular in a version by Aaron Copland. Baritone Randall Scrlatta gives a new heft to Dickinson's words with Ms. Laitman at the piano.
In her third Dickinson set titled One Bee and Revery the chosen poems are The Butterfly Upon (the Sky), Hope is a Strange Invention and the often set To Make a Prairie sung by soprano Jennifer Cheek with Warren Jones, pianist. Ms. Cheek and Mr. Jones are major interpreters on the CD, performing thirteen of the thirty-four songs. The composer accompanies all the other singers.
Mr. Scarlatta's silvery liquid tone is heard on ten selections with the composer at the piano. I especially enjoyed Swimmers on the Shore (text by David Mason), an exploration of an ageing father in decline and his son who takes him to the shore and reminisces on his childhood and faces his present grief as his dad is failing. On a lighter note, he sings Money (text by Dana Gioia) that he premiered with Barbara Quintiliani at the Phillips Collection in 2004. One or Two Things is an intriguing set of three songs excellently sung by Karyn Friedman on parts of a single poem by Mary Oliver. Sari Gruber sings the opening cycle Within These Spaces. Another interesting poem Armgart by George Eliot is the musings of a female singer, as mad as she is, who wonders what her life would be like if she did not have a voice to express her revenge. "I love in singing and am loved again." Our composer set the text to win a competition in Boston in 2000 and we are the richer for it.
The last song, Eloise at Yaddo, is sung by Amanda Gosier, who is a well-known soprano in the Washington, D.C. area where the Washington Post has described her as having a polished, emotional involvement and tonal beauty. The song is a send-up tribute to poets. Certainly a fine way to conclude a recital.
The CD notes give detailed information of how the songs came to be written and details of the first performance as well as complete song texts and often words about the poets. Excellent CD all around.
More Lori Laitman
Printer Friendly Format
Back to Top
Back to Review Index
Home &nbspCalendar &nbspAnnouncements &nbspIssues &nbspReviews &nbspArticles Contact Us