Britten's A Ceremony of Carols & Liederabend
GSA Vocal Music Department
First Presbyterian Church, Norfolk
December 19, 2013
Review by John Campbell
As the audience sat in semi-darkness, we were entertained by a Liederabend (an evening of art songs) by poised, well-trained ninth to twelfth graders in the beautiful new audio/video hall of the church. The lively acoustics of the hall and the lighting on the singers gave us an intimate experience. The solo songs, accompanied by piano, ranged from the early Italian composers Bononcini, Scarlatti, Carissimi, Caldara, Durante and Paisiello to Brahms and Hahn and twentieth century Americans, Barber, Copland , Hoiby and Chandler.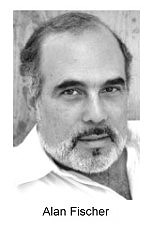 The singers were seniors Ajami Grays, who sang Lass from the low country and Joshua Ross who sang A Chloris by Hahn. The other singers were younger, some of them appearing on stage for the first time in this repertory. What impressed me most was their seriousness as performers. It will be most interesting to watch them grow as solo artists taught by Department Chair Alan Fischer and vocal instructors Adriana Kerr, Shelly Milam, Katelyn Sexton.
The entire vocal student body then joined together in A Ceremony of Carols by Benjamin Britten, set to highlight the light high voices of young singers. They were led by chorus director Dr. Stephen Z. Cook and the rehearsal pianist was Christine McFadden. The GSA students sang A Ceremony of Carols without music. This was a first; we've never seen that before!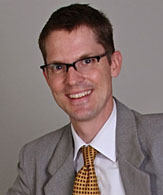 Composer Benjamin Britten (1913-1976) and his partner Peter Pears took passage on a Swedish cargo ship in March 1942 to return to England after living in the United States since 1939. The trip across the war-torn Atlantic Ocean took nearly five weeks for what was usually a five-day crossing. Britten focused on his composing to deal with the anxiety of possibly being sunk by U-boats, living in a miserable cabin, with no friends—only "foul-mouthed, witless recruits" as Pears says in a letter. In New York customs took away his musical manuscripts as he boarded the ship. He wrote his music down again and continued to work and also wrote seven Christmas carols for women's voices and harp - "Very sweet and chockfull of charm! … When we got to England, again customs took away his manuscripts - though they say they will forward them all." (Benjamin Britten Collected Letters, pg. 1033). Later he titled the piece a A Ceremony of Carols.
Cale Cox was soloist in the Processional opening, Hodie Christus natus est (Today Christ is born), followed by the excitement of a hearty Wolcom Yole! (Welcome Yule) accompanied by plucked strident chords played by Barbara Chapman on harp. The well-trained youthful voices in hushed and reverent tones sang There is no rose accompanied by the hauntingly beautiful melody on harp. As the fading repeats died away to silence we heard the natural tenor Joshua Ross sing That Yongë Child, a lullaby of great tenderness. The harp opened Balulalow and senior Sarah Yaden's pure soprano voice sang of opening her heart as a cradle for the babe as the choral sound built to a grand intensity.
The vivacious energy of the chorus in As Dew in Aprille has the voices creating layers of sound as if echoes are bounding around inside a cathedral all egged on frantically by the harp. In This Little Babe the sound builds mightily into an echo effect that is most exciting, only to end in lovely unison. The solo harp Interlude is full of longing that harkens back to the plainsong of the opening piece. In Freezing Winter Night follows with its 'shivering canonic dissonances' that created a mood of despair and vulnerability. Supported musically by the chorus, the closing lines were sung by Mecca Jones and Madison Fink: "With joy approach…do homage to thy King." Unsettling harmonies created an emotional edge and some amazing low notes.
Deo Gracias followed a sweet, gentle Spring Carol that featured Camryn Finn and Leah Finn. There is great drama in the echo effect of Deo Gracias (Thanks to God) over the harp's bursting glissandi. Having completed their cosmic message, they sang Hodie (Today Christ is born), leaving us with a sense of wellbeing and awe at the beauty we had just experienced.
The encore Joy to the World was a whirlwind of exuberance, with the males singing a ground of "Joy, Joy, Joy" throughout.

East Carolina University's Four Seasons Chamber Music Festival led by Ara Gregorian
Guest Artists ECU Faculty & Student Performers and GSA Students
Robin Hixon Theater, February 1, 2014
Review by John Campbell
A packed house was treated to a wonderful evening of string chamber music in the warm, lively acoustic of the Robin Hixon Theater. As an outreach initiative, Ara Gregorian who heads the Four Seasons Chamber Music Festival at ECU was hosted by the Governor's School for the Arts Instrumental Music Department, headed by Jeffrey Phelps. Master classes for GSA students with ECU students and featured guest artist Xiao-Dong Wang, violin/viola, ECU alumnus cellist Randy Ward and ECU faculty artists, pianist Keiko Sekino, violinists Hey-Jin Kim and Jorge Richter, cellist Emanuel Gruber, bassist Christopher Buddo and Mr. Gregorian, violin/viola.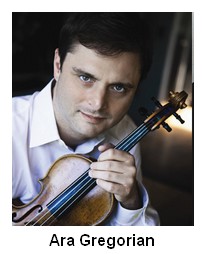 The program opened with Prelude and Scherzo for String Octet Op. 11 by Dimitri Shostakovich (1906-1975). Faculty artists Kim and Gregorian were joined by Nyamsaikhan Odsuren and Florrie Marshall on violin, Wang and Laura Morgan, violas, and Gruber and Jesse Smith, cellos.
After Shostakovich's father died in 1922 while he was a student at the Leningrad Conservatory he had to take a job as a pianist at a movie house to support himself. In this period he intended to write a fugue for the prelude but instead decided to develop it into a five movement suite for string octet. Only later did he pair it with the Scherzo. This youthful, expressive music is cheeky and brash with dissonance and propulsive rhythms that give it a natural flow. The performance was vivid and often explosive, provoking emotion, both sad and troubled but also fast and angry. This youthful piece contained a sound spectrum that Shostakovich would draw on in his future compositions.
The pieces that followed explored the rich history of string chamber music. Next came the Piano Quintet in F minor, Op. 34a (1861) by Johannes Brahms, a youthful work that had a difficult birth. He recast the music for various instrumental combinations, finally settling for piano and string quartet. We heard the third and fourth movements. The low pizzicato cello notes of the Scherzo are a launching pad for the syncopated main theme that develops in the strings and explodes into a minor key march followed by a flowing, lyrical interlude played with verve and passion. The Finale has its own kind of fury that might be a precursor for Shostakovich. After an ominous introduction it builds into a fast rondo with the arrival of an impetuous introduction over a nervous, almost galloping accompaniment.
We heard the first movement of the Antonin Dvorák (1841-1904) String Quintet No. 3, Op. 97. It is known as the "American," since the music incorporates a transformed fragment of an American-Indian drum rhythm, with pentatonic themes and short, oft-repeated phrases. Dvorák had vacationed in Iowa in summer 1893 where he heard Indians performing their music.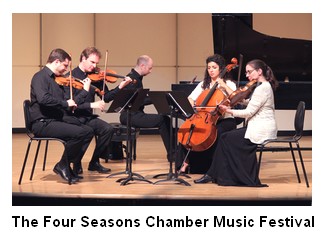 The first movement of Tchaikovsky's String Sextet in D minor, Op. 70 followed with prominent cellos played by Randy Ward and Emanuel Gruber. The music is sunny and lyrical.
The closing of the first section was a spectacular performance of the complete four-movement Concerto for Four Violins in B minor, RV 580 by Vivaldi with the Next Generation Chamber Orchestra and four violin soloists: Wang, Kim, Gregorian and Amelia Dietrich, a sophomore at ECU. The grandeur of the playing deserved a harpsichord.
After intermission thirty-seven GSA students and director Jeffrey Phelps joined 24 ECU students, 6 ECU faculty, 2 guests and 37 students to play Benjamin Britten's Simple Symphony, Op.
Britten, like Shostakovich, was certain of his vocation at an early age. Both used the extended atonal vocabulary of the early twentieth–century avant garde as a tool to expand their sound spectrum. Each in his own society captured the imagination of a large audience that continues to grow. Britten and Shostakovich were contemporaries and friends. Their mutual appreciation for the other's talent had Shostakovich dedicating his 14th Symphony to Britten.
Britten at age twenty recast a handful of piano tunes and song melodies from his pre-teen years into this four-movement symphony. The first movement, Boisterous Bourée, with its colorful twists and turns, shows us the work of a maturing composer who is holding on to his youthful spirit. The contrast of treble strings versus bass strings in the Playful Pizzicato movement derives from a scherzo for piano Britten wrote when he was eleven. There is charm in this array of musical colors.
The Sentimental Sarabande movement unfolds with a somber main theme in the violins over a stubborn, deep, rich bass pedal. The second, a waltz-like melody, was translucent by comparison. It ended with gentle repeating chords. The dramatic opening chords of the Frolicsome Finale take off, recalling the first movement cello theme. A very busy but gentle section follows, creating a sense of floating. After a pause we heard a kinetic, brief coda. The way this popular symphony is scored offers technical ease for amateur ensembles and student orchestras and offers the listener sparkling pleasure in the hearing of itThe ensemble took up a quarter of the room and inundated the audience with their glowing, resonant string sound. .
It is wonderful that the GSA students were given the opportunity to hear and also to perform with talented professional players and ECU students in accessible twentieth-century music.

Back to Top


Printer Friendly Format
Back to Review Index


Home &nbspCalendar &nbspAnnouncements &nbspIssues &nbspReviews &nbspArticles Contact Us