The Mikado, or The Town of Titipu
Governor's School for the Arts
ODU University Theater
April 27, 2012
Review by John Campbell
Waiting for the Mikado to Arrive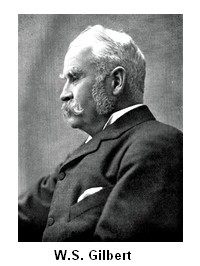 Queen Victoria of Great Britain was on the throne from 1838 to 1901. IN 1871 W.S. Gilbert (1836-1910) met Arthur Sullivan (1842-1900). Gilbert was thirty-five; Sullivan was twenty-nine. It is hard to understand why Gilbert, who was handsome, gifted and born in comfortable circumstances turned out to be such a cantankerous curmudgeon, but he did. He wrote of physical violence with uninhibited relish and spent his life poking fun at Victorian ideals, all the while living strictly by them. Sullivan, his junior by six years, was his complete opposite: charming, popular and easygoing. Gilbert quarreled with and sued people regularly. Sullivan treated his collaborator with extraordinary tact and patience and held the team together for twenty years. Individually, the two men had pleasant but ephemeral talents; together they became a single, comic genius. Sullivan was knighted by Queen Victoria in 1883 but not Gilbert whose knighthood had to wait until a new king was on the throne. It has been suggested that his brilliant but negative satire on British politics and institutions did not please Her Majesty, a plump, middle-aged ruler. (Atlantic Brief Lives, Kronenberger, 1965).
The Mikado went on stage on March 14, 1885 and ran for 672 performances. The next year it was produced by 150 companies including one in New York City and has never been out of the repertory since. Now, only 127 years later, it has been brought to the stage by the Governor's School for the Arts Vocal and Instrumental Music departments, featuring a good-looking, talented and enthusiastic group of high school students inspired and taught by director Alan Fischer, choral director Stephen Z. Cook and teachers Christina Palmer, Shelly Milam, Michael Regan and Adriane Shelton.
In the pit were GSA Orchestra instrumentalists: ten strings, oboe, clarinet, flute, bassoon, two French horns, two trumpets, trombone and percussion. They put in an excellent performance with Dr. Cook at the keyboard and Mr. Fischer conducting.
The stage set had three, Japanese, red torii gates that could be easily moved and benches on extreme stage right and left and a large screen at the back of the stage where appropriate images were projected. During the overture we saw candid pictures of the students in street wear rehearsing and Mr. Fisch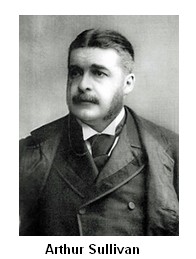 er conducting. Brightly colored mismatched socks, especially those with horizontal stripes, seemed to be a theme that held our attention and gave continuity. Rebecka Pileckas, mother of GSA vocal student Jackie Pileckas, did the costumes. Alan Fischer told us that he "had bought kimonos in 1994, knowing that someday I would do Mikado. They sat in storage until she altered them to make them shorter so that they would look like Japanese old style suit jackets over conventional shirt, slacks and tie. The 'corporate' outfits were a mix of costumes in our storage or outfits the girls had. The 'schoolgirl' outfits were purchased, as were the wigs and fans, and the Three Maids each picked their own outfit after being given guidelines. The rest of the costumes were from our costume inventory. The idea was to mix the old with the new."
The opening street scene had a projection of the Ginza (Tokyo's Times Square). A chorus of thirty young women in modern dress with short, black, bobbed hair wearing tailored jackets over fitted skirts, rushed about in choreographed movements. A tall, handsome Derek Dubay as Nanki-Poo, son of the Mikado and disguised as a strolling trombonist has returned after a year to Titipu seeking his beloved Yum Yum because he has heard that his rival Ko-Ko has been beheaded. He addresses the chorus of men that includes Cale Cox as Pish-Tush, a noble lord; Joshua Ross as the Lord High Executioner; Chase Gutierrez as Pooh-Bah, Lord High Everything Else; and several other young men in traditional Japanese costumes and make-up. The makeup and wigs with hair pulled-up with ornaments were outstanding.
Several musical numbers by the men set out the story before the girls arrived. "Three little maids from school are we" was sung by pretty, perky Sarah Yarden as Yum Yum; a slim, confident Stefany Spencer as Pitti-Sing; and the adorable Jennie Williams as Peep-Bo. All three are wards of old Ko-Ko but he only wants to marry Yum-Yum. Yum-Yum is repulsed but resigned to her fate for she loves Nanki-Poo. As the plot unfolds Chloe Stewart as Katisha, an Elderly Lady of the court, arrives having been promised Nanki-Poo as husband by his father the Mikado. The last piece of the puzzle is that the Mikado feels that it is time for an execution and sends a note that stirs everyone into action to comply. They decide to only give the illusion that they have carried out his order. Silly laws keep being remembered, making the plot more and more convoluted. Social compliance rules the day, almost. Near the end of the second act the Mikado finally arrives, and is told of an execution in great detail, only to learn that it was his son and heir to the throne who was the victim. As the Mikado, Jermaine Woodard in a stately robe with white-face makeup with Kabuki-style designs and a long black wig with a topknot played the role in an explosion of humor as if James Brown meets ancient Japan. To save his neck Ko-Ko, the old lecher, agrees to marry the elderly Katisha, thus clearing the way for Nanki-Poo to marry Yum-Yum. His execution was a ruse - they only ran away together and were easily retrieved for the wedding and general rejoicing that ensues.
This operetta is such an ensemble piece that singling out cast members seems unfair, especially since we did not see the second cast at all. Everyone seemed totally involved in giving the best possible performance. The group spirit was infectious.

A Program of Opera Scenes
Governor's School for the Arts Vocal Music Department
May 19 & 20, 2012
GSA Black Box Theatre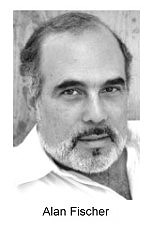 Though most of the opera scenes were directed by students of the Governor's School directing class, one of several highpoints of the evening (May 19) was staged by Vocal Music Director Alan Fischer. It was the Act I opening scene of Debussy Pelleas et Melisande. Of the performance, Mr. Fischer said "How often do you have [high school] students who can do this?" This was a first-ever performance at the school.
Golaud, sung by bass-baritone Jermaine Woodard, is lost in the forest when he comes across Melisande sitting by a well, weeping. Soprano Emily King (like Mr. Woodard, a graduating senior) creates the timid, elusive, young woman, Melisande. In their encounter (sung in French) we learn that she has escaped from somewhere. She is afraid of Golaud who tells her she should not stay in the forest alone and suggests she return to his castle with him. She refuses but follows him when he leaves. Jermaine Woodard did a masterful characterization, giving Melisande her space while being engaged and curious to get to know this attractive waif.
As a student director, Mr. Woodard had staged the opening scene of the evening: Mozart The Marriage of Figaro, Act I, Scene 1 where Figaro (Joey Haney) measures the space for his and Susanna's bridal bed, in a room next to the Count's bedroom. The acting was natural for a young couple in love, sensual and excited, preparing for their first night together. Her bad news is that the Count gave them this room because he plans to hit on her. The director added a brief appearance by the Count and Marcellina, an older woman who wants Figaro for her husband.
From Figaro, Chloe Stewart directed the very funny bedroom scene with Susanna (Stefany Spencer) and the page Cherubino (Matré Grant), who is sweet on the Countess and comes to gossip with Susanna telling about being caught by the Count with Barbarina. When the Count (Chase Gutierrez) arrives to chat, Cherubino hides on a chair under a sheet. When the music teacher Don Basilio (Joshua Ross) arrives the Count hides behind a screen. The ruse is found out and the characters sing a fine trio to bring the scene to an end. Ms. Stewart described her staging: "Mozart portrayed the aristocracy as fools and had the lower classes as the smart characters. For my concept I decided to take it one step further and have the aristocracy portrayed as puppets, with puppet masters behind them, showing they did not think or feel for themselves."
Later in the program we saw a scene from Act III of Figaro with Susanna, this time sung by Malia Diaz, who is with the Countess, sung by Kaylan Calderon wearing an elegant gown and holding a long cigarette holder. Staged by student Zoey Carr, we heard Sull'aria. The Countess works on a letter to the Count with Susanna, inviting him to meet Susanna in the garden. The Countess plans to wear the maid's clothes and reclaim her husband, much to his surprise.
In the opening scene from Mozart's The Magic Flute, the Three Ladies, played by Andrea Gadzinski, Caroline Landrum and Stephanie Craig, charge Tamino (Evan Gutierrez) to find the Queen of the Night's daughter and bring her home. He is furnished with the magic flute and accompanied by Papageno, the birdcatcher who receives magic bells. Their quartet was wonderful music-making, staged by Matré Grant.
Continuing with Mozart, Arielle Cromer staged the Act II opening scene from Cosi fan Tutte. Despina (Kaylan Calderon) encourages the sisters (Stefany Spencer and Charity Lyons) to play the field and have fun while their boyfriends are away at war - no harm in that, or is there?
A delicious operatic truffle from Johann Strauss, Die Fledermaus, had Chloe Stewart as Rosalinda, Eisenstein's wife. Her former boyfriend, Alfred, had come to try to rekindle their romance. The jailer, Frank, arrives to arrest her husband and mistakes Alfred for him and takes him off to jail. Jermaine Woodward played Frank and Derek Dubay, Alfred, both directed and sang the lovely torch song, Drink my darling, drink with me.
Two scenes from The Ballad of Baby Doe completed the program. Director Sarah Brash turned the scene where the wife Augusta (Jackie Pileckas) tells her women friends about how she will handle her husband's infidelity with Baby Doe. Turning the dramatic scene on its head, she staged it as a girl sleepover with Augusta's friends, played by Emma Tracy, Anyeé Farrar, Charity Lyons and Matré Grant asking What do you intend to do, Augusta?
The closing scene was staged by Alan Fischer. All of the students participated in the chorus in a political rally for William Jennings Bryan (Zachary Gutierrez) who is running for president. The other principle characters were Emily King, Arielle Cromer, Erin McFadden, Victoria Carter, Jermaine Woodard and Raiquan Thomas. It was a rollicking good time and gave us the flavor of this true story from the American West during the silver boom and bust.
The demanding piano accompaniment for so much diverse music was handled brilliantly by Dr. Stephen Z. Cook and Christine McFadden. Lighting was by Daniel Barbee. Emma Tracy was stage manager.

Back to Top


Printer Friendly Format
Back to Review Index


Home &nbspCalendar &nbspAnnouncements &nbspIssues &nbspReviews &nbspArticles Contact Us