Benjamin Britten's Noye's Fludde
Greater Richmond Children's Choir & Capital Opera Richmond
River Road Church, Baptist, March 22, 23, 2014
Review by John Campbell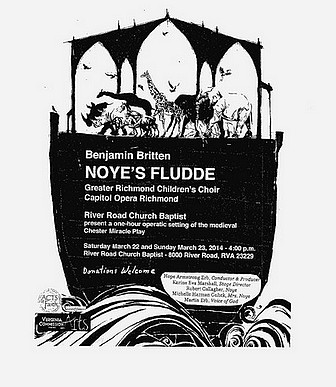 Hope Armstrong Erb organized, produced and conducted a one-hour, one-act dramatic work, Noye's Fludde by English Composer Benjamin Britten (1913-1976) in two well-attended performances presented in the beautiful, spacious River Road Church in Richmond, Virginia. It was a spiritually moving musical experience for audience and performers alike. For both children and adults who sit in church awaiting some spark of divine fire, this was a chance to experience that fire. Without sentimentality, the sense of wonder and a kind of transcendent rightness created by the music offers redemption of the image of a horrible God who has destroyed all of mankind—save one family—in a great flood.
Britten wrote his own libretto, a setting of the Chester miracle play as one of a series of church operas. The quirky, vivid language of the medieval text, talking and singing animals, an avuncular God and a drunken, cantankerous Mrs. Noye and music inspired by Britten's trip to Bali with its gamelan music and exotic percussion all became part of the experience. The work requires only three trained adult singers: The Voice of God (Martin Erb), Noye (Robert Gallagher) and Mrs. Noye (Michelle Herman Gulick).
This production included a mix of student and professional instrumentalists—forty-seven in number, parts for nine trained and experienced child singers, fifty-six children of the Greater Richmond Children's Choir as the singing ark animals and four student dancers (two for each performance). The concept of interactive experience on various devices is current today but Britten's Noye's Fludde is truly interactive: audience members were invited to "sing with fervor" the three included hymns with texts in the program booklet.
The production staff, in addition to Mrs. Erb, included Karine Eva Marshall as stage director. The choreographer and costume designer was Margaret Overton. Some twenty people were involved in creating the animal faces, six in set design and props, four in publicity. The inventive program cover was by Shawn Yu.
Dramatic percussion was prominent in the orchestra as the congregation sang Lord Jesus, Think on Me while Noye walked slowly up the center aisle to the chancel and knelt. God's rich, full voice over loud speakers gave the command for the actions that will unfold. Noye's children, three sons and their wives with tools in hand, come to the stage and sing and then proceed to build the ark. With large golden goblet in hand, Mrs. Noye arrives with the three Gossips and make jokes, mocks the boat builders and laughs and swigs. Periodically the builders sing a melodious "God save me from the flood." Noye asks his wife to leave the Gossips and come into the finished boat; she defiantly refuses and they quarrel. The voice of God orders the animals into the ark and they arrive two-by-two as trumpets announce the arrival of each group. The animals' heads are pictured on large white circles, each on a long wooden handle held by the children, most dressed in appropriate whimsical animal costumes. Marching in they sing Kyrie eleison. The small animals have a high pitched sound and the aggregate gets stronger and stronger with each new group. Once assembled and holding their circles aloft, they all bounce up-and-down, singing accompanied by martial music with drum rolls as Noye greets them. Again his wife refuses to enter. As sharp orchestral bell strikes represent raindrops, she is dragged in and the Gossips run away.
The raging instrumental storm intensifies—soft blue whirligigs represent wind, placards depict lightning and rain clouds while the music thunders. As a prayer, the Noye family sings the first verse of Eternal Father Strong to Save to calm the excited animals. As the organ plays peacefully the congregation joins in accompanied by strings. The storm placard carriers exit and the bell tones become peaceful. The raven, an African-American dancer with black lace wings, mimes flying away accompanied by piano and cello. She does not return. As dry land is starting to appear, the dove of peace, a blond girl with white lace wings, dances with arms upward to treble recorder music. She later returns with an olive branch.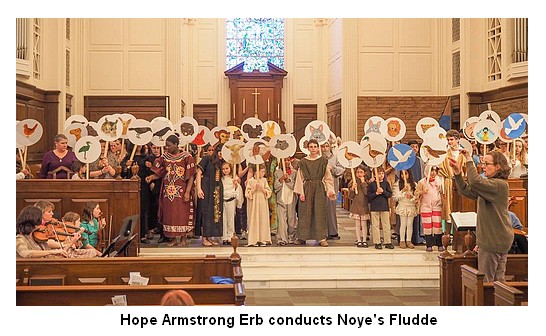 God speaks after the forty days of rain has ended. He promises to never use a killer flood again and orders the animals out of the ark to grow and multiply. Noye rejoices. His faith has been rewarded. Handbells and trumpets herald the exit from the ark and all sing Allelulia as a rainbow banner is unfurled and an angel in white appears. Noye's children then sing the first and second verses of the Tallis' Canon or The Eighth Tune, verse 3 is sung by the animals, 4th by the children and animals and 5th and 6th by all, including the standing congregation as moon and stars placards are brought out.

Virginia Children's Chorus presents Music by Dan Kallman
First Presbyterian Church, Norfolk, November 14, 2015
Centenary United Methodist Church, Portsmouth, November 15, 2015
Review by Karen Hoy
One-hundred fifty voices joined together in Let All the World in Every Corner Sing with text by George Herbert and music by Dan Kallman who conducted with Paul Putnam at the piano and organ. Virginia Children's Chorus (VCC) has five different levels and all were well prepared, both musically and vocally. The listed groups are Training Choir I, Training Choir II, Choristers, Concert Choir and Chamber Singers. They were joined by the twenty members of the Williamsburg Choral Guild-sponsored Williamsburg Youth Chorale led by co-directors Ann Porter and Genrose Lashinger.
Composer and guest conductor Daniel Kallman's (1956) compositions for orchestra, winds and choir are widely published and have been performed across North America, Europe and East Asia—a steady stream of commissions for music for worship, theater, dance and young musicians. His music is very appealing—sometimes complicated but never beyond the vocal capability of the young choirs.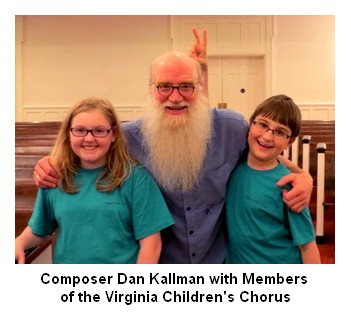 The Combined Training Choirs of thirty-seven voices sang three songs from Whiskers & Rhymes and ended their set with Velvet Shoes (text Elinor Wylie). Wayla Chambo, flute; Serena Smith, violin/fiddle; and Brooke Adams, clarinet were the chamber accompaniment. Training Choir II and Choristers (58 voices) sang The Five Little Chickens followed by the 36 voice Choristers alone who sang My Soul Doth Magnify the Lord. Chamber Singers (22 voices) gave the world premiere of Kallman's My Help Comes from the Lord (Psalm 121) with two other selections. The musical skill of the Chamber Singers was amazing for such young singers. They handled complicated rhythms with ease while maintaining clear diction that could always be understood, an unusual feat for any singer, I must admit.
The 36-member Concert Choir closed the first half with two songs by Kallman, one with text by Shakespeare and one by Sara Teasdale. Preparation was handled by VCC Founder and Artistic Director Carol Thomas Downing; Paul Putnam, VCC Chamber Chorus Director; Louisa Priore directed the Training Choir and Welby Pugin is accompanist and arranger for the VCC while Allen Decipulo led the Training Choir and Choristers rehearsals. Ms. Downing and her staff are highly skilled in teaching young singers how to put complicated music together with clarity and accuracy. Most of these singers will probably not go on to a professional singing career but the discipline they learn through the accurate study of music will transfer to any career they choose.
The texts were well chosen and uplifting. After intermission a string quartet—Patrick Danley, 1st violin; Serena Smith, 2nd violin; Joanna Binford, viola and director; Torin Wright, cello—accompanied Three American Folksongs and flutist Chambo accompanied A Garden of My Own, text and original music by Patricia McKernon for Concert Choir combined with Choristers. The traditional spiritual My God is a Rock [in a Weary Land] featured vocal soloists Sarah Dowless and Frances Frederick.
All choirs were combined and conducted by Kallman in a setting of Caged Bird, a poem by Maya Angelou, with texts of two spirituals woven in. Followed by Won't You Sing Along? with music and text by Kallman accompanied by flute. Paul Putnam was tenor soloist in Caged Bird.
This concert is an example of American culture at its very best.
Back to Top
Back to Choral Performances Index
Home &nbspCalendar &nbspAnnouncements &nbspIssues &nbspReviews &nbspArticles Contact Us