The Spirit of Christmas
The I. Sherman Greene Chorale
Sunday, December 9, 2012
Blessed Sacrament Catholic Church ,Norfolk, VA.
Review by Mary Mikus
An absolutely wonderful afternoon of music was presented by the historic I. Sherman Greene Chorale. The ensemble of some twenty-nine singers and instrumentalists includes music teachers, church musicians, choir directors, music students and members of the community who have a love of singing. The Chorale presented good choral literature sung with integrity and passion which drew the audience into the experience with their infectious joy.
Because Dr. Shelia Harleston, the regular conductor and music director, is on leave of absence, four guest conductors each led a portion of the four-part program. The first section was directed by Dr. Nancy Kirkland Klein, the graduate program director and director of choirs in the Music department at Old Dominion University. The first selection was Gloria in Excelsis Deo, arranged by Lara Hoggard. It is a lovely work, but what was most exhilarating was the first full, warm sound of the chorale. The closing work in this group of four was Praise to the Lord of Hosts from "Christmas Oratorio" by Camille Saint-Saens. With a good tutti sound, a fine vocal quartet from the chorale was featured in this work. The attention to detail, especially dynamics, was a pleasure to hear. Dr. Klein's conducting was clear and sensitive and certainly enabled these serious and well-disciplined singers to shine.
Brava to Dr. Ruby L. Allen for her fine conducting of the ten-member Men's Ensemble of the Chorale. They sang a holiday favorite, Do You Hear What I Hear by Harry Simeon, with great expression and clarity. Dr. Allen is a retired choral music educator from the Virginia Beach public schools. She brought a lifetime of musical experience to this concert. Dr. Allen began her career as the first music teacher for the African American children in the eleven African American communities in Princess Anne County (now Virginia Beach). After segregation ended she was the first African American junior high teacher in Virginia Beach and the first African American high school choir director.
In the third portion of the concert Ms. Ruby Mann Pool directed the Women's Ensemble in Now Behold the Lamb by Kirk Franklin. This work began quietly, the choir swayed gently while repeating "Behold the Lamb of God." The conductor turned toward the audience and began singing softly at first, then louder and more beautifully and more impassioned as this pop-gospel song built in intensity. The chorus followed suit, always maintaining a big, open vocal quality throughout. There was an "Amen" here and there and even possibly a few conversions!
The fourth portion was directed by Elizabeth V. Eccles, a retired music educator who taught in Norfolk public schools and was also music education coordinator for Hampton University. She is the first and only African American educator in the commonwealth to have been selected Music Educator of the Year by the Virginia Music Educators Association. She led works representing the African American tradition from spirituals to a twentieth-century piece by Undine Smith Moore, who was often called the dean of black women composers. The program ended with Mary Had a Baby (arr. Craig Courtney), sung wonderfully by the Chorale and well conducted by Ms. Eccles.
Several talented soloists from the Chorale were featured in the program. Also to be noted for their fine work were the excellent instrumentalists: Randy Walston and Ann B. McInnis, piano; Adam Davis, organ, Walter Walker, drum and Heath Losick, Doug Owens and Stephanie Harron, trumpets.
The I. Sherman Greene Chorale has a long and valuable history. They were founded in 1972 by Isaac Sherman Greene, a music instructor at Norfolk's Booker T. Washington High School. Truly a community ensemble, they continue to be dedicated to performing fine music, preserving the African American choral music tradition and fostering and performing new compositions.

For more information on the ensemble contact: www.ishermangreenechorale.org
More I. Sherman Greene Chorale

Virginia Children's Chorus
Benjamin Britten's Ceremony of Carols
Christ and St. Luke's Church, December 9, 2012
Review by John Campbell
The pure tones of youthful voices rang out clearly in the beautiful sanctuary of Christ and St. Luke's as the Chamber Singers of the Virginia Children's Chorus were led by director Marie Elena Bliss in the Gloria in excelsis Deo movement of Gloria by Antonio Vivaldi. This group of nine advanced members of the VCC followed with Go Tell it on the Mountain arranged by Jennings for a male quartet with piano. It was music of wild exuberance. The opening set concluded with the sweet, angelic tones of Manger Song Medley from the cantata A Night of Rejoicing by Lee and Susan Naus Dengler with Welby Pugin at the electronic keyboard.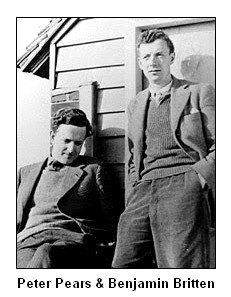 It was in March 1942 that composer Benjamin Britten (1913-1976) and his partner Peter Pears took passage on a Swedish cargo ship to return to England. The trip across the war-torn Atlantic Ocean took nearly five weeks for what was usually a five-day crossing. Britten focused on his composing to deal with the anxiety of U-boats, a miserable cabin and no friends, only "foul-mouthed, witless recruits" as Pears says in a letter. New York customs took away his musical manuscripts as he boarded the ship. He wrote his music down again and continued to work and also wrote seven Christmas carols for women's voices and harp – "Very sweet and chockfull of charm! … When we got to England, they took away his MS again – though they say they will forward them all." (Benjamin Britten Collected Letters, pg. 1033). We know this music as A Ceremony of Carols.
The Virginia Children's Chorus processed from the back of nave collecting in the chancel as they sang Hodie Christus natus est (Today Christ is born). Once all were in place they sang a hearty Wolcom Yole! (Welcome Yule) accompanied by plucked strident chords played by Barbara Chapman on harp and directed by Carol Thomas Downing, founder and artistic director. The well-trained youthful voices in hushed and reverent tones sang There is no rose. As the fading repeats died away to silence we heard soloist Sarah Dowless sing That Yongë Child, a lullaby of great tenderness. The harp opened Balulalow and Emily Martell sang of opening her heart as a cradle for the babe.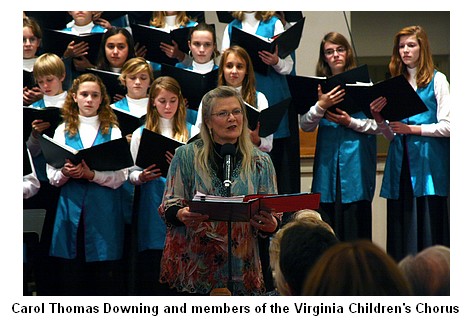 The exciting choral singing in As Dew in Aprille has the voices creating layers of sound as if echoes are bounding around inside a cathedral all egged on frantically by the harp. In This Little Babe the sound builds mightily into an echo effect that is most exciting. The solo harp Interlude is full of longing. It harkens back to the plainsong of the opening piece. In Freeing Winter Night follows with its 'shivering canonic dissonances' that create a mood of despair and vulnerability. Supported musically by the chorus, the closing lines were sung by Cassie Davis and Tristan Walker: "With joy approach…do homage to thy King."
Deo Gracias followed a sweet, gentle Spring Carol that featured Serena Smith and Hannah Baker. The children shout a spirited Deo Gracias (Thanks to God) over the harp's bursting glissandi. Having completed their cosmic message the singers left the chancel repeating their entrance Hodie (Today Christ is born), leaving us with a sense of wellbeing and awe at the beauty we had just experienced.
At the VCC Ms. Downing, Ms. Bliss, Mr. Pugin (accompanist and arranger) and Paul Putnam (accompanist and arranger for Chamber Singers and Training Choir) are committed to the proposition that singing is every child's birthright. Their mission is to develop the child while cultivating each singer's vocal talent and musicianship by offering performance opportunities and commissioning new works for children's choirs. They enroll singers from grades 1 – 12 chosen by audition. www.vachildrenschorus.org
More Virginia Children's Chorus
Back to Top
Back to Choral Performances Index
Home &nbspCalendar &nbspAnnouncements &nbspIssues &nbspReviews &nbspArticles Contact Us