Duetto-Espressivo
Plays Twentieth Century Music at the Chrysler Museum
by Catherine Smith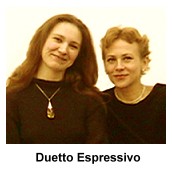 &nbsp&nbsp&nbsp&nbsp&nbsp Connected to a show of late nineteenth and early twentieth-century paintings on Sunday afternoon, August 14, 2005, Duetto Espressivo presented a program of modern music at the Chrysler Museum of Art in Norfolk, Virginia. Hampton Roads is home to this gifted duo, violinist Natalia Kuznetsova, and pianist Oksana Lutsyshyn. They chose the Sonata in E minor for violin and piano of Edward Elgar (1857-1934), a relatively late work (1918) and more conservative than his earlier romantic compositions. It proved to be a well-chosen opener for this afternoon concert, which was held in the Atrium. From the first notes the duo commanded the music and made it their own.
&nbsp&nbsp&nbsp&nbsp&nbsp Next on the program was the exciting Sonata for violin and piano of Richard Strauss (1864-1949) which showcased the two musicians at their best. The second movement, full of arpeggios and ornamentation for piano, was delivered with expertise in Ms. Lutsyshyn's passionate interpretation, while the entire piece was beautifully illuminated by Ms. Kuznetsova's fluid and evocative playing.
&nbsp&nbsp&nbsp&nbsp&nbsp Because the Armenian painter Arshille Gorky was featured in the show, Ms. Lutsyshyn chose as the third piece a late twentieth century work by her Armenian husband Andrey Kasparov, Sonata No. 1 in tre canti ostinati, composed in 1988, for solo piano. The piece uses melodies from ancient sacred and secular Armenian songs. Playing the third movement required the pianist at several points to stand and reach inside the Steinway to dampen the bass strings while playing with the right hand. The enthusiastic audience acknowledged Ms. Lutsyshyn's brilliant playing of this unusual piece. For a review of the April, 2003 performance of Andrey Kasparov's Sonata No.1, see Issue #23, Creo: A Musical Trip to Armenia.
&nbsp&nbsp&nbsp&nbsp&nbsp The program concluded with Selections for violin and piano from Gershwin's Porgy and Bess transcribed for concert performance by violinist Jascha Heifetz (1899-1987) including favorites such as Summertime and It Ain't Necessarily So. For more information on future performances visit their website at www.duetto-espressivo.org. Their local concert schedule can also be found at ArtSongUpdate.

&nbsp&nbsp&nbsp&nbsp&nbsp Reviewer Catherine Smith is writing a book on feminine artistic creativity.
Oksana Lutsyshyn discusses Andrey Kasparov's Piano Sonata No. 1
by John Campbell
&nbsp&nbsp&nbsp&nbsp&nbsp In conversation with Ms. Lutsyshyn we learned that her interpretation of Sonata in tre canti obstinati has recently changed and wanted to know why.
&nbsp&nbsp&nbsp&nbsp&nbsp Oksana Lutsyshyn: " Andrey composed the initial version of his piano sonata while still a student at the Moscow State Conservatory. After its premier in 1988, the work was shelved for a number of years due in part to its technical difficulties. It wasn't until 2001 that I brought his composition back to life when I performed it in New York City. That performance prompted him to make extensive revisions, especially in the third movement."
&nbsp&nbsp&nbsp&nbsp&nbsp "The title reflects the main compositional principle, a Latin word obstinatus, or ostinato in Italian, is a persistently repeated musical figure, a motive or phrase. In his work Kasparov uses the principle of ostinato in the soprano voice in the first movement, the tenor ostinato in the second, and the bass ostinato in the third."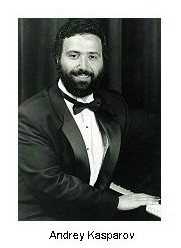 &nbsp&nbsp&nbsp&nbsp&nbsp "The ostinato voices are based on two elements of Armenian chant: sharakan and tagh. Sharakan is an ancient sacred chant, while tagh is medieval monody, more secular in nature. The first movement is based on the middle section of a tenth century tagh The cart is descending by Grigor Narekatsi, who is one of the best-known poets of the Middle Ages. By comparison, the second movement is based on sharakan by Nerses Shnorali (the Gracious), an outstanding 12th-century musician and theorist as well as a humanitarian and reformer. The third movement, the most virtuosic of the three, is based on sharakan by Mezrob Mashtotz, a legendary monk, musician and poet who, in 405 A.D, invented the Armenian alphabet, a set of 39 characters still in use."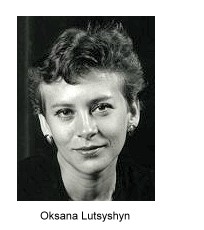 &nbsp&nbsp&nbsp&nbsp&nbsp "After I had committed to performing it I found that it is a difficult piece to play but it was too late to change because the program was already printed. Andrey was the only person who had played it before and he didn't tell me how really difficult it is. He had never heard it played by someone else and was pleased with my performance. It's really important for a composer to hear his work from "outside" because if you play it yourself you don't hear it in the same way. It was his diploma work when he was finishing his Masters Degree in composition at the Moscow Conservatory. He was more concerned about his composing style rather than making the piece playable. While listening he discovered that the piece has a triangular shape. The first movement creates a reflective mood. The second starts peacefully and builds; the third movement is very vibrant. "
&nbsp&nbsp&nbsp&nbsp&nbsp "After the Chrysler Museum performance Andrey said 'You have started playing it like a composer.' Composers distinguish between 'more and less important notes and bring more important notes out and make hundreds of other notes look easy to play.' I think that Gorky and Kasparov would become good friends if they could meet. Both of them have very deep Armenian roots, both of them appreciate Armenian culture and they would appreciate Armenian Cognac together."
Printable Version

Back to Top
Back to Review Index
Home &nbspCalendar &nbspAnnouncements &nbspIssues &nbspReviews &nbspArticles Contact Us