Ambrosia Quartet Says Goodbye to Jennifer Snyder Kozoroz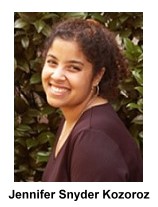 December 11, 2007, Trinity Episcopal Church. The quartet opened with Dmitry Shostakovich (1906-1975) String Quartet No. 1, Opus 49 (1938). Of this quartet Shostakovich said "I tried to convey in it images of childhood, somewhat naive, bright, spring like moods." This is not what I heard at first hearing. At first it just seems to be a pretty melody until the sadness enters the sound. A rhythmic cello (Rebecca Gilmore) keeps a fast pace but is eased away by the mellow violin tune (Simon Lapointe). Much is made of the contrast of deep cello notes and very treble violin. The viola (Jennifer Snyder Kozoroz) takes the lead in the second movement. The probing pain returns and deepens as all four instruments (Mayu Cipriano, second violin) become part of a dialogue. The third movement is a sunny dance tune. In the final movement anxiety builds in a strident opening, gains in intensity, eventually giving way to a cohesive folk-like tune. Again the intensity builds as the instruments separate into divergent voices and come to an abrupt halt.
This quartet set me off on a journey of exploring Shostakovich quartets and how they fit into the pattern of his life. In his enthusiastic youth he was very successful as a composer of works for opera and ballet. But in January 1936, when he was 30, Stalin, who very much liked some of his film music, went to see his opera Lady Macbeth of the Mtsensk Districk. His music was denounced in Pravda soon after and he was told by the party boss to "change his aims, reject his formalistic mistakes, and ensure that his music is understandable to the broad masses." He was also advised to submit opera or ballet librettos for their approval. He never completed another opera or ballet. In 1938 he wrote his first string quartet, the first of 15 that spanned the rest of his life. Shostakovich is quoted in Testimony as having said "It's hard to keep an eye on poetry. And you can't keep watch on composers either, particularly if they don't write ballets or operas. You can write a little quartet and play it at home with friends." This sounds simple enough but the more I read the more complicated it is to understand how a creative genius' expression was influenced by a brutal dictator who killed so many other artists and intellectuals. He survived and pursued his music at a price, outliving Stalin and finding censorship had changed but had not gone away.
Next we heard Giuseppe Verdi's (1813-1901) Quartet in E minor. It is a series of fine ideas laid out, one after the other, highly entertaining and light in mood. Written in Naples (1873) as a lark when the lead soprano for his opera was ill, he amused himself by writing. It is romantic and dramatic and the Scherzo movement features the cello in a meltingly lovely aria. Simon Lapoint, violinist, introduced the piece and told how enjoyable bringing it to life had been for the quartet (and also for the audience as it turned out).
The last piece on the program was Mozart's final string quartet in F Major, K 590. The first movement is happy, light and has a lively, exuberant theme that repeats in overlapping lines, dancing toward an abrupt ending. The second movement's rhythmic figure takes center stage. It is more somber than the first movement but it's apparent that the players are enjoying what they are doing. The third movement is a wild ride, even rollicking, with one instrumental line chasing another. As the piece ends I conclude that this performance emphasized the exuberant side of Mozart. It emphasized the joy in being alive, able to play and sing for one more day. There are more elegant and refined ways of performing this quartet, but they are not as lively an experience as these fine, young performers provided.
Ambrosia co-founder Jennifer Snyder Kozoroz and her husband, Michael, have relocated to Amarillo, Texas where Jenny is playing with the Harrington String Quartet , is principal violist with the Amarillo Symphony and is teaching viola at West Texas A&M. Michael is working for Anderson Merchandising and they are expecting a little girl in December! We wish them the best. They will be greatly missed .
Ambrosia's Facebook Page
Printable Version
More Ambrosia


Back to Top
Back to Issues
Home &nbspCalendar &nbspAnnouncements &nbspIssues &nbspReviews &nbspArticles Contact Us