Opera CNU presents The Impresario & Amahl and the Night Visitors
Music and Theatre Hall, Ferguson Center
December 6 & 7, 2013
Review by John Campbell
Choosing to pair W.A. Mozart's (1756-1791) comic singspiel (spoken dialogue connected songs) from 1786, The Impresario, with Gian-Carlo Menotti's Amahl and the Night Visitors from 1951, a Christmas season favorite, made a full and lively evening of entertainment.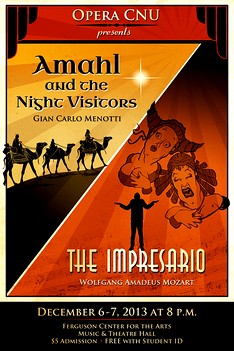 Beginning as Schauspieldirektor, the version we saw, re-titled in a new English translation by Greg Thompson, The Impresario was also directed by Mr. Thompson. The set was "a dingy rehearsal studio that doubles as the impresario's office inside the once-opulent Newcourt theater." A huge window that dominated the set showed a wide New York cityscape. The stage-left entrance was near the grand piano and a modest office with desk and filing cabinet was to the right.
The plot describes the rivalry of two prima donnas for top billing and the biggest salary for Newcourt Opera's coming season. The theater manager, Mr. Goodman (Connor Grief) is packing up his desk, about to retire to a farm he has just purchased when Mr. Flush (as in lots of cash), played by Hunter Torggler, arrives and offers to contribute half a million dollars for the new season if they will feature his mature lady friend Madame Cantrill (Alexandra Astete) as prima donna. Goodman's meddlesome assistant, Dicker, was played by Greg Montgomery, a comedic natural who keeps the verbal interchanges light and lively. Minton, the pianist, is Dr. Jeremy Reger, the opera's music director, and is fall-guy for many of Dicker's jokes. Details of the deal are in process when Flush shows-up with a second lady friend, Ms. Prentiss (Jeanette Corey), as in vocal apprentice. In the end the impresario comes up with a plan that satisfies all of them. Along the way there is some fine singing, accompanied by Mr. Reger on piano. Ms. Cantrill offers a sample of her ability in a sentimental vein, dressed to the nines in fur and diamonds and a sophisticated blue-gray dress. Ms. Prentiss, with attitude, sings a brighter rondo wearing a bright-red lace dress and pumps to match worthy of an "America's Got Talent" competition.
A fine trio by the women and tenor Mr. Flush dissipates the tension created by the very sarcastic dueling sopranos. Add the fine baritone of Dicker and we had a quartet that wrapped it all up, proving once and for all that the tiresome assistant who longs to perform really can sing. It was an excellent performance by all.
With the deep-red curtains closed, the piano began for Amahl and the Night Visitors which was written for television and had its premiere on NBC TV, December 24, 1951. As the curtain opens on a small but detailed set, the crippled boy, Amahl (Anna Hickman in a pants role) is playing his pipe as his mother (Hannah Beamon) inside their open-sided humble house, calls him in for the night. He is excited by the star he has seen. She dismisses what he says because she knows he has a vivid imagination. They settle-in, only to be awakened by three kings and a page: King Kaspar (Gary Montgomery), King Melchior (Steven Fields), and King Balthazar (Connor Grief, who in this role gets to sing) and Hunter Torggler as the Page. Searching for a very special king, they ask to rest. Having neither firewood nor food in the house, the Mother sends Amahl to ask the neighbors to help. A chorus of villagers and shepherds arrive with food, fuel and merriment. Spontaneous dancing and singing breaks forth until the Kings call it a night. After the visitors are asleep Mother steals some of the gold intended for the child—after all, her own crippled child is in dire need. The Page catches her. The frightened Amahl defends her and later offers his crutch to the new child they seek. He can carve another, he says. His selfless act heals him and he is allowed to go with the kings to thank and praise the one who brought about this miracle.
J. Lynn Thompson, brother of Greg Thompson, has had a long career in the theater as a conductor, artistic leader, recording artist, performer and educator. He is Music Director/Producer for Opera CNU and conducted the ten-member CNU Opera Orchestra for Amahl. Dr. Reger was pianist in the orchestra with guest artists oboists Alyssa Owens and Holly Schultz and harpist Vince Zentner. The twenty-member CNU Chamber Choir was directed by Dr. Lauren Fowler-Calisto.
The choreography fitted very naturally into the staging of Amahl, both thanks to Greg Thomson. It was a wonderful evening, impressive for the polished production presented. The creative team of Thompson, Thompson, Reger and Fowler-Calisto had a great theatrical beginning at CNU.

Soprano Rachel Holland with Pianist Jeremy Reger
Music of Debussy, Poulenc, Barber and Strauss
Music and Theatre Hall, Christopher Newport University, April 1, 2014
Review by John Campbell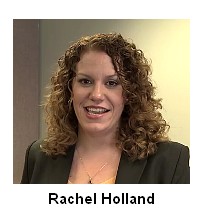 In an iridescent, lavender, floor-length gown, soprano Rachel Holland regaled the audience with exquisite singing while Jeremy Reger played with a flair that supported and encouraged Ms. Holland to greater vocal heights.
The recital opened with Claude Debussy (1862-1918) Proses Lyriques (1892-95). He wrote both text and music for songs that are both complicated and contemplative and are an important step in Dubussy's development as a composer of melodies (French art songs). Literally, I have waited 40 years to hear these four songs live, having first discovered them on an LP "Great Recordings of the Century" series, sung by Maggie Teyte, who was coached by Debussy himself, with pianist Alfred Cortot.
The opening, De Rêve (Dreams), brought tears as Ms. Holland offered a lovely vocal elegance in Debussy's most personal song collection. His imagery is like that of his Symbolist poet friends. De Grêve (The Shore) seems inspired by an English watercolor of a nighttime sea: The sea, the clouds, the moon and a storm of great vocal intensity ends in a caressing calm. The third song, De Fleurs (Flowers), opens with these words: "In the desolately green boredom of pain's hothouse, flowers surround, entwine my heart with their nasty stems." The poem begs for a rational explanation of his reason for writing this.
For a time Debussy was enthralled by the music of Wagner. In both 1888 and '89 he attended the Bayreuth Festival but by 1893 when he wrote De Fleurs he could no longer share his Symbolist poet friends' idolatry of Wagner. In this most French of French music he demonstrates that his love affair with Wagner had come to an end. This text is an ironic take on Im Treibhaus (In the Greenhouse) from Wagner's Lieder on "text to his overwrought paramour Mathilde Wesendonck." Here the usual beauty of flowers and sun becomes stifling and evil.
De Soir (Evening) shows a nostalgic yearning for a bygone era of Sundays before the mechanization of society. Ms. Holland opened her arms wide as if offering the weary Sunday travelers comfort at the end of a full day.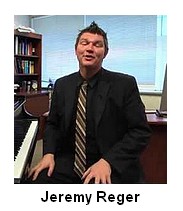 The second piece was a melodrama for piano and narrator, The Story of Babar, the little elephant by Francis Poulenc (1899-1963). After a clever piano opening, a seated Adelia Thompson read the beginning of the story. Each reading was followed by an evocative musical interlude. We are told the anthropomorphic elephant's story, from his birth and youth in the jungle, including his mother's death from eating the wrong mushrooms and his later life in Paris where he learned to drive a car and married his childhood sweetheart Celeste.
The genesis of the piece was during World War II. Poulenc visited the family of his four-year-old niece who interrupted his piano playing to inform him that she did not like it and substituted Jean de Brunhoff's Babar on the music stand. Poulenc improvised music as he read the story to her. Other children came to listen. A composer friend orchestrated it and a British composer arranged a version for chamber orchestra. Dr. Reger captured the charm and delight of the music with just the right flair and Ms. Thompson gave a winning reading. Poulenc relies on a number of pictorial devices and stylized musical forms, e.g., a nocturne, a grand march, a lullaby, a waltz, etc. This was also our first live experience of this fun music.
A piece I prefer to hear with piano rather than orchestra is poet James Agee's reminiscence of his early childhood in Knoxville: Summer of 1915 in a musical setting by Samuel Barber (1910-1981). The music came vividly alive when Ms. Holland returned to the stage.
The underlying sadness throughout the pace of the vocal narrative pulls the listener into the sensuous immediacy of a young boy's experience of lying on a quilt on a lawn with his parents and his aunt and uncle on a warm, summer evening. The piano often sets up the feeling tone of the text that follows of traffic and streetcar noise, adding moments of excitement to the sweet flow of feeling loved and protected. Both ardent and sincere, the supple vocal lines were beautifully sung with the piano adding drama to the steady unfolding of the natural rhythm of American speech. Barber was a trained vocalist who knew how to set complicated text understandably. As Leontyne Price, the preeminent interpreter of Barber said, his music "…falls intellectually to the mind and beautifully on the ear, which is a rare combination." The lithe, plush vocal sound and the decisive piano made this an outstanding performance of this American masterpiece that ended with a prayer and for his family, a question: "but who will tell me who I am?"
When Ms. Holland returned to the stage we were given two luscious songs by Richard Strauss (1864-1949). Morgen! (Tomorrow) opens with a long piano prelude that sets the mood of nostalgia. There is great beauty in the passionate, lyrical, long-lined singing and richly textured accompaniment. Written as a set of four songs (Opus 27) as a wedding gift for his wife, Morgen! has been described as the "motionless ecstasy" of two lovers lost in each other's eyes "…upon this sun-breathing earth." Ms.Holland's performance captured the wonder and deep rapture of the text. Cäcilie, Op. 27, No. 2, was added to the group on the eve of his wedding and has three verses thick with piano textures, orchestral in feeling. The message is one of intense joy at the prospect of being in love and together. The bravura ending of the song left us with a shimmering glow.
Now, if only someone would give Ms. Holland a leading role in a Strauss opera. Her voice is ready!

Back to Top
Back to Review Index
Printer Friendly Format
Home &nbspCalendar &nbspAnnouncements &nbspIssues &nbspReviews &nbspArticles Contact Us