Opera CNU: The Coronation of Poppea
Produced and Directed by Christopher Mooney
Ferguson Center for the Arts, Music and Theatre Hall
April 19 & 20, 2013
Review by John Campbell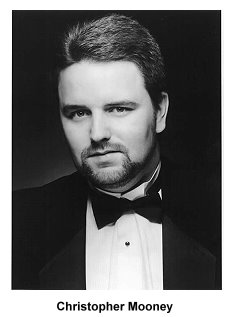 Christopher Mooney brought to the stage L'Incoronazione di Poppea by Claudio Monteverdi (1567-1643) in a fine production of this opera written and staged 370 years ago in Venice. The opera was sung in English in an adaptation by Alan Curtis performed by students at Christopher Newport University accompanied by professional instrumentalists.
J. Lynn Thompson conducted the lively quartet of John Irrera and Allegra Tortolano, violins; Anastasia Migliozzi, viola; and Jake Fowler, cello. Baroque specialist Kenneth Merrill was at the harpsichord. Mr. Merrill spent a week at CNU in March coaching the students and fellow instrumentalists in Baroque performance technique.
Composer Monteverdi had a long musical life and played an important part in the birth and development of opera. His Orpheo was first performed in 1607 and is still popular today. At age 75 he wrote this, his last opera, using the innovations of his younger rivals—all of them his pupils— to bring opera to this highpoint of development. This was the first opera to use recognizable human characters as the focus of the story. The story, by Francesco Busenello (1598-1659), used writings by ancient Roman historians to craft his libretto. Monteverdi's powerful individual expressive voice comments on life in clear and direct terms. These psychologically valid portrayals of human emotion are why his music is still being performed.
Christopher Mooney was both music director and stage director. He designed the set and developed the concept for the Roman costumes. He used a flexible raked stage of faux marble with columns and three pedestals for the three goddesses Virtue (Danielle Cavazos), Fortune (Hannah Beamon) and Amore/Love (Caroline Scruggs) inspired by Mooney's recent summers spent in Rome. In the Prologue each goddess sings her own point of view on virtue, fortune and love. Throughout the opera the three goddesses attempt to interact with the humans but are not visible to them.
A trumpet fanfare (Toccata from Monteverdi's L'Orfeo) invited us into the theater and was repeated at the beginning of the opera and was played by CNU students Tyler Hinnefeld, Shannon Hough, Michael Powell, Aaron Reeves and Christopher Young.
In act one Ottone, a Roman nobleman (Matthew Kelly) laments that his lover, Poppea, only has eyes for Nero. Amore hovers around but cannot get his attention; Virtue gives it a go but to no advantage. At this point two soldiers (Joseph Kisiday and Michael Johnson, Jr.) wake up and sing the backstory: the Empress is dissolving in tears, humiliated by Nero's dalliance with Poppea. Nero, the emperor of Rome, is robbing everybody to give to the few, the innocent are persecuted and scoundrels always benefit. Nero only believes the pedant Seneca, "that old robber, that sly old fox."
In the next scene we see the besotted lovers waking up together and after some happy exchanges, parting. Megan Buhmann, with richly seductive voice sang the role of Poppea. Nero was played by countertenor and graduating senior Paul Keene who in 2011 played the villainous Mr. Glass in the premiere of Chris Lamb's opera David and Glass. Lamb was a composition major at CNU and graduated in that year.
Once Nero leaves we meet Poppea's old nurse Arnalta (tenor Gary Montgomery in drag as a contralto) who sings of her worst fears for Poppea's future, and well she should. In the next scene we meet Octavia, Empress of Rome (mezzo-soprano Spencer Busby). Her nurse, Nutrice, (Callie Boone) tries to soothe her, singing in her light, sweet voice.
Seneca, philosopher, writer and Nero's former tutor comes to sympathize with the abandoned Empress. As Seneca, theater major and bass-baritone Brandon LaReau had a robust voice and sound and polished characterization. Octavia's page Valletto, (Hunter Torggler), challenges Seneca, calling his advice a preposterous humbug. "I swear if you do not help our queen I shall light a fire under your toga," etc. Later alone, Seneca is visited by the goddess of wisdom Pallas Athene (Rachel Sowinski) who warns him that the auguries of the heavens indicate his ruin.
The historically accurate next scene has Seneca challenging Nero on the immorality of his plan to dump his wife and marry Poppea. Poppea, who appears to be so sweet and innocent, sees Seneca as an impediment to her grand plan to be empress. To please her, Nero throws a hissy fit and orders Seneca to take his own life. Messenger of the gods Mercury (Chase Rutherford) visits Seneca to console him. Captain of the guard Liberto, a freed slave (Steven Field), apologetically brings the death warrant. Seneca consoles him as he does not feel threatened by death. Seneca's circle of friends assembles as a choral ensemble. April Grosskopf and Patricia Winchester join the other singers, already introduced in their other roles.
After the musically evocative and emotionally powerful farewell scene of Seneca we hardly have time to feel pity because we are immediately entertained by a love scene. Octavia's page Valletto and her maid Damigella (Jeanette Corey) hesitantly declare their love for each other, discovering they each feel the same. It suddenly becomes a great passion.
In the next scene Ottavia commands Ottone to disguise himself as a woman to gain entry to Poppeas's bed chamber and to kill her. At first he rejects her order and she threatens him. Drusilla (Alie Astete), Ottavia's lady in waiting who is madly in love with Ottone, agrees. Dressed in her clothes he goes, knife in hand, to carry out the murder of the sleeping Poppea. With knife raised his hand is stopped by Venus (Leah Chiaverini) who has come to protect Poppea.
Drusilla is soon arrested and accused before Nero who sentences her to a slow and painful death. Ottone steps forward and blames Ottavia for the plot. Nero forgives Drusilla and exiles Ottone. Drusilla begs to go into exile with him and off they go together. Nero now has grounds to rid himself of his wife and banishes her from Rome. In a beautiful aria Ottavia grieves the loss of her homeland. Poppea's old nurse Arnalta rejoices in her new elevated status. Venus comes to bless the union of Nero and Poppea. The chorus appears again as part of the celebration and the lovers sing Pur ti miro (I behold thee). The writer M.D. Ridge has described this aria as her favorite of all time: "What entranced me was the way those two pure voices twined around each other like two climbing vines crossing in momentary dissonance and release, crossing and releasing. I was undone! Not until later did I learn that this beautiful, limpid, exquisite music was being sung by two of the wickedest characters that ever crossed an opera stage. "
The opera ends with Nero and Poppea's wedding — conniving evil has won the day but history evens the score. Three years after Seneca's enforced suicide Nero's reign of corruption is ended by an army coup d'état and he is forced to commit suicide, like Seneca, by slitting his wrists in a warm bath.
For the purists among us let me say that the ability to sing vocal trills develops in the voice with maturity and practice. This opera offers many chances to hear trills and we heard some but mostly in embryonic rather than accomplished form. Power and strength develop in different voices at different times. With these caveats the student ensemble of twenty-one singers gave a terrific performance of this rarely performed opera. And for these lucky students the experience will enhance their whole lifetime. Hearing it live was such a thrill for a listener who only knows it on CD.

Back to Top
Back to Review Index
Printer Friendly Format
Home &nbspCalendar &nbspAnnouncements &nbspIssues &nbspReviews &nbspArticles Contact Us