Opera CNU presents Albert Herring
I suspect that Benjamin Britten would be delighted, as we were, with the April 9, 2010 staging of his opera Albert Herring at the Music and Theatre Hall, Ferguson Center at Christopher Newport University. Written for a small chamber orchestra of twelve players and thirteen singers, the story is freely adapted from a short story by Guy de Maupassant and moved to the fictional Suffolk town of Loxford. It is a comic coming-of-age story of a mother-dominated young man. It opens with a meeting of the committee to choose a May Queen in this stuffy, repressed and hidebound town: Lady Billows (Anna Freucht), haughty do-gooder, the mayor (Michael Baggett) "thin and irritable," the friendly and easy-going vicar (Wesley Evans), the 38 year-old single teacher (Victoria Myers) and the superintendent-of-police (Andrew Rene) a slow-thinking, good sort of man. The housekeeper (Taylor Walkup), the indispensable companion to Lady Billows, also at the meeting to plan the May Day celebration, shoots down the nomination of each young lady with the latest gossip.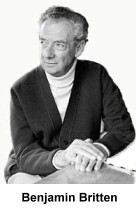 Musically, Britten represents this emotionally uptight group by clichéd tunes with singers lapsing into pastiche based on social class. Lady Billows's imperious moral pronouncements are suggestive of Handel's music. Think Land of Hope and Glory. The teacher and vicar are given 19th century parlor music, the mayor gets Italian popular opera and the superintendent, English brass band.
A solution is found when Superintendent Budd, as a virtuous alternative, suggests Albert Herring as King of the May. Albert (Scott Crissman) is a tall, slender, strong, hard-working young man who helps his widowed mother (Heather Vereb) run the local greengrocery. He is no fool but his mother's mixture of contemptuous bullying and adoration have made him extremely shy and awkward around new people and situations. Her music is the fussy picking of a hen.
In the second scene we meet Sid (Marshall Severin), a cocky, likable butcher shop assistant and Nancy (Emi Lee Frantz), 26 and working in her family's bakery. She is worried about turning 30 unmarried and that makes her reckless with Sid though she is naturally modest. At the greengrocer we see the neighborhood children: Emmie (Caitlin Duncan), Cis (Amanda DeSalme) and Harry (here a pants role played by Kate Hannah as a boy). There is a freedom in the music of these younger people. The singing games and ball-bouncing rhythms of the children inform the listing, surging rhythms of Sid and Nancy but in their music there is more maturity and erotic overtones. Albert is caught between these worlds and has no strong musical personality of his own. Whistling symbolizes freedom and the on-stage clock stands for repression and both figure prominently in the music as the story unfolds.
The second act opens with the teacher trying to teach the free-spirited children imperial music for the entrance of the King of the May with hilarious results. The audience laughed out loud! At the crowning feast Sid brings rum and puts it in Albert's lemonade as Nancy pours drinks and sets the long table. Albert is very self-contained and looks baffled as he is crowned with a white straw hat with a wreath of flowers on the brim and is given 25 sovereigns. Back at the shop that evening, Albert overhears Sid whistle for Nancy, their pre-arranged signal for her to meet him for their evening out. They discuss their sympathy for Albert. He overhears them as they stroll away together. Albert has reached his breaking point and takes his prize money and heads out looking for adventure.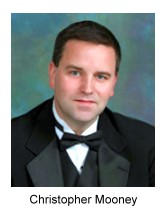 The third act finds the citizens gathered at the greengrocer's. Albert's crown has been found, run over by a cart. Fearing the worst, they join voices in a magnificent threnody escaping their musical clichés and expressing real feeling. Just as they finish Albert comes in looking disheveled and soiled and at their insistence tells them of drinking and being tossed out of a pub into a ditch, and worse. They are scandalized but he takes command by thanking them for giving him the means to explore life and then stands-up to his mother. After the townspeople leave and his mother retires the three children taunt him with a song but his response is to invite them in and give each a lovely ripe peach. This is a clear statement that he has embraced Sid and Nancy's cheerful sensuality as his own. The children burst into jaunty song with new words praising Albert.
When working on pieces and parts of Britten's opera it was a very difficult challenge for the student performers. By hard work and perseverance they were able to create a most satisfying performance. Hats off to director Chris Mooney for his brilliant work with this group of talented college students. After the performance he spoke with delight that his students got it!

Schumannia at Christopher Newport University
On October 1, 2010 at the Ferguson Center for the Arts Music and Theatre Hall an excellent faculty recital of music by Robert Schumann (1810-1856) celebrated the bicentennial of his birth. Soprano Rachel Holland, tenor David Sadlier and pianist Lelia Molthrop Sadlier presented three of Schumann's most popular works.
In 1838 at age 28, Schumann wrote his solo piano piece Kinderszenen, Op. 15 (Scenes from childhood). The thirteen short pieces were not written for children but for adults to have a glimpse into the world of childhood innocence. Detailed program notes by the pianist gave insights into how song titles related to the structure of the music. The pianist has all three roles of accompanist, singer and narrator with a range of expression from tender and delicate to exuberant. Songs with titles that translate as Blind Man's Buff, An Important Event and Knight on a Hobbyhorse are examples. Our pianist beautifully captured the nostalgia in this ingeniously crafted music.
The second piece on the program was the art song cycle Fraueliebe und –Leben, Op. 42 (Life and Loves of a Woman, 1840). By this time Schumann had completed most of his major piano works. In these songs the piano is a full participant with the singer, Rachel Holland. These songs bring alive the emotional experiences of a woman at various stages of her life from a male poet's and male composer's point of view. After years of a court battle with Clara Vieck's father to marry Clara, this is the last song cycle Robert wrote before the wedding as a gift for his bride. It is interesting that he rejected Chamisso's last poem which speaks of continuity of a woman's life through children and grandchildren. Instead, Schumann completed the eighth and last song with a long postlude, a repetition of the first song. In the text the widow expresses her deep, emotional pain. The singer brought out the great sadness of her now empty world, pensive energy expressed through refined elegance that was totally convincing as sung by Ms. Holland. In reality, after Robert's death, Clara Schumann's life (1819-1896) was one of making a living to support her large family (five of the eight children survived) as a first-rate concert pianist who edited and promoted her husband's compositions and those of Johannes Brahms (1833-1897), a friend from 1853 until her death 43 years later.
After intermission we heard another of Schumann's song cycles dating from 1840, Dichterliebe, Op. 48 (Poet's Love). Our friend Genevieve McGiffert described this work as a supreme example of art song at its peak, lifting the lied to new lyrical and dramatic heights. These settings of poems by Heinrich Heine are concerned with unrequited love.
Billed in the program as a heldentenor, David Sadlier sang in a voice that was unsettling in the first song. His is the first, live performance of a heldentenor we have heard. The definition of heldentenor in the Oxford Dictionary of Music is "tenor with a very wide range capable of such parts as Huon in Weber's Oberon, Bacchus in Strauss's Ariadne auf Naxos and most of the Wagner tenor parts." In conversation with the singer we learned that Dr. Sadlier began as a baritone and then moved to a high tenor range. Unlike a baritone, the heldentenor has a high, youthful, less weighty voice of dramatic, lyrical quality with great weight and sonority, especially strong in the middle and bottom of the voice; most oftened achieved by singers in their mid-forties. In his mid-thirties, David Sadlier's voice is a work in progress.
After the extraordinary range of the opening song, Im wunderschönen Monat Mai (In the marvelous month of May), the rest of the cycle was tamer. In this song spring comes bringing the longing for love. The vocal and emotional range of the cycle gave us the chance to enjoy the full measure of Dr. Sadlier's musical accomplishments. He captured the total unreality of this overheated romanticism and transported his listeners into this rarefied world. The seventh song, Ich grolle nicht (I bear no grudge), allowed a full display of vocal power and intensity, matched by the pianist, Ms. Sadlier. Three songs of self pity followed, the last of which was introspective where the misery is offset by a jaunty, little tune. A beautiful, lyrical song, Am leuchtenden Sommermorgen (On a gleaming summer morning) ends with a long piano coda. Another mood shift and the poet dreams of a happy meeting with the beloved, only to wake, weeping. In the last two songs the singer now lives in a world of fantasy, overwhelmed by his love and sorrow. He has entered a manic state of mind and we are left wondering if he will ever return.
In the fine program notes Dr. Sadlier gives details of how this cycle is constructed, often allowing the piano to resolve what the voice left unsaid in lengthy postludes. Emotions, when grappling with love and loss, are non-linear.
Schumann Songs on CD
For listeners and readers who want to persue Schumann lied the British tenor Ian Bostridge with pianist Julius Drake offer most of the songs from the first half of tenor James Barbato and pianist Jason Paul Peterson's program and Dichterliebe, Op. 48 sung by David Sadlier with his wife, Dr. Lelia Molthrop Sadlier on piano, both reviewd in this issue. Dr. Sadlier, in the program notes for his recital points out that four of the darkest poems by Heinrich Heine were set by Schumann but were left out of Dichterliebe when it was published. Published later, these songs are also on the CD and were sung in concert by Mr. Barbato: Dein Angesicht, Op. 127, No. 2, Lehn deine Wang, Op. 142, No.2, Es leuchtet meine Liebe, Op. 127, No.5 and Meine Wagen rollet langsam, Op. 142, No.4. This is the order in which the songs appeared in the original Dichterliebe as songs number 5, 6, 15 and 16. It is a lovely CD and I highly recommend it. Ian Bostridge has a lyric voice with wonderful powers of expression and the pianist is excellent. It is on EMI Classics (7243 5 56575 27) and also includes Schumann's Liederkreis, Op. 24, Nos. 1-9.