Darryl Taylor's New CD
&nbsp&nbsp&nbsp&nbsp&nbsp Expressive tenor Darryl Taylor opens his new CD of the music by Robert Owens (with Owens at the piano) with the song No Images. The program booklet tells us that Mr. Taylor first heard the poem, written by William Waring Cuney, spoken by Maya Angelou at a reading at UCLA in 1998 and "was at once arrested by its simplicity and truth." Robert Owens set the piece with piano accompaniment while an expatriate living in Germany in 1965. His cycle then called Three Songs was retitled for this CD "Images."
&nbsp&nbsp&nbsp&nbsp&nbsp My experience with this poem is very different. I was at a recital in early 1965 when Nina Simone sang the words a cappella to her own uncomplicated tune. I was stunned by the truth and pathos of the story of a Black woman who does not realize her own beauty: "She thinks her brown body has no glory. If she could dance naked under palm trees and see her image in the river she would know." That lovely image is replaced by the words "But there are no palm trees on the street and dishwater gives back no images." Simone recorded the song on March 24, 1964 in New York City and titled it "Images."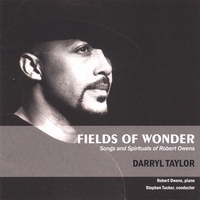 &nbsp&nbsp&nbsp&nbsp&nbsp CD by CD, Darryl Taylor is seeking out and presenting important but not necessarily well-known African-American composers and poets to the listening public and I thank him for this. In the past Owens' music was anthologized by Willis Patterson and more recently by Margaret R. Simmons and Jeanine Wagner but here we have a virtual feast of twenty-six art song and two spirituals. The album takes its title, Fields of Wonder from a cycle of twelve songs on poems by Langston Hughes (1902- 1967) accompanied by a string orchestra conducted by Stephen Tucker. We learned from the program booklet that Owens, as an African-American "is quick to emphasize that his songs are not written for any particular race. They are to be sung by all people who appreciate fine song writing." His creativity in the Langston Hughes settings uses twelve poems woven into a continuous musical tapestry creating mystery and excitement using instrumental colors.
&nbsp&nbsp&nbsp&nbsp&nbsp A positive and patient man, Owens and other Black expatriates were seeking a way to make an "intelligent protest" from Europe while on the streets in America people realized that a different order of practical action was required. Subtlety was wasted on bigots - Bull Conners just didn't get it! What we have now is the creative results of Owens' approach and now we can savor his achievement in an easier time. There is a vitality that his African-American roots offered that is not found in this music. The rhythm of Langston Hughes' poetry has been lost and the impact of the singer is lessened by this choice.
&nbsp&nbsp&nbsp&nbsp&nbsp His intelligent, sophisticated settings of a variety of poetry is most effective for Emily Dickinson and Edna St. Vincent Millay. Darryl Taylor introduced Robert Owens to the poetry of Millay in 2004. Taylor was introduced to her work by "the great American composer Richard Hundley." Owens was impressed by the strength and power of her words. For this recording he set What Lips My Lips Have Kissed and Euclid Alone in a neo-Baroque style in praise of the beauty of reason.
&nbsp&nbsp&nbsp&nbsp&nbsp Owens wrote Stanzas for Music on poems by Lord Byron in 1958 while teaching at Albany State College. It was, as Taylor says, his reaction as a war veteran who grew up in California to "the daily humiliations attended on Americans of color in the deep South. Owens turned to Lord Byron in an effort to mentally and emotionally escape from the onslaught of indignities." These deeply romantic settings are pretty to listen to though the pathos of the text is mostly obscured by the settings for piano and violin and sweet sensuous tenor voice.
&nbsp&nbsp&nbsp&nbsp&nbsp Being a successful composer in Germany and elsewhere in Europe allowed Owens to avoid the horror of events in America. The photographs in Look and Life magazines told a different story than the one we find in his lyrical and even gentle settings. The disconnect for me is most obvious in his three settings of Countee Cullen, especially in From the Dark Tower that ends with "So in the dark we hide the heart that bleeds, and wait, and tend our agonizing seeds." His setting is a sort of sweet hymn tune with a bouncing, busy piano accompaniment.
&nbsp&nbsp&nbsp&nbsp&nbsp Owens' restraint works wonderfully well in the spirituals. The drama is created in Never Said a Mumbling Word by the restrained musical line. His dramatic, elegant setting using violin as well as piano in I Got a Home in that Rock is a very satisfying experience. Darryl Taylor always sings with a naturally beautiful tone, articulates the text and has a vocal range that gives his expression full power and gentleness as required by the setting.
&nbsp&nbsp&nbsp&nbsp&nbsp This is pretty, pleasant music that is easy to hear. The listener is not challenged by the pain and tragedy found in the poetry he sets. The mood of the settings is up-tempo; sometimes we even hear popular sounding tunes. They give a respite to the listener. Though I am pleased that today African-American elements are found in music for all listeners and by many composers, regardless of race, this CD is a gift from a different past. Fields of Wonder (Troy 897) can be ordered from Albany Videmus Records. Recommended.

Darryl Taylor's New CD of Spirituals is Highly Recommended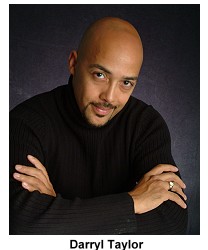 It is interesting how relationships that last for years are often by email and CD only. That is the situation with tenor, now countertenor, Darryl Taylor and us. Many years ago when Artsong Update was just starting out we met Darryl by email through his website, The African American Art Song Alliance (www.DarrylTaylor.com/alliance) and ten years and several CDs later he brings out the first-ever solo album of spirituals sung by a countertenor voice.
I have listened with a great pleasure to Darryl Taylor's voice in twenty spirituals with piano played by Brent McMunn. The texts are mostly familiar but several arrangements are by less familiar composers. For instance, Steal Away is in a new setting by Maria Thompson Corley. His singing is so very intimate, capturing the pathos and then the joy of going home to Jesus. Then there is the exciting ballad setting of Lord, I'll Go by Jacqueline Hairston with an extended vocalise. Text is woven into a supportive, gentle piano part until the end when the singer announces his willingness to do God's bidding. One of the most dramatic settings is by Deon Nielsen Price, Nobody Knows de Trouble I See; it reaches a fevered pitch of imploring prayers to drive old Satan away! Another selection with a new musical vocabulary is Lament from Lyric Suite by Robert Morris. The text "This may be the last time, I don't know" is set as a sensual, jazzy tune. It ends, leaving the question of whether this may be your last time – an implied rather than stated consequence of your own hesitation.
There are spirituals here by some of the major African-American art song composers: Margaret Bonds is represented by Zekiel Saw the Wheel; Peter Go Ring Dem Bells, Go Tell it on the Mountain and the unfamiliar to me I'll Reach to Heaven. The classic setting of Deep River by Harry T. Burleigh is given a superb performance. Hall Johnson (1887-1970) is represented by two songs: a soulful I Cannot Stay Here by Myself (a slave lament) and I've Got to Lie Down from his Cantata Son of Man. The first is the slave feeling his captivity and dreaming of an end of his pain; the latter is a statement of having to die and be buried and getting to rise on Judgment Day.
Mr. Taylor chose two songs by Moses Hogan (1957-2003), one of a younger generation of composers: Sometimes I Feel Like a Motherless Child in a setting that feels so very personal and his He Never Said a Mumbalin' Word (the Crucifixion) with a stately, modern piano sound and not a trace of self-pity in the voice as Mr. Taylor sings the straightforward story of Jesus' death. Roland Carter set Is There Anybody Here? (who loves my Lord) with the exultant shout of a very high voice ending. The performance is flawless.
I noticed that four selections are drawn from the Willis Patterson book The New Negro Spiritual Collection (2002): Climbing High Mountain by Betty Jackson King with its simple piano accompaniment talking about the struggle "Trying to get home...Jesus will help me." This preoccupation with death and transition continues in Git on Board by Thomas Kerr, Jr. who created in the piano the sound of a train speeding onward. Guide My Feet also by Ms. Hairston is another sorrow song and finally Hale Smith I Want to Die Easy (when I die) is a soulful plea.
Hale Smith also created a totally new piano accompaniment for Amazing Grace with a slow, sometimes syncopated vocal line. Mary Wore Three Links of Chain, set by George Walker, is almost a hymn until he adds an energetic "I'm going home on the morning train" to end. Nuanced, beautifully articulated singing makes this an outstanding addition to spirituals on CD. It is titled How Sweet the Sound on Albany (Troy 1244) with countertenor Darryl Taylor and pianist Brent McMunn, The executive producer is Louise Toppin, a major force in the current art music scene. The recording was on June 21-22, 2010 in Los Angeles, California.

Back to Top
Printer Friendly Format
Back to Review Index
Home &nbspCalendar &nbspAnnouncements &nbspIssues &nbspReviews &nbspArticles Contact Us