Art Song of Williamsburg
Die Schöne Müllerin
On Friday, April 27, 2001, Steven Tharp, tenor, and Will Crutchfield, pianist, performed Die Schöne Müllerin by Franz Schubert, with text by Wilhelm Müller. The recital was presented by Art Song of Williamsburg at the Williamsburg Regional Library Performing Arts Center.
Mr. Tharp performed this most well-known song cycle with impeccable diction and a sense of style that made the 20 songs seem like an all too short evening. Although the savvy art song audience did not, in general, interrupt the flow of the story with applause, their spontaneous enthusiasm could not be contained during two of the more exuberant songs.
Will Crutchfield, a native of Hampton Roads, gave a pre-recital discussion on the evolution of Art Song from Folk Song. Schubert's earliest songs show small differences from the folk songs of his day. But even in these small changes, his genius is evident. As he matures we can see development in his ability to express musically the poet's meaning in both the accompaniment and vocal lines.
In talking with Mr. Tharp after the performance I learned that this was his twelfth performance of Die Schöne Müllerin and his sixth with Mr. Crutchfield. One of the most enjoyable aspects of this performance was his clear diction and crisp articulation. The words flowed in a lyrical, unassuming way like a native speaker. In words such as "Ich", "mich" and "dich" he uses the more formal closed [i] vowel rather than the [I] found in most dictionaries. For the uninitiated, [i] is a closed e sound as in "Mimi", "Fifi" or "cheese", and [I] is the open sound in "it".
I also learned from him that Die Schöne Müllerin was composed by Schubert for a tenor, not the baritone voice that is usually associated with the work. The tenor voice feels just right because of the youthfulness of the character in the text.*
Savoring the sound of a language often considered unmusical and brusque, but here transformed into such lyrical beauty by Schubert, Müller, Tharp and Crutchfield, made this a very memorable evening.
*The fresh lyric tenor voice of Fritz Wunderlich singing Die Schöne Müllerin can be heard on Deutsche Grammophon CD 447 452-2.
Printer Friendly Format
Back to Top
On November 2, 2001, tenor Michael Posey and pianist Ruth Easterling Winters gave gave a wonderful concert of songs titled "The Inspiration of Poetry." The program opened with sonnets of Michelangelo set by Benjamin Britten (1913-1976).
Britten set seven Michelangelo sonnets in 1940 while living at the house of Dr. & Mrs. Mayer at Amityville on Long Island. Britten and Peter Pears,his life companion, had come to American in 1939. This song cycle is the first set of songs composed exclusively for Peter Pears' voice. Phillip Britt has written that the songs have a "huge Italianate span of melody thrust through the piece like a girder..." In setting the words of Michelangelo written to his male beloved Tomaso de Cavaliere, Britten's choice of text seems deliberate.
Sonnet XXX ends with
...my wishes are contained entirely in yours,
and my thoughts take shape in your heart;
my speech is formed by your breath.
It seems that I am like the moon by itself -
our eyes cannot discern it in the heavens,
except for that part which is illuminated by the sun.
(Translation DECCA 1992, Andrew Huth)
Michael Posey sang with an elegant restraint emphasising the innate lyricism of the poetry so well expressed in Britten's settings.
The music of Alexander Zemlinsky (1872-1942) is not well known today, but his song cycle Five Songs on poems by five different poets were concerned with man's love for woman. Entbietung (Invitation), the second song in the cycle is full of sensual passion conveyed in exciting vocal sounds. The lyrics end with "...when do you come? My torch blazes, let it glow, let it glow. Adorn your hair with wild poppy."
Mr. Posey wrote an extended paper and presented a concert of art songs by Zemlinsky for his major project to receive his DMA. To hear this repertory was a rare treat.
Arnold Schönberg (1874-1951), who was Zemlinsky's pupil in 1895, and later his brother-in-law and friend , wrote the next song cycle, Brettl Lieder. One often thinks of Schönberg's music as demanding on the listener, even harsh, but that is not the case in his Cabaret Songs. The sensual and passionate expression of love of man for woman continues in these whimsical songs. Mr. Posey was up to the challenge of capturing the mood of each song and bringing it to the listener in a lovely tenor voice.
Another surprise for Steve and me were the lovely songs of Franz Liszt (1811-1886), Three Sonnets of Petrarch. Petrarch (1304-1374), an early lyric poet, wrote for Laura, who lives in his passionate words. The music is a tour de force for the pianist, and Ruth Winters played brilliantly.
Next we heard the final song cycle by Samuel Barber (1910-1981), written in 1945 and titled Three Songs. We reviewed a Virginia Art Song Society meeting on music of Barber in our last issue. Hearing Now Have I Fed and Eaten Up the Rose and O Boundless, Boundless Evening by a tenor voice was welcome but the high point for us was hearing the humorous and bizarre text of A Green Lowland of Pianos done live.
The program closed with Blue Mountain Ballads (1946) by Paul Bowles (1910-1999): Heavenly Grass, Lonesome Man, Cabin and Sugar in the Cane. "The poems by Tennessee Williams employ the vernacular of the deep South where Williams was raised and Bowles' bluesy, rhythmic music compliments it nicely." (Phillip Ramey, liner notes). Michael Posey caught the winsome melancholy of Cabin, which laments the aftermath of a sexual indescretion, and the pent-up sexual energy of Sugar in the Cane in a bluesy, sly way: "I'm sweet sugar in the cane, never touched except by rain. If you touch me God save you, these summer days are hot and blue." Williams and Bowles, both gay, had previously worked together in New York when Bowles, wrote the music for The Glass Menagerie in its initial theatrical production. Bowles had a considerable reputation in the 1930's and 40's composing incidental music for plays by Orsen Wells, William Saroyan, John Houseman and for ballets for Lincoln Kirstein.
In 1947, Bowles left the United States and settled in Tangier, Morroco where he lived until his death in 1999. Here he concentrated on writing. His most famous novel, The Sheltering Sky (1949), was made into a film in 1990 by Bernardo Bertolucci. Bowles makes a cameo appearance in the film. His music was mostly forgotten until the 1990's when a new generation of American musicians and singers became interested in it again. These charming, witty pieces are a treasure to be savored by art song enthusiasts.
In the pre-concert lecture, "Three Pairs for a Full House", Glenn Winters commented that Bowles packed twenty lifetimes into one. Dr. Winters packed much interesting material and some fine gossip about the evening's composers into one lecture. The encore piece, Ah! May the Red Rose Live Always, words by Stephen Foster (1850), was composed by Dr. Winters, husband of pianist Ruth Winters.
Two other things impress me about Art Song of Williamsburg. The first is how Genevieve McGiffert has been able to create a genial atmosphere and at the same time provide a high quality musical experience. They are well on their way to reaching a goal of 250 subscriptions for the season.
The second is the program booklets. They are a pleasure to hold in your hand and beautiful to the eye. Dr. McGiffert widely researches each composer and is able to draw on her years of experience to give us a rich background and history of the songs we hear. This is in addition to the song texts and translations. The "Inspiration of Poetry" booklet contained twenty pages. The hall is lighted so you can follow while you listen. Everything is just right to help the listener get a full experience of the music.
Printer Friendly Format
Back to Top
&nbsp&nbsp&nbsp&nbsp&nbsp Two recent exciting programs of songs are interwoven in the fabric of Tidewater vocal arts development. The first, in Williamsburg, was a recital by Barbara Quintiliani, soprano, with Charles Woodward at the piano. The second was a Governor's School for the Arts Vocal Music Department program, "A Celebration of American Music III." We saw Robert Brown both nights. In Williamsburg, joined by several of Tidewater's vocal recitalists, he had come to hear his former student Barbara Quintiliani. At Chandler Hall he was accompanist and teacher for the current students at the Governor's School.
&nbsp&nbsp&nbsp&nbsp&nbsp In Williamsburg, on January 25, 2002, at the pre-concert lecture, Genevieve McGiffert, president of Art Song of Williamsburg, spoke on the importance of the Governor's School to music students in general, and specifically to Ms. Quintiliani, who told her that the school was a major turning point in her life. She says she wouldn't be where she is today, both emotionally and professionally if it hadn't been for the Governor's School.
&nbsp&nbsp&nbsp&nbsp&nbsp Ms. Quintiliani accepted the challenge to develop her voice which has been described in the Boston Globe as "...drop-dead gorgeous, with pearly-lustrous timbre, supple cantilena and high notes that open out into the hall with real glamour." Next season she will sing Elettra opposite Placido Domingo's Idamante in the Washington Opera production of Idomeneo by Mozart. Ms. Quintiliani is a graduate of the New England Conservatory of Music, where her teachers included Kathleen Kaun and Anna Gabrieli. In the 2000-2001 season the singer was a member of the Houston Grand Opera Studio and could be heard last fall on WHRO in the Saturday afternoon opera from Houston. She has won several competitions including a 1999 Metropolitan Opera National Council Audition.
Barbara Quintiliani Recital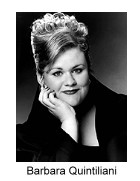 &nbsp&nbsp&nbsp&nbsp&nbsp The program opened with two Handel (1685-1759) arias: Let the bright seraphim, and Where e'er you walk, proving once again the lovliness of her voice and the passion of her delivery. This was followed by four selections by Robert Schumann: Er ist's, Aufträge, Widmung and Sehnsucht. In er ist's (It's Spring) the line "violets are already dreaming" was delivered with a fine pianissimo. Charles Woodward, the singer's frequent collaborator, played with authority and an excellent touch. Though we had been warned that the piano substituted for the ailing Steinway of past ASW recitals was not up to par, Chuck's artistry made it a small distraction.
&nbsp&nbsp&nbsp&nbsp&nbsp In the last European composer set we were treated to selections from Rossini's Serate Musicali (Musical Evenings), songs that he dubbed "Sins of my old age." In reality, these brief songs became miniature operas in the hands of our performers. The impish facial expressions and gestures were altogether appropriate for this material. In Il Rimprovero (The Reproof), the grieving coquette says she will bemoan in silence her "bitter, bitter fate." But the intense, over-the-top song was anything but suffering in silence, which brought forth a chuckle from the audience. The text by Pietro Metastasio was set almost 50 times by Rossini.
&nbsp&nbsp&nbsp&nbsp&nbsp In La Pastorelle delle Alpi, the youth of our singer and the youth of the shepherdess made an interesting fusion. With gesture and vocal play the shepherdess came alive before our eyes. At the end of the song the singer crossed herself and smiled at her pianist. The third Rossini selection, La Danza, is a tour de force for both voice and piano. The dance tune goes faster and faster but never spins out of control.
&nbsp&nbsp&nbsp&nbsp&nbsp The first American selection, Samuel Barber's ten-song cycle Hermit Songs was sung complete. After the concert I discussed with Ms. Quintiliani the contrast in her accessible, friendly and at times mischievous approach to some of the light-hearted songs compared to the recordings of Leontyne Price and others, where a serious dignity reigns. It is a challenge to switch from humor in The Heavenly Banquet, where the singer is literally drunk by the end of the song, to the somberness of The Crucifixion, a piece filled with pathos and grief.
&nbsp&nbsp&nbsp&nbsp&nbsp One had the feeling that the character singing Promisquity knew exactly where "fair Eden" would be sleeping tonight. All the warmth and rightness of the living arrangement between The Monk and His Cat was in her interpretation. Seriousness reigned in The Praises of God and The Desire for Hermitage. (For more discussion of this song cycle refer to Artsong Update #5).
&nbsp&nbsp&nbsp&nbsp&nbsp Songs by Amy Beach (1867-1944) followed, Three Browning Songs: The Year's at the Spring, Ah, Love, but a day, and I send my heart up to thee. These well-crafted, lyrical songs follow European models in a late Romantic style and were beautiful to hear. In 1926 Amy Beach co-founded and was first president of the Association of American Women Composers.
&nbsp&nbsp&nbsp&nbsp&nbsp Two Ernest Charles (1895-1984) pieces ended the program. Our singer sweetly apologized for these "parlor songs": but "I love to sing them and hope you will enjoy them." We did. The last time Ms. Quintiiani gave a recital in our area, May 2000, at the Wells Theatre in Norfolk, she opened the program with art songs by three European composers: Verdi, Chausson and Richard Strauss. In the second half she sang selections by American arts song composers Griffes, Brody, Richard Hagerman, Amy Beach and closed the program with these same two selections by Ernest Charles: Let My Song Fill Your Heart, and When I Have Sung My Songs to You. Charles was a recitalist and Broadway and vaudeville performer. In the mid-1930's a young Kirsten Flagstad sang When I have sung my songs and it became her favorite encore piece. At this point in time, it seems to be Ms. Quintiliani's signature also.
&nbsp&nbsp&nbsp&nbsp&nbsp The encore O, mio babbino caro from Puccini's Gianni Schicchi was a stunning showpiece for this budding diva who also brought us art songs that are accessible, fresh and exciting.
Printer Friendly Format
Back to Top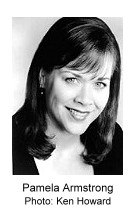 &nbsp&nbsp&nbsp&nbsp&nbsp What a way to galvanize an audience! Pamela Armstrong opened her program with Kling! (Resound!) by Richard Strauss. Great quantities of joyous sound poured forth from voice and piano. "Lift the veil from your heart!... New bloom has appeared on the dry plain; sing my soul, sing." And sing is exactly what our recitalist did. Her voice is a lush, full voluptuous instrument and well suited to Strauss' long delicious vocal lines: Die Nacht (The Night), Ständchen (Serenade), Allerseelen (All Saints' Day), a sweet memory of a love in May long ago, contemplated peacefully in old age; Freundliche Vision (Friendly Vision) and All mein Gedanken (All my thoughts like litle birds fly to my beloved's window).
&nbsp&nbsp&nbsp&nbsp&nbsp Music by Spanish composer Joaquín Rodrigo (1901-1999), Four Love Songs came second on the program. Rodrigo is best known for Concierto de Aranjuez (1939) for guitar and orchestra. He wrote a number of songs, none of which I had heard before. Blind at age three, he studied under Dukas and was encouraged by Falla and taught at the University of Madrid from 1947.
&nbsp&nbsp&nbsp&nbsp&nbsp On very spare texts the composer has constructed some very vocally playful songs with wonderful coloristic effects that give a new twist to folk-like Spanish songs. They were a great deal of fun to hear. Ms. Armstrong captured the joy of this light-hearted music.
&nbsp&nbsp&nbsp&nbsp&nbsp To my ear Debussy's Ariettes oubliées are moody and melancholic, even in a song like Chevaux de bois (Wooden Horses). Here we have a song about the excitement of children playing on a carousel. By the time it ends the early energy has been lost and the event has become a sad memory. In C'est l'extase langoreuse (This is extasy), the line "This soul so plaintive in this dormant lament..." is the overall mood. The piano seems to want to burst forth but is held back. Il pleure dans mon coeur (There are tears in my heart) and L'ombre des arbres (The shadow of the trees) are about grief, pain and dashed hopes. The last two - Green and Spleen explore the sensitivity and vulnerability of being in love and available for rejection by the beloved. We identify with these very human emotions and are comforted by this melancholy beauty presented to us by our excellent pianist Melanie Day and our intense soloist Pamela Armstrong.
&nbsp&nbsp&nbsp&nbsp&nbsp The last set of the program featured a century of British and American song, 1850-1950. The set opened with Stephen Foster's Why, no one to love which was followed by Roger Quilter's My Life's Delight, of which Ms. Armstrong said:"This is my comfort song. It is a favorite of mine and I want to share it with you." These love songs from a less hasty era bring a sweet nostaglia to this listener. Benjamin Britten's The Sally Gardens, Aaron Copland's Heart, we will forget him! with text by Emily Dickinson was another comfort song. Another Quilter song Music, when soft voices die is so very sad: "When they are gone, love itself shall slumber on." The set closed with Frank Bridge's Love went a riding. Karen Scott who trained at Julliard found the performance technically near perfect.
&nbsp&nbsp&nbsp&nbsp&nbsp The encore piece was Klänge der Heimat from Die Fledermaus and it gave the audience the flavor of an opera performance by Ms. Armstrong, who will sing Mimi at the Met next season. The second encore was Oliver Cromwell by Benjamin Britten.
&nbsp&nbsp&nbsp&nbsp&nbsp Suzanne Ganschinietz, after attending her first Williamsburg recital, wrote "The program was enhanced by a pre-concert talk given by Genevieve McGiffert, President of Art Song of Williamsburg. For those who missed the lecture, very comprehensive program notes provided a synopsis of each composer's life. These notes, which examine the influences and inspiration of the art songs in the context of the composer's life, further increased one's understanding." &nbsp&nbsp&nbsp&nbsp&nbsp The 2002-2003 season will include three recitals and a preview. Watch for details here.

Pamela Armstrong Opens New York City Opera Season
&nbsp&nbsp&nbsp&nbsp&nbsp In April, 2002, soprano Pamela Armstrong along with pianist Melanie Day gave a most impressive recital for Art Song of Williamsburg where she opened the program with Kling (Resound!) a blockbuster song by Richard Strauss. It was no surprise when we saw a review of her most recent career step forward. She opened the New York City Opera's season with the Richard Strauss opera Capriccio which just happens to be this writer's favorite opera. It is a very sweet exploration of the question of which is most important, words or music, and contains quantities of glorious singing by the leading lady. And the music of the male chorus of servants in the last act is superb. There is no resolution because, of course, in opera, one cannot exist without the other. Congratulations to a fine young singer.
Printer Friendly Format
More ASoW
Back to Top
Back to Review Index
Home &nbspCalendar &nbspAnnouncements &nbspIssues &nbspReviews &nbspArticles Contact Us