Roster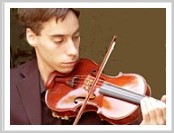 Simon Lapointe, violin, was born in Quebec, Canada, in 1979. He showed interest in the violin at the age of 2, and received his first violin lesson 2 years later. He obtained his Bachelor's of Music from the Conservatoire de Trois-Rivières in 2000, studying with Helmut Lipsky and Joanne Pothier. He then went on to get his MM at the Peabody Conservatory of Music with soloist and now Tokyo String Quartet 1st violinist Martin Beaver.

Simon joined the Virginia Symphony Orchestra as Principal Second Violin in 2006. He previously played with the Orchestre Symphonique de Québec and the West Virginia Symphony, as Assistant Principal Second Violin and Concertmaster, respectively. He served as Assistant Concertmaster of the Richmond Symphony Orchestra during the 2009-2010 season, and since 2010, is also Assistant Principal Second Violin of the Chautauqua Symphony Orchestra. He is Adjunct Professor of Violin at the Virginia Commonwealth University.

He was a prizewinner of many competitions in the US and Canada. He is regularly invited as a soloist and recitalist in Baltimore, Quebec and Hampton Roads, as well as at the Lanaudière Festival.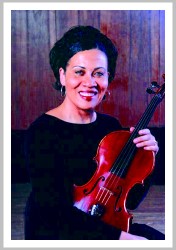 Beverly Kane Baker, viola, began violin lessons at the age of six with Margaret Davis. While under Ms. Davis's instruction, she traveled to Baltimore to participate in the Suzuki Violin workshop and met the acclaimed Japanese teacher. After two years of study, she advanced to Elizabeth Chapman's studio. As a member of the Chapman Youth Ensemble, Ms. Baker performed at the Smithsonian Institute in Washington, D.C. and at the capital building in Richmond, Virginia. She traveled for two summers to England to participate in the Purbeck Music Festival with the noted Hungarian teacher Kato Havas. During this festival, Ms. Baker performed the Telemann Viola Concerto at the Royal College of Music in London. The following summer, she was voted "Most Outstanding Musicician" and won the concerto competition at the Eastern Music Festival in Greensboro, North Carolina. During her senior year in highschool, she attended the Juilliard School of Music's pre-college division studying viola with Christine Dethier. In 1979, she received a Bachelor of Music degree in performance from the University of Missouri-Columbia, having studied with Carolyn Kenneson. Ms. Baker performed in master classes with the Beaux Arts Trio, the Tokyo String Quartet and Lillian Fuchs. She also received numerous coachings with Wayne Crouse, former principal violist with the Houston Symphony

. In 1983, Ms. Baker joined the Virginia Symphony as a section player. In 1987, she was appointed assistant principal viola. She won the principal position in 1994 and currently holds that position with the symphony as well as Virginia Opera. The Virginia Symphony made its Carnegie Hall debut in 1997, and Ms. Baker performed with her colleagues on NBC's Today Show. She has performed with the Gateways Music Festival, a festival featuring African-American artists. She performs regularly with Norfolk Chamber Consort and Virginia Chamber Players. Ms. Baker is a featured artist in solo and chamber music performances with the Virginia Arts Festival. Many of these performances have been broadcast on NPR's Performance Today. She has also performed chamber music with the Miami String Quartet and members of the Chamber Music Society of Lincoln Center. She performed Brandenburg no.6 with Jamie Laredo and the Mozart Duo with renowned violinist Nadja-Salerno-Sonnenburg. Ms. Baker has been featured in many solo performances with the Virginia Symphony Orchestra.

Ms. Baker is featured on Bruce Hornsby's album "Harbor Lights" and her musical studies have been documented in the book "Black Women in American Orchestras" by D. Antoinette Handy.

Beverly and her husband Norman have raised three grown children Stephanie, Kelly and Jason and are enjoying being grandparents to Jordan. In her spare time, she enjoys working out and playing with her worship band.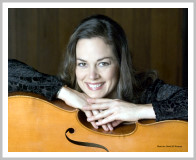 Rebecca Gilmore Phillips, an orchestral and chamber musician, is currently Acting Assistant Principal Cellist with The Virginia Symphony as well as a substitute cellist for The Philadelphia Orchestra and The Baltimore Symphony Orchestra. Previously she was Principal Cellist of The Greensboro Symphony where she made her solo debut performing Tchaikovsky's "Rococo Variations". Earlier in her career she soloed with the Charlotte Symphony and the Charlotte Repertory Orchestra and the latter with which she performed Haydn's "Cello Concerto in D Major". In the Hampton Roads area (Norfolk, Virginia Beach) Ms. Gilmore has been a featured solo and chamber artist with the Virginia Arts Festival, The Virginia Symphony, the Norfolk Chamber Consort and Old Dominion University's modern music group, Creo. Her cello career has taken her abroad to The Banff Centre for the Arts in Alberta, Canada, England, The Czech Republic, Austria, Germany, Switzerland, France, Italy and China . Within the United States she has both taught and performed with numerous music festivals including the Breckenridge Music Festival Orchestra, The Brevard Music Center, Garth Newel Chamber Music Center, The National Repertory Orchestra, The National Orchestral Institute, and the North Carolina School of the Arts' International Music Program where she soloed with orchestra throughout Europe. In Canada she and pianist/composer Gabriela Frank performed Frank's world premiere of "Rios Profundos" which was recently released on a Capstone Records label titled, "It Won't Be The Same River" with the Mallarme Chamber Players of Durham, North Carolina.

As a chamber musician, her latest joint venture is Ambrosia 3, a professional performing chamber ensemble, of which she is a founding member. The group came together in the fall of 2002 in order to perform a vast range of chamber music literature. Their most recent debut was on the Feldman Chamber Music Society Series where they entranced a full house of patrons of works by Shostakovich, Brahms and Beethoven. More recently Ambrosia is exploring the String Trio repertoire in pursuits of future recordings and travels abroad.

Ms. Gilmore holds a Bachelor of Music degree and a Master of Music degree in Cello Performance from Indiana and Rice Universities. Her teachers include Janos Starker, Tsuyoshi Tsutsumi, Norman Fischer and Desmond Hoebig. Ms. Gilmore is currently a faculty member with The Academy of Music and Virginia Wesleyan College.
Guest Artists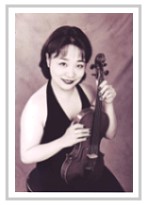 Mayu Kuroda Cipriano was born in Tokyo, Japan and began studying the violin at the age of five. Immediately she began to show promise as a young musician, performing her first recital at the Yamaha Hall in Ginza,Tokyo at the age of seven. At 12, she won the Special Prize in the All Japan Mainichi Competition; and at 13, played with the NHK second symphony. At the behest of Cho-Liang Lin, she came to the United States to study with Ms. Dorothy Delay at the Juilliard Pre-College. Mayu continued her undergraduate studies at Juilliard, earning a Bachelor of Music in 1998. In addition to Juilliard, she also attended the Aspen Music Festival for six consecutive summers beginning in 1991, earning a second prize in the Nakamichi concerto competition. As a result, she performed in recital at the Wheeler Opera House. While in New York, Mayu performed at the Cremona Exhibition at the Christoph Landon Gallery, played several recitals around the city with her sister Ai, a Juilliard graduate in piano, and made several appearances on Japanese radio and television during her other summers away from the city.

Currently Mayu is in her fourth season with the Virginia Symphony, previously holding positions with the Atlanta Ballet Orchestra, and the San Antonio Symphony. In addition, she also has substituted with the New York City Ballet Orchestra, Alabama Symphony, and Atlanta Symphony. Mayu is also an avid chamber musician; in New York, Mayu was member of the Astor Quartet, which performed throughout the city and toured South America, appearing on Colombian television. She has also performed the the Ambrosia Quartet on the Virginia Symphony's Salon chamber music series. Currently, she resides in Virginia Beach with her husband, Armed Forces School of Music instructor James, and their beloved cat George.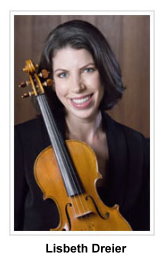 Violinist Lisbeth Dreier has established an active and varied career. A native of Portland, OR, Ms Dreier has been a frequent soloist with orchestras both in the United States and abroad. Prior to joining the Virginia Symphony full time in 2007 she performed with the Oregon, New Haven, Columbia, Vancouver, and Allentown Symphonies. Lisbeth regularly appeared in the New York area and toured with the North American production of Bernstein's musical Wonderful Town. Summer festivals include Aspen Music Festival, Casalmaggiore International Festival, The Quartet Program, Texas Music Festival, and Magic Mountain Music Farm. Ms Dreier co-produced and was a featured artist in the National Art Gallery Recital Series benefiting youth organizations of Detroit and Portland. In collaboration with the Sojourn Theater Company Ms Dreier performed the world premiere of The War Project, multi-media production for violin, piano, and voice. Ms Dreier has taught at the University of Portland, Oregon Episcopal School, and Larchmont Music Academy in New York. Lisbeth Dreier received Bachelor and Master of Music degrees from Manhattan School of Music, as a student of Burton Kaplan and Lucie Robert.

Ms Dreier performs on a 1916 Romeo Antoniazzi violin, made in Cremona, Italy.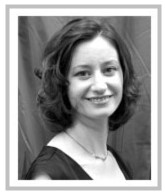 Dr. Amanda Halstead is an accomplished pianist and chamber musician in the Tidewater area. After relocating to the Virginia Peninsula in 2005, Dr. Halstead quickly established a reputation as one of the best chamber musicians and accompanists in the area. She performs frequently on faculty and student recitals at Old Dominion University where she teaches academic classes and private lessons. For the past two seasons, Dr. Halstead has performed for the Virginia Arts Festival as resident pianist for the John Duffy Composers Institute, a symposium dedicated to contemporary music. As an orchestral pianist, Dr. Halstead performs with the Virginia Symphony, the Richmond Symphony, and Project Copernicus, an emerging chamber ensemble dedicated to innovative programming and musical outreach in Miami, Florida. In the past, Dr. Halstead has appeared as soloist with orchestras such as the National Repertory Orchestra, the Repertoire Orchestra of CCM, the Fargo-Moorhead Symphony Orchestra, and Columbus Symphony Orchestra. She has participated in many prestigious summer festivals including the Aspen Music Festival, Pianofest in the Hamptons, and the Opera Theater and Chamber Music Festival of Lucca, Italy. Dr. Halstead received her Bachelors degree from Rice University in Houston, and her Masters and Doctorate of Music in Piano Performance from the College-Conservatory of Music (CCM) at the University of Cincinnati. Her former teachers include Robert Roux, Eugene and Elizabeth Pridonoff, and Frank Weinstock.
James Nesbit, a native of Pittsburgh, Pennsylvania, received his B.S. from Duquesne University in 1981. His professional experiences include solo clarinet with the New York Harlem Opera Ensembles European tour of Porgy and Bess in 1981-82, lead alto saxophone with the Tommy Dorsey Orchestra (1982-84). Mr. Nesbit performs regularly with the Virginia Symphony, Virginia Symphony Pops, Virginia Opera, Richmond Symphony, and numerous touring Broadway productions on saxophone, clarinet, flute, and bassoon. He has also appeared with such entertainers as Tony Bennett, Wayne Newton, Barbara Mandrell, Natalie Cole, Mel Torme, Lou Rawls, Nancy Wilson, The Ojays, The Temptations, The Four Tops, The Spinners, Lynyrd Skynyrd and jazz artists Lionel Hampton, Frank Foster, Jimmy Heath, Milt Hinton, Al Jarreau, Christian McBride, Diane Schuur, Terrell Stafford, Arturo Sandoval and Jon Faddis to name just a few. As a soloist, he has appeared at Carnegie Hall and has been featured with the Virginia Symphony. Currently Mr. Nesbit performs with the American Saxophone Quartet and the Great American Music Ensemble and can be heard on their upcoming album "It's All In The G.A.M.E.". Additionally, he can be seen with a variety of groups in the Eastern United States performing in everything from jazz, R&B and recording work to symphony orchestras and chamber music. Mr. Nesbit was instructor of woodwinds at the Armed Forces School of Music and currently serves as instructor of saxophone at Old Dominion University, instructor of saxophone, clarinet and bassoon at Hampton University, instructor of woodwinds at Chowan University and instructor of saxophone and jazz winds at the College of William and Mary. He resides in Virginia Beach with his wife Kerri and daughter Erin.
Back to top
&nbsp Calendar &nbsp Repertory &nbsp Roster &nbsp Contact &nbsp Home &nbspArtsong Update