Guitarist Sharon Isbin Introduces
Mezzo-Soprano Gemma Coma-Alabert
One guitar plus one voice added up to magic on stage at the American Theater in Hampton, Virginia. Sharon Isbin, world class solo guitarist, has played the house several times since it was restored. On this visit on April 29, 2009, she came bringing a youthful, beautiful vocalist - Spanish mezzo-soprano Gemma Coma-Alabert, born in Girona, Spain into a musical family.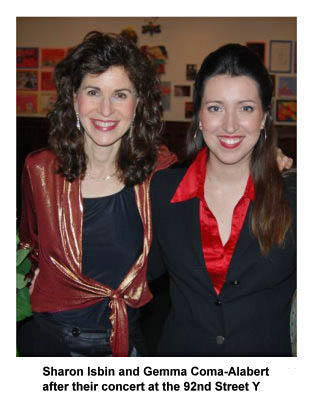 From the opening songs Canciones Españolas Antiguas written by the poet Federico Garcia Lorca (1898-1936) and arranged by Ms. Isbin, we were regaled with dramatic, expressive music. Who knew that the famous revolutionary poet Garcia Lorca was also a composer. Over 1200 "artistic" compositions have been based on Garcia Lorca's poetry but less well-known is his interest in folk music, some that he learned as a child. He was also training in classical piano. He toured with the singer La Argentinita in the early 1930s, playing his arrangements of folk music. He refused to write down his arrangements but he did make a recording in 1931 for the record label His Master's Voice. It was later transcribed anonymously and published by the Hispania Institute in New York.
We heard Anda, maleo, probably the best remembered and most frequently performed of his songs, followed by Las morillas de Jaén and El Café de Chinitas. With great drama and a wonderful balance of voice and instrument a cocky young woman describes a dialogue of Gypsy bullfighters boasting of their ability and courage. A complete shift of mood to a soothing lullaby in Nana de Sevilla was followed by a fiery performance of Sevillanos del Siglo XVIII, an elegant 18th century dance complete with elegant body and stylized hand gestures by the singer celebrating the long life of the city of Seville.
Ms. Isbin's first solo set began with Spanish Dance No. 5 by Enrique Granados (1867-1916). The soulful voice of the instrument - rich, deep tones, delicate ones and more strident ones - who knew that there was such a variety of color in that shiny wooden box of an instrument. With a touch so crisp and precise, Ms. Isbin generated enormous energy when she played Zapateado by Regino Sainz de la Marza y Ruiz (1896-1981). We were awe-struck by the subtle shading in the very fast Asturias by Isaac Albeniz (1860-1909) arranged by Segovia. With her eyes closed and totally lost in the experience of creating, Ms. Isbin played hard-strummed sounds and precise picking on the frets as the music spins on and on. It accelerates to a breathtaking tempo and then quietly closes.
Next came two songs that opened my heart: Aranjuez, ma pensée by Joaquin Rodrigo (1901-1999). The music is the Adagio, second movement of Concierto de Aranjuez. The text is by Rodrigo's wife who recovered from an illness and in celebration wrote the words. The gentle strumming accompaniment opened my heart. The voice comes, carrying me into deeper feelings. The end is like a goodnight kiss. Adíos by Enrique Madriguera (1904-1973) arranged by Almeida has a bossa nova, cabaret feeling with some superbly sung rich low notes at the end.
After intermission we heard more new art songs: four Canciones sefardíes by Manuel García Morante (b.1937) that gave our performer the opportunity to display her varied expression and emotional depth. Garcia Morante has written over 500 songs, many harmonizations of traditional Spanish folk songs. His mezzo-soprano wife, Myriam Alió, has recorded a CD of Sephardic songs.
In a solo set guitarist Isbin seems to enter a solitary space where she crafts the music that she offers to us as a gift. Capricho Arabe by Francisco Tarrega (1852-1909) is lyrical and quiet and was followed by Waltz Op.8, No.4 by Augustin Barrios (1885-1944) who had appeared with her at the American Theater a few years ago. The piece was quiet fireworks - lots of notes and a modern sound.
To finish the recital Ms. Coma-Alabert joined Ms. Isbin to sing Siete Canciones populates Españolas by Manuel de Falla (1876-1946) arranged for guitar, which was a natural fit. Ms. Isbin commented "You hear the piano in each song, we stole it" and they did and it was wonderful.
There was an encore and then CD signing of Ms. Isbin's new CD Journey to the New World in the lobby where we had a long chat with Gemma Coma-Alabert about Spanish repertory and their upcoming performance of this same program at the 92nd Street Y in New York City the following Saturday night.

Sharon Isbin, Stanley Jordan & Romero Lubambo
American Theatre, Hampton
February 11, 2014
Review by M.D. Ridge
To call Sharon Isbin a classical guitarist is accurate—but doesn't give a hint of the breadth of her experience, interests and abilities. In the same way, to call Stanley Jordan a jazz guitarist doesn't begin to describe his particular brand of magic. Likewise, to call Romero Lubambo a Brazilian guitarist is true—but way too limiting.
Put those three together in solos, duets and trios, on the stage of the American Theatre February 11, in the middle of their 18-city Guitar Passions tour—and the only comparison is: Fireworks. Incandescence! Py-ro-technics.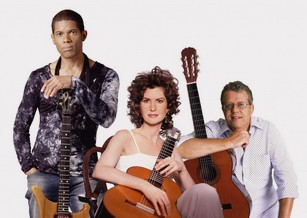 They walked out on the stage, sat down and launched into "The Miller's Dance," from The Three-Cornered Hat, by Manuel de Falla—which Isbin noted could be re-arranged at any moment. And it was. Isbin and Lubambo took the lead, with Jordan inserting jazz licks and fragments of his brilliant "tapping" style. Each had a very different sound, but the three were united in the soul of the music, an electrifying fusion of classical, jazz and Brazilian styles.
Isbin's latest recording, Guitar Passions, an Amazon bestseller, includes guest guitarists Steve Vai, Steve Morse and Nancy Wilson of Heart, along with Jordan and Lubambo. Here's the thing: when combining styles that are so radically different, each musician has to listen to the others—backing off here, leaning into a riff there, breaking out a solo or improvising with panache something that combines with the others to create something new and wonderful. It takes not only mastery—but mutual respect. The audience was rapt as they watched it happen again and again.
Isbin soloed on Asturias, by Albeniz, noting that it was originally written for piano, but Andres Segovia (who would have turned 130 last year) made it a popular guitar piece. On her deep-voiced guitar, she displayed liquid arpeggios and impressive dynamics with quiet, economical hands.
Jordan said, "One thing I like about this gig is that I enjoy listening as much as playing." Lubambo started out playing the melody on a Jobim tune from one of Lubambo's albums. Jordan did fills, took the lead, and then they cranked it up, fluidly alternating leads—they were jammin'! Odd stop-rhythms led into the classic ballad "All the Things You Are." Both had fairly blunt fingers that could move like lightning, as Jordan went to town and Lubambo played smoking bass runs up and down the fingerboard, sneaking glances at each other. "Okay?" "Okay!"
Mozart might have recognized the bones of Jordan's adaptation of his Piano Concerto No. 21, even when it went off into outer space. Then Lubambo launched into Jobim's "One Note Samba"—lightning fast, simultaneously mellow and aggressive. Isbin said, of the "Allegro" from Agustin Barrios' La Catedral, "I'm going to play what he wrote, and Romero is going to play something else."
In the second half, Jordan, whose first instrument was the piano, played his approach to Bela Bartok's Concerto for Orchestra—playing both piano and guitar. At the same time. Piano with his right hand, guitar with his left, switching hands, using both hands on either instrument. As Isbin said calmly after that, "It's not possible to do what he does."
A waltz by Antonio Lauro had Isbin and Lubambo's guitars dancing with charming abandon. On "Double Rainbow," by Jobim, her harmonics punctuated his classic Jobim rhythms; then she took the melody high on the fingerboard while Lubambo took over. American composer Andrew York's "Andecy" was deceptively simple and balladic.
The three played the gorgeous middle movement from Rodrigo's iconic Concierto de Aranjuez,arranged for three guitars by Laurindo Almeida. It started off with quiet intensity, and developed into something awesome.
There's a French song—"Ma Guitarre et Moi" (My guitar and me)—that says, "No one can tell who plays the other." That's how it was for Isbin, Jordan and Romero—each unbelievably brilliant, yet together, transcending genres, beaming with pure joy at one another.
The only comparison is: fireworks. Incandescence. Pyrotechnics.

Magic
This review was originally broadcast on WHRO 90.3 FM's "From the other side of the Footlights."

Printable Format
Back to Top
Review Index
Home &nbspCalendar &nbspAnnouncements &nbspIssues &nbspReviews &nbspArticles Contact Us