Live Flamenco in Seville, Spain
Ximénez de Enciso 28, Barrio Santa Cruz, Sevilla, April 24, 2016
Review by John Campbell
Threading our way through the narrow streets of the charming Santa Cruz neighborhood, formerly the Jewish quarter in medieval Seville, we arrived at the Alcántara Auditorium. The performing space is the covered interior courtyard of a grand, 15th century house, renovated in the 17th century by Justino de Neve, Canon of Seville Cathedral who bequeathed the space for cultural events.
We had been told that only after midnight at a club in the Triana district on the other side of the Guadalquivir River could you find authentic flamenco. Guided by our Airbnb hosts' recommendation we visited a club and only found a pop version of this ancient art form.
Thanks to Rick Steves' travel guide and the resourcefulness of one of our party who made a reservation for 7 the following evening we were on our way to experience authentic flamenco. The Spanish art songs that we have heard by classical performers are a pale shadow of what we experienced. A trained vocalist and a guitarist skilled in improvisation and a male and a female dancer rounded out the quartet. Pictures of the artists can be found at www.lacasadeflamenco.com. There are other authentic groups in Seville as well.
Some background information: Cante flemenco, popular in the Spanish region of Andalucia, is used in both song and dance. Cante hondo or jonda means deep song and offers much melodic decoration with intervals not usually found in European scales. The Phrygian scale is often used along with guitar accompaniment. Flamenco guitar, the opposite of classical Spanish guitar (think Segovia and others), is rhythmic and improvisatory, closer to Gypsy and jazz guitar.
The opening set featured all four performers: Pepe de Pura, singer; Roque Acevedo, guitarist; Lola Jaramillo and Juan Manuel Zurano, dancers. The stage was a wooden platform about one foot above the tile floor and exceptionally resonant like a percussion instrument played by the taps and stomps of the dancers' shoes. Hand claps and body strikes and castanets also kept the rhythm. The folk stories told with cries and shouts of great intensity gave voice to the pain of love and life. The guitarist's fingers rippling over the strings in strange, Moorish-sounding chords bent the music to the flow of the singer. The intensity generated as the dancers' feet struck the floor was spellbinding. Ms. Jaramillo's dress of red and black with a three-foot ruffled train was used as a barrier to be crossed again and again with precise footwork. No recording, no film prepares you for the experience of being there.
Later there was a vocal and guitar duet, a solo guitar set and each dancer was featured in a performance alone. The experience was visceral. Jason Webster, author of Duende, A Journey in Search of Flamenco talks about "A feeling of exposure and emotional intensity that yielded a sharper sense of reality." The usual mind and attention I give to music was overwhelmed by the intensity of the driven, free-flowing rhythms, hard foot stomps and a voice, complex with harmonies giving an unearthly cry of love/pain. Well into the program I found myself drifting into a yoga-like trance state. It was a once-in-a-lifetime experience.

The Acosta - Migliozzi - Walsh Trio present Chamber Concert
Chandler Recital Hall, August 14, 2016
Review by John Campbell
A low-key chamber concert was a perfect activity for a hot, summer afternoon in the comfort of the acoustically perfect Chandler Recital Hall.
Allegro (c. 1718) by Georg P. Telemann (1681-1767) by the trio opened the program. Born four years before Bach and Handel, Telemann outlived both by several years and was the most prolific composer of his day because he, unlike Bach, refused to be restricted by official duties. The trio's playing was first-rate with attractive melodies and lively solo passages in the movement from his Trio Sonata in C.
Violist Anastasia Migliozzi and pianist Stephen Walsh played a set of three English works. FIrst was the lovely folk tune I Bid My Heart Be Still (1944) by Rebecca Clark (1886-1979). Composer Clark was also a violist and the sound was full of longing. The second, She Borrowed Some of Her Mother's Gold (1926) by Ralph Vaughn Williams (1872-1958) was a brief mellow tune and Spring Song (1912) was a danceable tune by Frank Bridge (1879-1941) who was Benjamin Britten's teacher.
Stephen Walsh introduced the solo piano work At the Shoemakers (1933) by his favorite Spanish composer Joaquin Turina (1882-1949). Turina's music is nationalistic in style, offering musical portraits of the wearers of six pairs of shoes. The Peasant's Boots has a heavy touch and intensity while The Marquise's Silken Slippers tiptoe prissily. The Greek Sandals had a richer palette, both heavy and very light by turn. Shoes of the Dancer had the flavor of a French Baroque dance. Shoes of a Beautiful Woman offered a dreamy tune with pauses in an intriguing rhythm. The Little Shoes of the Torero was fast, light, skittering about but concluded with intensity.
After intermission came what was certainly for us a fascinating part of the program. Mr. Walsh played a Korg digital, tiny piano (2 octaves, 25 keys and 25 built-in synthesized sounds, including grand piano and a celesta-like toy piano sound). He played Preludes (2009) by Japanese composer Kazue Rockzaemon Isida. Each of the seven preludes offered a different aspect of the electronic instrumental colors. From "Passer" (birds) semi-exotic harp to the virtuoso marimba sound of "Pãrrhula" and an old-fashioned bell-like tone of a pump organ playing Bach. It was an intriguing and serious musical experience after all.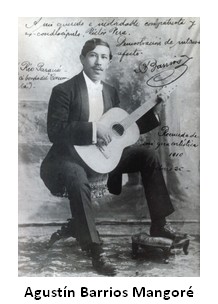 Guitarist Annibal Acosta presented two works by the Paraguayan composer listed on the program as Agustín Barrios Mangoré (1885-1944) but appears in English language reference works as Agustin Barrios; Mangoré was added later to acknowledge his Indian ancestry (Guarani tribe). In 1916 Barrios left Paraguay for one week of concerts in Argentina. He was so popular there and in Brazil and beyond that it was 14 years before he came home. With a patron, the lovable but impractical composer/guitarist concertized in Mexico, Cuba, and in 1934 several European countries, including Spain, Brussels and Germany. In 1939 he settled in San Salvador where he taught at the conservatory for the rest of his life.
The first piece, Julia Florida - Barcarola (1920) is Latin American folk inspired and Waltz Op. 8, No. 3 (1914) has a slightly irregular rhythm of a true waltz seldom heard outside Vienna. Aníbal Acosta played this 19th-century style Romantic music of great complexity with breathtaking skill. He told us later that he is working toward a solo concert again after an accident in the past interrupted his career path.
Johann Sebastian Bach (1685-1750) Trio Sonata in G Major (c. 1730) was originally written for organ and was played by the trio with Walsh on recorder. It had the exuberance of a Baroque dance rhythm from the beginning. The Adagio, second movement, was described as like two kittens chasing balls of yarn as the threads crossed and tangled. The third, closing Allegro had the recorder playing a tune, viola repeating it. Round and round the music flows quickly, enthusiastically and the guitar is always there, enriching the palette. The encore was a Telemann gig.
There are 300 settings of Barrios' own poetry in song. It would please us greatly to hear some of them performed locally.

Back to Top
Printer Friendly
Back to Review Index
Home &nbspCalendar &nbspAnnouncements &nbspIssues &nbspReviews &nbspArticles Contact Us